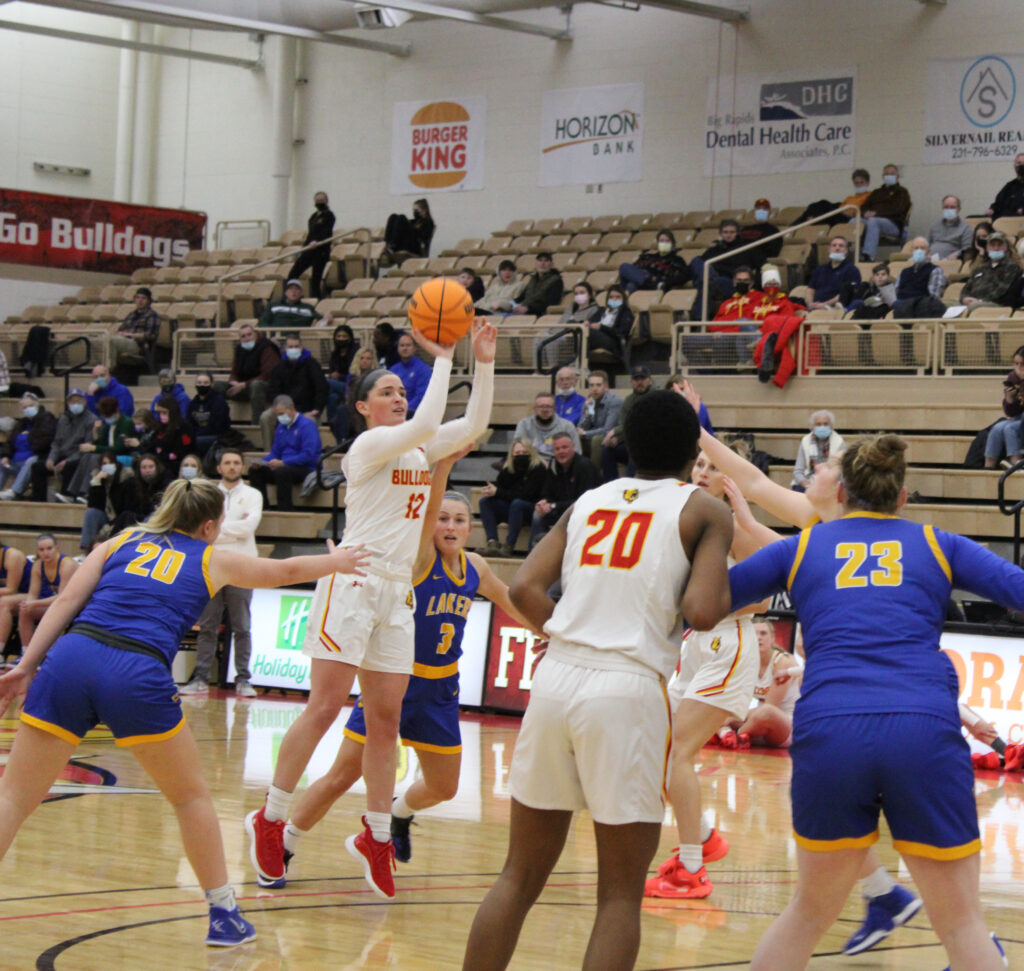 The Bulldogs dominated from start to finish on Thursday, collecting a 90-38 win over Lake Superior State University. The victory moves Ferris State to 13-4 on the season and 7-2 overall in GLIAC play.
"It's great we were able to stay focused for all 40 minutes," head coach Kurt Westendorp said. "I feel like sometimes we haven't put together full games, but this was about as close to a full performance as we've put together."
The Bulldogs came into the game averaging 12.2 first quarter points over their last five contests. In a chance to change it around, Ferris sprinted out to an early 11-3 lead after making five of their first nine shots.
Westendorp's crew took advantage of offensive rebounds and putbacks to extend the lead to 29-13 at the first quarter break. When Kadyn Blanchard and her teammates saw the scoreboard, the team seemed to become even more locked in.
"It made us want to broaden the score even more," Blanchard said. "I think it made us more motivated to stay focused."
After a slower start in the second quarter, the Bulldogs started to find their rhythm from long range. Ferris made four of their last five three-point shots of the half with Blanchard, who has shot over 44% from three-point range this season, contributing her second three-pointer of the night.
"I have worked a lot in the offseason," Blanchard said on her improving three-point shot. "I was in the gym lifting and shooting all spring."
Ferris continued its hot scoring into the second half and padded their 27-point halftime advantage. After two quick Adrienne Anderson jump shots, the Bulldogs then began to slow down over the next three minutes.
Following a Lake Superior tip-in, the Bulldogs responded with a tough bucket by Mya Hiram. On the ensuing Laker possession, Hiram swiped the ball and scored off Anderson's miss to give the Bulldogs the momentum back with a 63-30 lead. Hiram would add four more points in the third before being subbed out with Ferris leading 72-35 at the quarter pause.
"My team needed me to step up and play a big role," Hiram said regarding her confidence over the past few games. "I took that as an opportunity to show them what I got."
Ferris finished the game on an 18-3 fourth quarter run to finish out the 90-38 win. Anderson led the Bulldogs with 16 points, followed by Hiram and Samantha Krauss each with 15. Zoe Anderson collected six rebounds and Mallory McCartney tallied 10 assists.
Ferris shot 51.5% from the field, including a 54.5% effort from 3-point range. Offensively, Ferris finished with their second highest scoring total on the season. They also got 45 points off the bench. Westendorp felt his bench did more than just score.
"Tonight was great for us getting some confidence back," Westendorp said. "We really got some great contributions not just offensively, but defensively as well."
With the victory, Ferris have won their last two home games and three of their last four overall. Despite having players like Adrienne Anderson and Chloe Idoni missing time due to various health issues, the team has continued their success thanks in large part to young talent stepping up.
"Having players unavailable dealing with injures is never enjoyable, but that allows more people to step up," Hiram said. "When you are a part of a great program with an amazing coaches and teammates, all you want to do is play for them."
The Bulldogs will begin their second round of GLIAC matchups Thursday with a road test against Saginaw Valley State. In spite of having beaten the Cardinals in their home bout, Hiram says the team is focused on keeping their championship mindset.
Thursday's game will tip off from James E. O'Neill Jr. Arena at 6 p.m. To listen into the action, tune into Sunny 97.3 FM during game time to hear Rob Bentley and Sandy Gholston on the call. For more statistics and game information, visit the "Women's Basketball" tab at www.ferrisstatebulldogs.com.