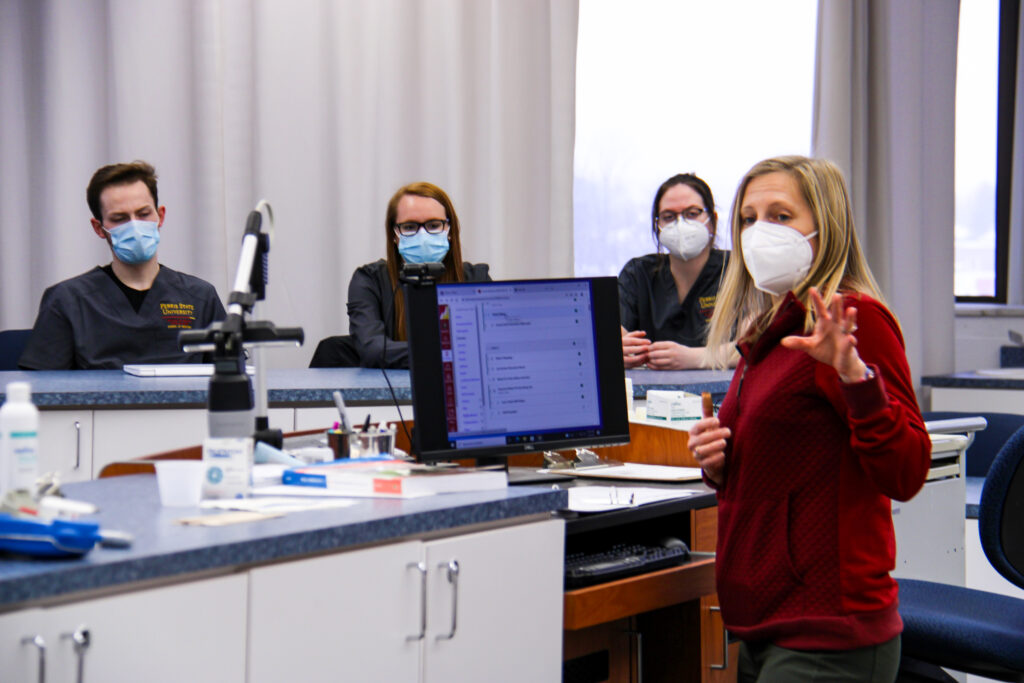 In the midst of the ongoing pandemic, Ferris nursing students work endlessly to maintain both their grades and mental health.
Savannah Pratte is a senior in the nursing program at FSU with a minor in military leadership. Pratte always knew she wanted to fulfill a career in medicine but could never figure out which specific path she wanted to take.
Nursing is a broad field and there is the opportunity to try out any area that seems interesting. To Pratte, that was part of what sold her on choosing this major.
"You never get bored doing your job and I think that's the benefit of being a nurse," Pratte said.
Becca Welsh is also a senior in the nursing program and is certified in gerontology. Her mom was a nursing major at Ferris which played into why she wanted to go here.
Welsh chose this major because she believed she would have an easier time finding a job in the future.
"I always wanted [to work in] healthcare and the flexibility of the degree for nursing is just awesome," Welsh said.
Pratte and Welsh discussed the challenges that come with being in the nursing program based on their experience.
"I think going [into] nursing school, on top of also being in the pandemic is a lot harder," Pratte said. "The nursing program expects you to still fulfill the duties as a student if a pandemic weren't happening."
Pratte describes it as being held to the same standard even though they are learning hands-on material by reading a textbook.
According to Pratte and Welsh, learning the material is hard enough, but when it is taught online and students have to stay home due to any sickness, it becomes a lot more difficult.
"We have COVID surveys that we had to fill out every morning before clinical and if you have something slight as a runny nose, you're flagged as not being allowed to attend," Welsh said.
The course consists of clinicals where the students will go to Spectrum Health Hospital and take care of actual patients. They have labs where they practice procedures and techniques on life-like mannequins.
"A lot of people didn't really realize nursing school is physically, emotionally, and mentally exhausting," Pratte said.
Pratte is one of many that have failed out of the program. Her first semester of nursing school was right at the beginning of the pandemic which played into her struggle.
Spring semester of 2021, there were seven students that failed out of the program. Last semester, one student failed out.
"I just don't think a lot of people are prepared," Pratte said. "We sacrifice a lot of time because we all [have to] work."
When Ferris had stricter COVID regulations, the nursing majors would switch from in-person to online when someone would start experiencing symptoms or had been exposed.
The state gave students a certain number of online hours that would make up for a clinical if they were to miss. Now that the guidelines have softened a lot since it has made it harder for nursing students.
"We had a girl that missed two days last semester of clinical and she was put on academic probation because we can't miss any days," Welsh said. "The state is getting stricter again, so there's no room for missing, if one of us got COVID, I don't know what would happen."
As nursing students, they are told to be flexible even aside from their classes, homework, and clinical dates.
"We have to do [a] clinical this weekend with a five-day notice," Pratte said. "It's like, well, this wasn't originally my assigned day, my assigned dates not for three weeks. What you told me to be prepped for is in three weeks, not five days."
They both struggle with finding a balance between their work, school, and personal life.
"My roommates make sure that I eat because I constantly study, write papers, do V-Sims," Pratte said. "I won't wash my hair for days because I feel like taking a 30-minute shower [is] like 30 minutes I could write on a paper or do research."
According to Pratte, it only gets worse towards the end of the semester when their time is only dedicated to studying, reading, and straight focus for their final exams.
"I wake up at six o'clock in the morning, and then I don't go to bed till one or two," Pratte said. "So, I get four hours of sleep just so I can get all this stuff done because there's so much to do."
On the first day of classes, professors tell their students that they are going to want to quit or drop out a million times because of the amount of work.
Pratte and Welsh think about dropping out every day and brainstorm different career paths.
They start to compare their college experiences with other programs, where they find people outside of the medical field going out on the weekends and enjoying their time.
"Then you see all the pharmacy, optometry, nursing, radiology, ultrasound, dental hygiene, all of them crammed into our studies so much that we feel like we can get a right to go to the bar or have some type of freedom, "Pratte said.
They are so exhausted from constantly being on the go that during their free time, all they really want to do is be home and sleep. Even when allotted that time to relax, they are not fully able to without worrying about school and homework.
"I get kind of anxious over break now because I feel like I have to be doing something or I have something due or else I'll fall behind," Welsh said.
Thankfully for these students, some professors understand that they need time away from the textbooks and the labs. They encourage their students to take a night off.
Doctor Mariah Lab, assistant professor of nursing, is one of the professors that believes students get to have breaks.
She tries to reach out to all her students and check up on them, especially if they are struggling in her class. As well as this, she tries to make some weeks lighter than others in order for them to reflect on their wellbeing and progress.
Lab makes sure her students find a balance between the program and their lives outside of it because she knows exactly how it feels.
"I once had a nursing instructor tell me when I first started my program that nursing school had to be number one, and everything else in your life had to like pretty much go on standby," Lab said.
Over the past few years, the program started doing mindfulness which gives the students a chance to step back and reflect as a form of self-care.
"Is burnout ever really worth it for any profession?" Lab said. "No, but the goal is to not get burn out, so maybe recognize something a little bit before burnout actually happened, and could we have done something to prevent that?"
The efforts of these students are acknowledged and appreciated by their professors.
"We're very passionate about the success of our students," Lab said. "So not only do we care about how they do in our classes, but we really do care about how they're doing in the future."