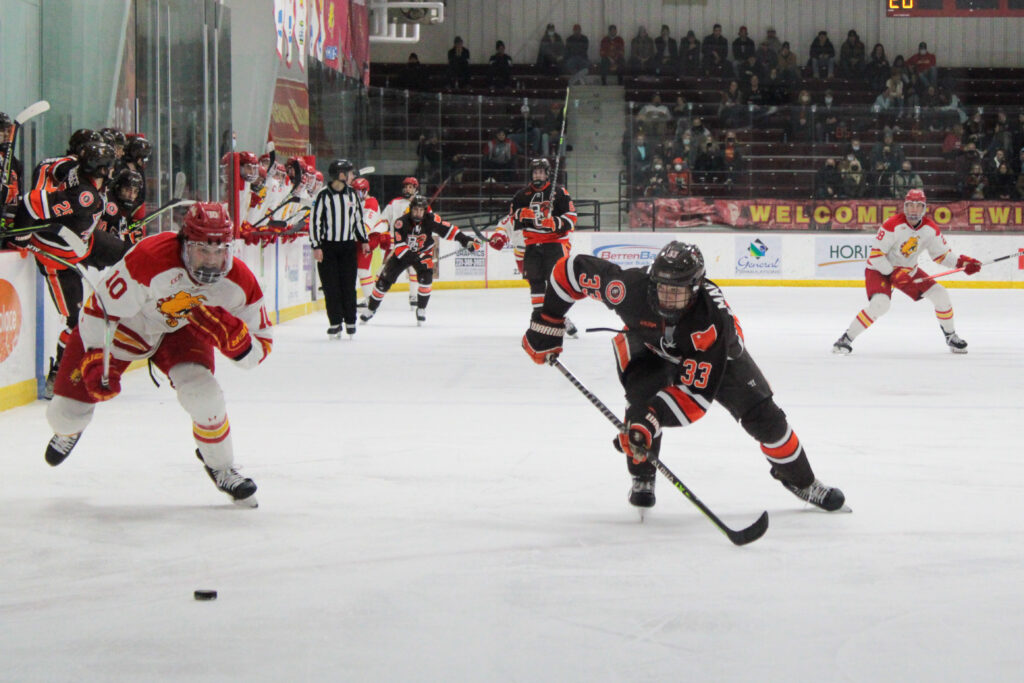 Last year, the Bulldogs finished 1-23-1 and lost to Minnesota State in the first round of the CCHA tournament.
This year, they could compete on their home ice.
With six games remaining on the schedule, Ferris has a chance to finish fourth in the CCHA standings and play their first game inside Ewigleben Ice Arena.
The tournament is slated to begin on March 4 and will run until March 19. All CCHA teams will compete in the tournament.
It will begin with a best-of-3 quarterfinals round. After that, semifinals, and then championship. Each team in the CCHA is seeded based on where they finished in the regular season standings.
Ferris currently sits at seventh in the standings with a 10-18 record and 23 points. Fifth or sixth place is not out of reach for the Bulldogs as they are tied in points with the sixth place Lake Superior State Lakers, while both teams are only one point behind fifth place Northern Michigan.
Minnesota State sits atop the CCHA at 50 points, with the closest team, Michigan Tech, sitting at 35 points. The massive point differential and impressive 25-5 record has the Mavericks not only at the top of the CCHA but as the number one team in NCAA D1 Hockey according to the USCHO.com poll.
St. Thomas sits at the bottom of the standings with 9 points and don't have much of a chance to overcome the Bulldog's 14-point lead in the standings.
So how does this pan out for the tournament? Refer to the graphic below to see what the CCHA tournament would like if it started today.
With a few weeks left and seeds 1 and 8 pretty much cemented, there is very much room for the standings to be shaken up between seeds 2 – 7.
What does Ferris need to do to make that final push? The answer is simple:
Win.
The Bulldogs play at Lake Superior State, Michigan Tech, and at Northern Michigan to close their season. Because Ferris is tied with Lake State and just one point behind Northern, those series will be key for the Bulldogs to make a jump in the standings.
Ideally, the Bulldogs will want to walk away with at least a split with the second place Michigan Tech.
Making a run at a higher seed is clearly a goal for head coach Bob Daniels.
"We want to get up as far in the standings as we can to get the best seed," Daniels said. "And then from there, we want to make sure we're playing as good of hockey. Our hockey as of late has been very good. I feel very confident rolling our game out into the playoffs. Ideally, we wouldn't wanna go to Minnesota State, but that's not going to happen. I'd feel pretty confident going into any arena. I'm not giving up on home ice yet either, but we'd have to go on a heck of a run."
A "heck of a run" would do the Bulldogs a lot of favors to get closer to home ice. But Ferris would need some help as well.
Ferris is only seven points out of fourth place. Ferris could achieve home ice with a couple sweeps in their next series coupled with the current fourth seed, Bowling Green, dropping a few series. That is very much a possibiltiy as they still play top seeded Minnesota State and Michigan Tech.
With 3 weeks of games left, the Bulldogs are on a mission. The final push starts against Lake Superior State this weekend.
JC