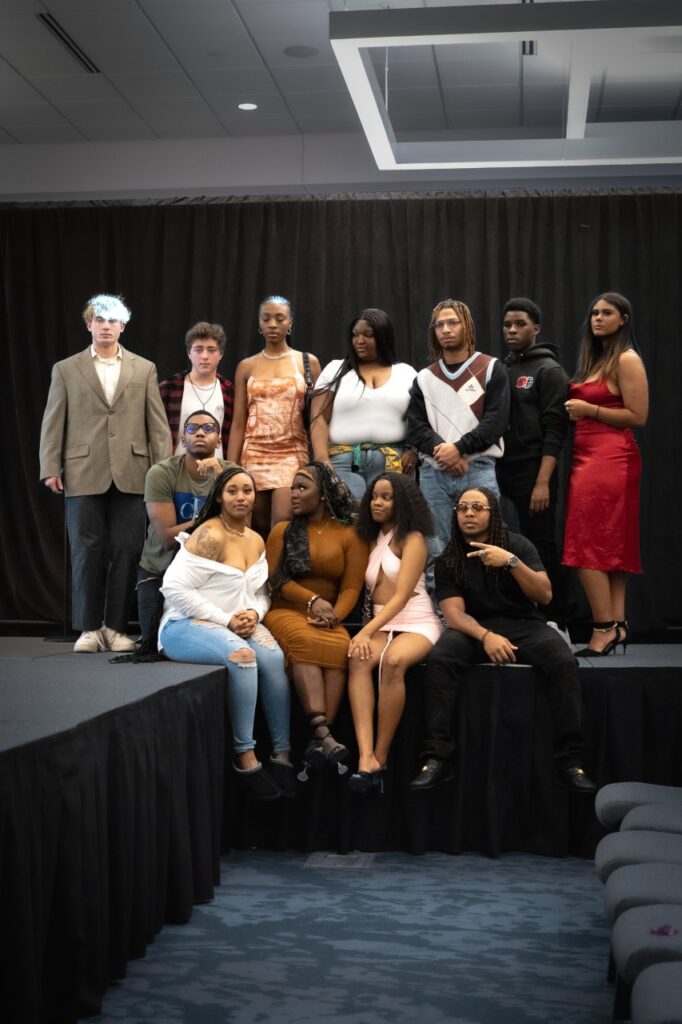 "It's about to be a movie y'all," the robed model said as the audience of close to 70 people waited for the winter fashion show to begin.
Ferris' student fashion alliance set up this year's show in honor of the students. The event took place last Friday, Jan. 26, at six o'clock.
President Fatou Thiam and Vice President Zamya Scott have been organizing this show since September, and they have overcome many obstacles to present it exactly the way they imagined.
"It was, like, very hectic, but I got it done with the help of my friends and the help everyone here," Thiam said.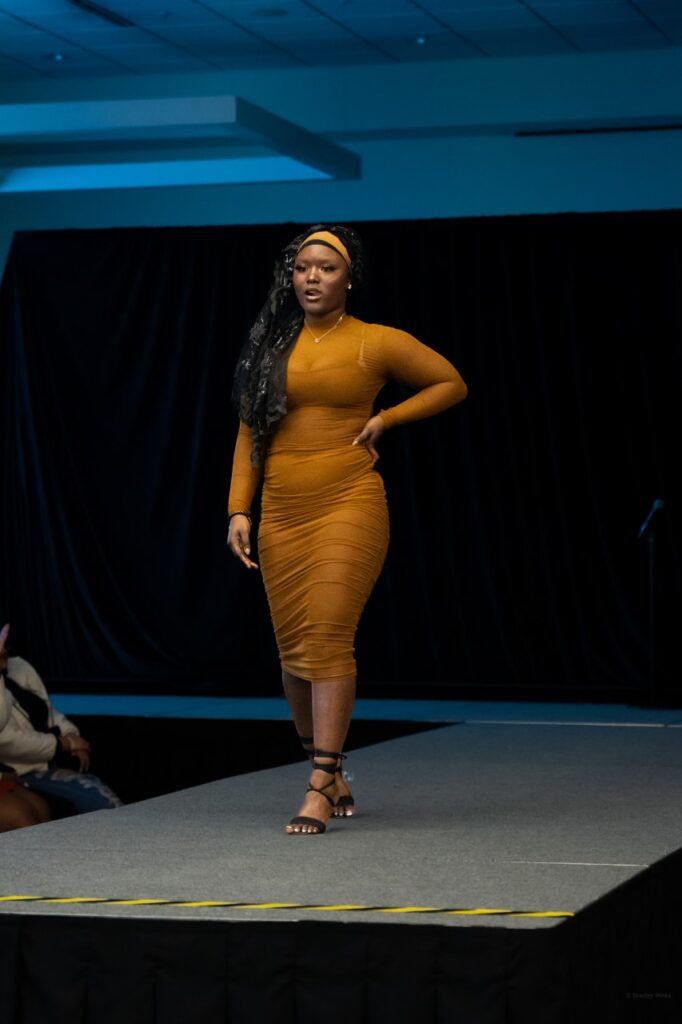 She was one of the models in the 2019 fashion show and got promoted to president of the alliance and host of the show this year. Her inspiration began from there, and that is when she decided this year's show was going to be dedicated to the students.
"I see lots of students with amazing style," Thiam said. "And I really want them to come out of their comfort zone and just show everyone that they can dress."
The main purpose was to spotlight the student's styles outside of the classroom and to show off some clothes that were made by other businesses.
"We don't always have to wear these basic, casual outfits," Thiam said. "I want people to wear out of the ordinary clothes, and [I wanted] to support other businesses."
At the show, each chair had a goodie bag that contained some candy and the business card of one of the vendors that were promoted in the show.
"Even though we had different vendors, we also incorporated people's different styles with the size of the vendors," Scott said. "So even though [the models] wear a hat of the vendors, they have their own street clothes on to spice it up a little bit."
The show consisted of DJs, photographers, a full audience and 18 models, including the two hosts. The students put their own outfits together and modeled them in five different categories: business, casual, vintage, thrift and athletic.
Kessey Kwakye, a junior, was one of the models who participated in the show.
"Fatou introduced me to [modeling for the show]," Kwakye said. "I was a very quiet person, and I thought it would be like getting out of my comfort zone."
He thinks that modeling in this show was the perfect opportunity for him to show off his style and get more out there, just like he has always wanted to do. This was his first time doing anything like this, which was why he was so nervous. At first, there were not as many people, but as the night went on, the audience grew, and so did his nerves.
"I was sweating bullets, I was nervous, but in the end it was fun, and I'm glad everyone came out," Kwakye said.
Freshman model Aleigha Mack signed up thinking she was going to be a posing model, but shortly after she realized that she was modeling for the runway.
The audience was unexpectedly bigger than the students originally thought.
"I knew a lot of my family was going to come, and a lot of friends, but I wasn't expecting this many people," Mack said.
Not only did the models have to walk on the runway in front of tons of people, but they also had to present their own outfits and style them.
"I like my style, and I was trying to get my style into a lot of [my outfits]," Mack said. "It was pretty scary, and I thought no one was going to like my outfits."
Biani Isibor was another one of the models. She had modeled for the fashion show her freshman year at Ferris, but she still found this experience to be frightening.
"[Modeling] was nerve-wracking, but fun at the same time," Isibor said. "I had my friends here and all these people to support me."
She was nervous to show off her style to everyone because she didn't know how they would react to the outfits she put together. According to Isibor, the process of putting the outfits together was interesting because of how important fashion is to her and how she wanted to convey that within her style.
"Fashion is my art," Isibor said. "So how people were going to accept that was very important to me."
Even though most of the models were new to this, they seemed to be naturals. They had fun with the show, and each model had a personality when walking down the runway and showing off their look.
Evan Scott, a senior, attended the fashion show to support a friend. Three words he used to describe the show were "spectacular, interesting and eye-opening."
"It was cool seeing everybody's different styles, it was definitely interesting," Scott said.
The show was thrilling and fun, especially with the audience's energy and enthusiasm.
"The audience did a great job with cheering people on," Scott said. "There was all-around support regardless, even if you didn't know the [model]."
Tylor Robinson, another model at the show, spoke at the end of the show to credit the organizers of the show and presidents of the alliance "day and night."