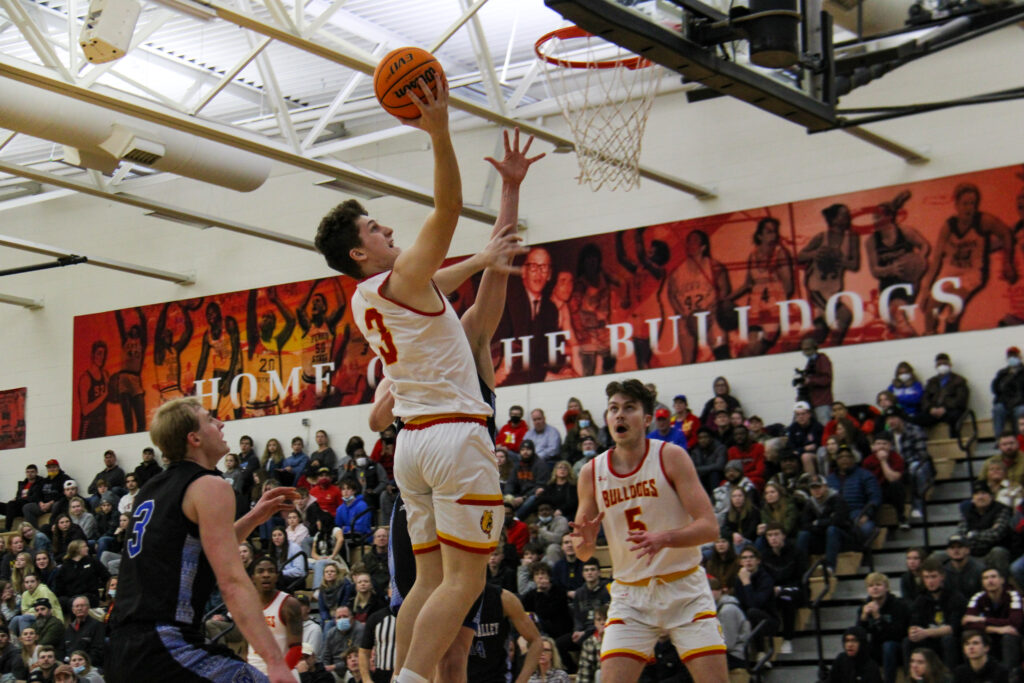 Ferris currently holds an 18-3 record, unbeaten GLIAC record (15-0), first place in the GLIAC standings and they show no signs of slowing down.
With wins over Davenport Thursday, Feb. 3 and Grand Valley Saturday, Feb. 5 the Bulldogs extended their win streak to nine in a row and lead the GLIAC standings by six points over second place Michigan Tech.
Ferris picked up their eighth straight win over Davenport Feb. 3. The Bulldogs took advantage of some huge dunks midway through the second half to gain momentum, and they never looked back after getting to a double-digit lead. They kept their foot on the gas and dominated on the offensive side in the second half.
It was a bad night from the three-point range for the Bulldogs, shooting just 4-23 (17.4%) on the game. But they dominated the paint, outscoring Davenport 56-34 in points, while shooting 54.5% from the floor. Also, they shot 15-20 (75%) at the free-throw line.
"We played through a poor shooting night from three," head Coach Andy Bronkema said. "We were able to do it in other areas, and I was proud of the guys for that."
Leading the way in scoring was Logan Ryan and Dorian Aluyi with 16 points, Walt Kelser with 15 points, Lee Higgins with 14 points and Ben Davidson provided 13 points off the bench.
The Bulldogs shared the ball well with 27 assists in the game. Leading the way with assists was Kelser with six assists, Ethan Erickson with five assists and Higgins with four assists.
The Bulldogs defensive game gave them opportunities to score. The team forced 19 turnovers and turned those turnovers into points, scoring 23 points off turnovers and getting 18 fast break points for the game. They came up with a lot of big stops down the stretch to secure the win.
"Play hard," Higgins said regarding what his team must do against Grand Valley Saturday. "Come out [and] punch them in the mouth first; that's our mindset."
Against Grand Valley, the score was tied at 37 going into halftime. However, Ferris faced an eight point deficit with 17 minutes remaining in the second half, but found a way to battle back and outscore the Lakers 46-43 in the second half to pull out a three point victory.
"That's what Wink Arena can feel like," Bronkema said. "When we got down and went on that run, this place exploded. We haven't heard that noise in a few years. That was the absolute key, along with our guys stepping up in the second half and rebounding like maniacs."
2212 fans attended the game, the highest attendance to a game at Jim Wink Arena this season.
Ferris outrebounded the Lakers 38-35, collecting 12 offensive rebounds in the process. Aluyi led the way with nine boards.
Ryan and Aluyi each contributed 15 points, while Davidson and Higgins each had 12. Kelser pitched in 9 points (3-12 from the floor) through 26 minutes and four personal fouls, his lowest point total of the season and only game where he did not reach double figures.
"I'm still proud of Walt for struggling through a tough game and foul trouble," Bronkema said. "We wouldn't have won those games before. Now we are, and that's a big deal."
Davidson felt his team stuck to the game plan well and can continue winning if they keep getting strong contributions from their bench players.
"I think I bring an ability to score the ball off the bench," Davidson said. "I like to try to do a little bit of everything, and just do what I can to help us win."
The Bulldogs 24-29 from the free throw line, while Grand Valley shot 14-19 and also turned the ball over just six times compared to nine for Grand Valley.
"This is two games in a row that we had less turnovers, shot more free throws and got more offensive rebounds, and that's a really good forumla," Bronkema said.
Ferris will be back in action Thursday, Feb. 10 at Lake Superior State at 7:30 p.m. before returning home to face Northwood Monday, Feb. 14. With just six games remaining on the schedule, including a matchup against second place Michigan Tech, the Bulldogs will look to keep ahold of first place in the GLIAC standings.