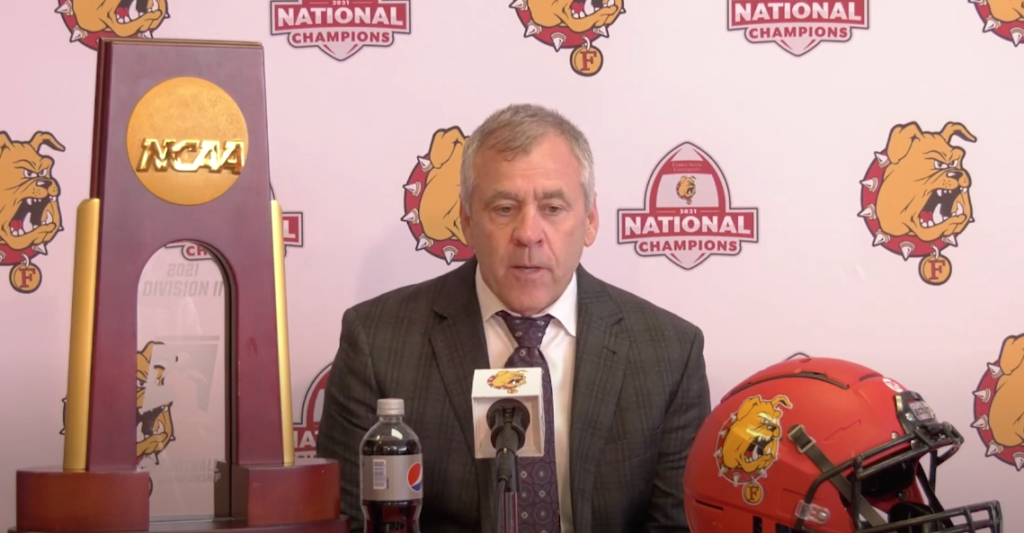 A new batch of blue-chip recruits signed their commitment to play football at Ferris on Wednesday, Feb. 2. This includes a number of Division I steals.
Once again, the coaching staff has recruited what is to be one of the top classes in the country. Trying to replicate the success of last year's recruiting class, which topped the nation in Division II, was ranked 174th overall and beat out 80 divisions and one school.
"We want to target the guys that might be DI misses. We're not recruiting DII guys, we're recruiting DI misses," DII National Coach of the Year Tony Annese said. "Our coaching staff has been extraordinarily good at connecting with high school coaches and high school football players."
The 22 recruited student-athletes come from a multitude of areas across the state of Michigan. In West Michigan, the coaches secured players from talent rich programs such as Grand Haven, Coopersville, Rockford, Caledonia, Cedar Springs, Hudsonville, Muskegon and Grand Rapids. The Bulldogs widened their search on the east side of the mitten, welcoming players from the Detroit, Flint, Chelsea, River Rouge and Warren areas.
Additionally, the Bulldogs recruited a strong supply of talented players from the Sunshine State. Scouting the very best regions in Florida that produce skillful and athletic recruits.
"There is so much talent in Florida," Annese said.
The Floridians joining the team this year add to a number of players on the Bulldog roster from down south who helped contribute to the national championship. Players like Sydney McCloud, Alex Thomas and Marcus Taylor.
Just about each recruit aided their teams deep into the state playoffs, as well as earning a plethora of athletic achievements. Including multiple all-state honorees, players of the week and talented two-way players, just to name a few.
Zak Ahern, Quarterback, Rockford
The Rockford native replenishes the Bulldog's quarterback room after Jared Bernhardt's last season. The 6'2", 205-pound dual threat athlete led the Rams to an impressive 19-2 mark for his two seasons as the varsity starter. Ahern tallied 3,291 all-purpose yards with 50 touchdowns in the 2021 season.
"His versatility and athleticism is really special, and we're very very excited about Zak's future here," Annese said.
Posting a 40 inch vertical, Ahern's athletic ability is a valuable asset offense coordinations. Adding to the already deep talent the Bulldogs have under center, with Mylik Mitchell and Evan Cummins.
Tim Allen, Defensive Line, Coopersville
The speedy and aggressive playmaker garnered attention from programs all over the state of Michigan. Recording 50 tackles his junior year, Allen is a dominant force on the defensive side of the ball.
He's a three sport athlete in high school, which gives the 225-pound, 6'3" athlete an impressive ability to have the possibility of playing on either side of the ball.
"We expect him to grow into a great defensive end here," Annese said.
Dayne Arnett, Offensive Line, Grand Haven
Arnett is one of several DI steals that the Bulldog staff was able to recruit. The big framed O-lineman can fill the gaps of the seniors that are leaving. In West Michigan, he was among the top prospects at his positions. He is a high-value player that will add to the rushing offense that the Bulldogs are known for.
It also helps that Coach Annese has connections and relationships with high school coaches all throughout the state. Dayne's coach, Mike Farley, is one of them, and he helped Annese get his eyes on Arnett.
"Mike Farley is a good friend of mine at Grand Haven, and he just thinks the world of Dayne. He thinks Dayne's a tough guy, and he thinks that we got a steal," Annese said regarding the interest that Dayne had received from multiple Division I schools.
Jerome Baker, Linebacker, Southfield A&T
The southeast Michigander was regarded as one of his high school's biggest standouts on the football field. Baker shows an unmatched ability to read and react to the play in front of him, and he possesses incredible closeout speed.
"Very pleased with his potential. Big guy, very hard working, you know half the battle on defense is playing with great effort," Annese said.
James Cummins II, Wide Receiver, Flint Beecher
The versatile receiver shows potential for both sides of the ball. While setting records for receiving in his last season of high school football, he received very strong interest on the Division I level. This is another player that displays Ferris' coaching staff's ability to flip recruits to Big Rapids.
"I love the versatility being 6'2″, 200-pounds. Can he be a safety? Can he be a linebacker? Can he be a receiver? I mean all those things come into play," Annese said.
Andrew Devries, Offensive Line, Caledonia
One of the top offensive linemen in the state of Michigan. Devries already had ties with Ferris through his father, Eric, who played football for the Bulldogs, and his defensive coordinator, Whitney Bell, who also played for the football program.
Devries played a big role in his school's success this past fall, reaching the regional championship for the first time in a decade. He too shows versatility on both front sides of the ball, being 6'2", 270 pounds.
"We'll take a guy like Andrew Devries whose tough as nails," Annese commented after talking about the possibility of Andrew's lack in size.
Almarco Fields, Offensive Line, Reeths-Puffer
Another addition to the Bulldog offensive line. Fields is a force at the line of scrimmage, being an anchor for their run-game, as well as tallying 31 tackles with four for a loss. His efforts on the field helped give the team a playoff berth his junior year in 2020.
The mountain of a man will join the Bulldogs this upcoming season. At 6'5" and 285 pounds, his strength and athleticism will open holes for the run game, which proved important for the team in many circumstances last season.
"At one point in time, he was a serious heavyweight. He's really controlled his weight, and now just a beast in the weight room. He's knocking out 21 reps at 225 on the bench," Annese said.
Damari Foster, Defensive Back, Muskegon
The 5'11" speedster is able to create big plays with his legs on both sides of the ball. Scoring six times with 500 yards on 35 touches shows his ability with the ball. On defense, had a career high 80 yard fumble recovery and seven picks his junior year.
"To be the M-Live defensive player of the year in the Muskegon area, it's a big deal. So we're really excited to get Damari," Annese said.
Foster was a multi-year starter for the Big Reds, an impressive and almost unheard-of feat in the football program. A program that Annese is familiar with, as that was one of his stops before making his way to Ferris.
Cam Heiss, Offensive Line, Cedar Springs
Heiss was a key performer to bring a district title to the RedHawks his senior year, as well as aiding in another playoff berth the year prior. Being among the top prospects on the west side of Michigan, he was recognized by the Detroit Free Press as an all-state honoree.
"He's long, so we think he's going to get big and strong. Being from Cedar Springs, you know, 30 miles down the road, that's incredible. So we're really excited about his potential," Annese commented.
Trenton Hill, Running Back, Chelsea
Hill led his Chelsea squad to an incredible comeback win in the state championship game. Finishing his senior campaign with 1,000 rushing yards, he too received a strong pull towards some Division I schools.
He also gained recognition by capturing a spot on the Ann Arbor Dream Team.
"Trenton scored 34 touchdowns, so I mean it kind of tells you something when you score 34 touchdowns in a year," Annese said.
Eric "EJ" Jackson, Defensive Back, Pinellas Park (Fla.)
One of the many players from the Sunshine State that will make the trip up to Big Rapids this upcoming fall. EJ not only shows strong abilities on the football field, but also showed prowess in the classroom as well.
Catching 28 passes for 554 yards in 2021, he may be joining the team with hopes for the defensive side, but his versatility can lead him to help the Bulldogs in more ways than one.
"We're expecting him to get a little bit bigger and stronger and faster and also a little bit taller," Annese said. "[He] can play both sides of the ball, so all those skills that you're looking for in an athlete, EJ has."
Eddie Jewett IV, Kicker, Eaton Rapids
Jewett has displayed incredible accuracy from the 50 yard range, which led him to have invested interest from multiple highly talented institutions. He's one of the top specialist in the Mitten, and a great signing for the Bulldogs.
"Coach Schugars has been targeting Eddie for quite some time,… so, I say about Eddie is that he's probably the most loyal Bulldog we have," Annese said.
Chris Jonas, Defensive Back, Hawthorne (Fla.)
Jonas was a main performer for the Hornets squad. The team tallied a 10-1 overall record and a state championship appearance. He's a dynamic athlete with a great amount of breakout potential.
"Coach Tony Annese, my nephew, whose the DB coach. He graded Chris Jonas out as the number one safety on the whole list," Annese said in regards to Jonas' rank among the other safeties that were highly ranked in the state of Florida.
Charlie "CJ" Jones, Linebacker, Grand Rapids Christian
Jones was among the top 115 players in the state of Michigan according to 247 sports. The 6'2", 215 pound force can plug up run schemes and read plays exceptionally well. A Division I steal who helped his team achieve a seven win season.
"Don Fellows, a former head coach for Grand Rapids Christian who coached for me, he just said that CJ is a NFL talent, so that's great to hear," Annese said.
With CJ coming to the team, there's no better place for him to develop for the NFL than a school who has the most active players in the league amongst all of Division II.
Markee Jones, Defensive Lineman, River Rouge
A threat on both sides of the ball, the talented interior lineman helped his team rack up an average of 45 points a game. Markee is a chosen member to the Michigan High School Football Coaches Association All-State Team.
"[If] you're playing for the River Rouge program, you know how to compete. You know how to do things the right way, and so we're very happy about him," Annese said.
Markel King, Slot Reciever, Palm Beach Central (Fla.)
King has competed at both the receiver and running back positions. He has garnered a total of 1,719 yards and 17 touchdowns while receiving. On the ground, he ran for 1,028 yards on 55 carries for 10 scores. The Sun Sentinel First Team honoree can bring a fresh set of legs to the Bulldog offense.
"We love guys like that, speed and space. Extraordinarily explosive," Annese said in regards to worries of Markel being a shorter runner at 5'7".
Conner Milton, Linebacker, Forest Hills Central
A leader of a state playoff team, Milton was a standout athlete for the Rangers. He's regarded as one of the potential defensive backs at his position, with a great ability to make big plays.
"When they needed a score, they threw the ball deep to him. As a linebacker, he's extraordinarily good," Annese said on Milton's ability on both sides of the ball.
Milton led the team to back-to-back league titles in his junior and senior seasons and was tabbed to the Associated Press Division I-II All State squad. The 6'4", 205 pound unit will bring a strong presence in the middle of the defense when his number gets called by the coaching staff.
Alquerious Ray, Running Back, Clay (Fla.)
The highly touted tailback from the land of the oranges made noise with multiple offers and interest from the multiple levels of collegiate football. Averaging 126 yards per game, with 44 scores on the ground and two in the air. The Bulldog quarterbacks can look forward to having a versatile athlete in the backfield.
"He's a great running back. Watch his film, he's powerful and fast. And when I say fast, you're going to be surprised at how fast he is," Annese said.
Tre Redding, Slot Receiver, Michigan Collegiate
A talented football player and student, the 6 foot, 175 pound athlete led his team all the way to Ford Field in his senior year. With 10 interceptions, he shows a real threat to teams with his versatility as a football player.
"He can do it all. He can go back and play in the secondary, he had a lot of interceptions. He can play in the slot or receiver," Annese said.
Perrion Sylvester, Defensive Back, Newberry (Fla.)
The defensive threat that can jump out of the building displayed great speed and skill throughout all the years that he played varsity ball. He is a team leader who showed that trait on both the field and hardwood.
"He only played football for two years. He was one of those guys who was going to be a basketball star, but he's going to be a great football player," Annese said.
The raw talent that he's shown on the field shows a promising potential, and Coach Ryan Hodges is no doubt excited to get him in the weight room on the field.
Levi Tuinstra, Kicker, Unity Christian
The second kicker that the Bulldog coaching staff has brought on in this recruiting class. He finished 41-46 on extra point attempts in his senior year. As well as splitting the uprights on a 75-yard field goal in the state semifinals.
Tuinstra averaged 60 yards per kickoff in the state finals, a coaches dream, as touchbacks are highly coveted for the defensive teams.
"There we several times that he kicked it across the end line. I thought he was going to kick it into the uprights," Annese said. "A perfect scenario for a kickoff coach, right, is touchbacks."
Myles Walton, Defensive Back, Muskegon
The final recruit and the second play from the Big Reds. Walton displayed an incredible talent in the game of football. A four-year starter for the prestigious program, where he averaged 10.2 yards per carry. He ran the ball on the offense 54 times for 550 yards, as well as dabbled in special teams, setting a school record for a 95 yard punt return.
"When you say four-year starter at Muskegon high school, you're saying something, right? That doesn't happen very often," Annese said. "He's played for a championship team there at Muskegon and he's excelled."
Tabbed as one of the top cornerbacks in the state of Michigan, there is no telling what he will be able to do when he gets the ball in a Bulldog uniform.
Although these new players won't see the field in quite some time, Bulldog football fans can look forward to seeing the winning culture and championship mentality continued for more years to come.
NW