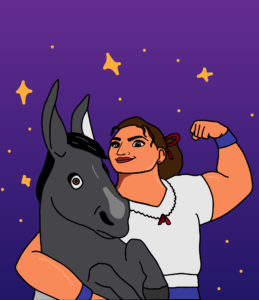 Set in Columbia, Encanto features the Madrigal family, who have all been bestowed with some magical power. However, the only exception to the magical gifts is the beloved matriarch and head of the family Abuela, and one of her granddaughters – Mirabel. 
Directed by Jared Busch and Bryan Howard, Encanto has captured my heart and that of many others. Rebecca Rubin states in her Reuters article that Encanto "landed the best opening weekend for an animated film during the pandemic." 
The story follows Mirabel as she struggles to be the only family member without a gift, while the rest of the family uses their gifts to benefit the town. Mirabel soon finds that her family isn't as perfect as they seem from the outside. Abuela's desire for each to "do their part" has left everyone with anxiety and uncertainty as they try to conform to her standards.
Now – unlike Mirabel, her sister Luisa has a gift: strength. But she is the best Disney character for a simple reason. She's relatable. A woman who is portrayed as physically strong, and not conforming to the standard "Disney princess" body type.  
She still struggles to fit in, and "do her part" to help her family.
"Under the surface, I'm pretty sure I'm worthless if I can't be of service," sings Luisa in one of Encanto's most catchy musical numbers, Surface Pressure. 
Luisa's non-traditional muscles and the bulky frame have caused some controversy in the animation and media world. In an article by Jeff Wright in The Federalist, he clearly voices his opinion with the title: "'Encanto's' Luisa Is Way Too Beefy For A Woman." 
Wright goes on to say that Disney animators made a mistake by portraying Luisa as more masculine than feminine, ignoring the significant number of the population that can relate. 
Another tweet by @soapachu on Twitter claims that "Luisa merch is outselling Isabella merch by a significant factor. Turns out children relate harder to women who are strong, honest, flawed, and interesting than those who are just seen as beautiful."
In my mind, it is about time that Disney shows a woman at a plus-size, even if she isn't the main character. Why can't a woman be strong and still be feminine? Women carry the weight of society's expectations every day, just like Luisa is expected to carry the weight of her family. 
No wonder she's so relatable. 
Encanto is a must-watch for anyone on Disney+ or to purchase at your local supermarket. Having received three Golden Globe nominations at the 79th ceremony and winning the Best Animated Feature Film, it is a valuable addition to any collection.