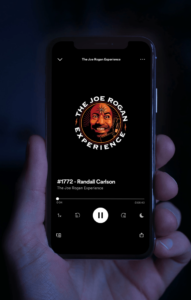 The Timeline:
Spotify is making headlines again Monday as the music giant has doubled down on their podcast posterchild, Joe Rogan.
On Dec. 31, Rogan released episode 1757 of "The Joe Rogan Experience." He was joined by controversial doctor Robert Malone, who was banned from various social media platforms for spreading misinformation about COVID-19.
Less than two weeks later, more than 270 various experts, ranging from medical professionals, scientists, researchers, professors, and graduate students, came together and signed a letter directed at Spotify demanding they do something about the episode and the podcast in general.
"By allowing the propagation of false and societally harmful assertions, Spotify is enabling its hosted media to damage public trust in scientific research and sow doubt in the credibility of data-driven guidance offered by medical professionals," the letter read.
From there, artists and podcast hosts like Neil Young and Roxane Gay, respectively, removed their catalogs of content in protest of Spotify's complacency on the issue.
By the end of January, dozens of artists had pulled their catalogs from Spotify in protest, so Spotify conceded and decided to place content warnings on all podcasts discussing COVID-19. Rogan then posted a 10-minute apology video to his Instagram addressing the controversy.
"I'm just a person who sits down and talks to people and has conversations with them. Do I get things wrong? Absolutely. I get things wrong. But I try to correct them." Rogan said.
If only the story stopped there.
Another video surfaced just four days after that apology, a compilation of clips from his show of him using racial slurs. More than 100 episodes of the show were removed from Spotify at Rogan's request, according to Daniel Ek during the Spotify Q4 earnings call.
Rogan issued another apology via Instagram, citing he hasn't used the word in years, and he now knows he shouldn't. Spotify then issued a memo to their employees apologizing for the continued impacts of the controversy, they also doubled down on keeping Rogan. "I want to make one point very clear – I do not believe that silencing Joe is the answer," Elk finished the statement.
The Problem:
The reason I canceled my Spotify subscription is simple. I do not believe that Joe Rogan should have unlimited, seemingly unsupervised access to Spotify's 400 million monthly active listeners.
We are a month into year three of the pandemic. At this point, I am just violently sick of the misinformation that directly contributes to the continued skepticism that keeps it alive. With 11 million monthly listeners, Rogan must prepare for his episodes regarding COVID-19 and other sensitive topics.
I also take issue with Spotify's response to Rogan's use of racial slurs. The platform has an obligation not only to its hosts and their contracts but to its listeners and its staff, and the statement they released to their staff was messy. It read as if they were saying, "we know what he did was wrong, but we care more about our bottom line than you."
As a consumer, I can speak with my dollar, and no longer will it go to Spotify. Not only do I believe they are in the wrong for continuing to give Rogan a platform, but also for their response to blatant racism. While I dislike the interface of Apple Music and will miss the developed casting and handoff features, I'm willing to deal with the mediocrity for my values.