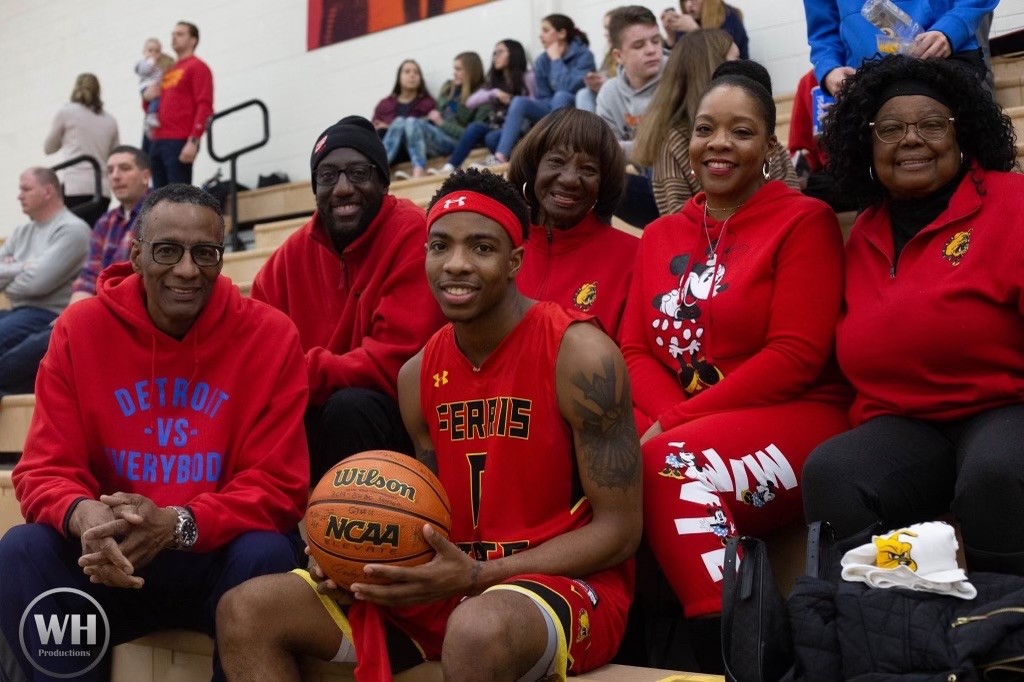 For the Kelser family, basketball has been attached to the family name for many generations. Over the past fifty years, multiple family members have hit the hardwood at levels ranging from prep school all the way up to the NBA. This inspiration led Walt Kelser to pick up basketball at age of five.
The six-foot, 175-pound Southfield-native is in his third year manning the backcourt at Ferris. As a transfer from Schoolcraft College, Kelser's stellar play was sought after by many top-tier colleges. In the end, Coach Bronkema's demeanor and championship success led Walt to signing with the Bulldogs.
"One of the things was just talking to Coach Bronks," Walt said. "He was reaching out every day. We had conversations about anything, not just basketball. Then, on my visit, I already knew a couple of people that were there. Them just winning the National Championship also helped too."
During his time in Big Rapids, there's no questioning Walt's offensive dominance. Wearing a Bulldog uniform, Walt has averaged 18.7 points per game on 43% shooting. This comprises eight 20+ point performances this season, including 40 points against Drury and 37 points against top-10 ranked Minnesota Duluth.
When asked about what makes Walt such good scorer, Bronkema believes his talent is special.
"Walt is a high-level scorer and very efficient," Bronkema said. "He's got some natural ability and has put in a lot of time in the gym. From a basketball family, he's grown up with those expectations."
While Walt has flourished as a Bulldog, his success has stretched throughout his entire college career. At Schoolcraft, he averaged 21 points, along with 3.8 assists, 3.5 rebounds and 1.7 steals per contest en route to earning the Michigan Community College Athletic Association Eastern Conference Player of the Year honors.
"It was a great experience," Walt said on his Schoolcraft career. "I loved the coaches and teams I played with there. It helped me a lot with adjusting to college basketball."
No matter where Walt is playing, there is one thing that has traveled with him: his family's support. Whether it's parents, siblings or other family members, many come from near and far to watch him play.
"The travel to Big Rapids is about a three-hour drive," Walt said. "My family has always been supportive from day one, and I appreciate them."
Of these family members, there is a notable name when it comes to Michigan basketball. Walt's uncle, former NBA player and Michigan State alum, Greg Kelser, currently serves as the color commentator for the Detroit Pistons. Although the once National Champion captain has a full job in motown, Greg always finds time to watch his nephew play.
"When I was coming up through high school, my parents and my family supported me. Then, when Walter's father Raymond was coming through the ranks, we all supported him. And now its Walt's turn, and we are happy to support him. I will try to come anytime Ferris has a game if the Pistons aren't playing" Greg said.
Throughout the years of watching Walt play, Greg believes he has many of the tools to become an elite player.
"Walter has tremendous quickness and speed, as well as his ability to handle the basketball and create offense for himself," Kelser said. "He is also very unselfish on the court and is working hard to become a better defensive player."
While Walt has used his skills on the floor to pick up many athletic accolades, there is something he has earned off the floor that his family is extremely proud of. Playing under his fifth year of eligibility, Walt completed his bachelor's degree in sports communication in the fall of 2021. This accomplishment continues another family tradition.
"Walter's grandfather told me 40 years ago, when I was at Michigan State, that no Kelser should go without a college degree from now on," Greg said. "That's exactly what has occurred. I got my degree, my brothers got their degrees, Walt's sister got her degree and now Walter has his."
When it comes to family, there's another portion of connections he embraces. When asked about what makes him love the game of basketball, Kelser pointed to the bonds formed within the team.
"It's like a big 'ole family," Walt said regarding his teammates and coaches. "I'm going to miss the guys for sure."
Over the past two seasons, Walt has shared the starting backcourt with second year point guard Jimmy Scholler. In their time together as both hotel roommates and teammates, Scholler has had a front row seat to Walt's leadership.
"Walt isn't afraid to get after people when they aren't giving the amount of expected effort," Scholler said. "He is like another coach on the floor, which is cool. He has been a great mentor and has helped me be more aggressive and stay confident throughout the game offensively."
The consistent winning culture has put a lot of expectations on Ferris State basketball. The Bulldogs are currently looking to win their fourth regular season GLIAC title in the last six seasons. Since 2015, the Bulldogs have won four GLIAC tournament titles, including the National Championship in 2018. While Ferris has put many trophies into the case, Coach Bronkema attributes the winning culture to something that goes beyond the game.
"Championship culture doesn't even have to involve championships," Bronkema said. "It's a way you go about life."
When asked about this culture, Walt mentioned how coaches like Bronkema do a great job of forming a relationship with the players. This includes having individual meetings with players to talk about not just basketball but "real life stuff."
Although this basketball season will be Walt's last, his post collegiate plans do not involve putting down the basketball.
"I want to play professional basketball," Walt said about his plans. "I want to see how all my skills can do up to this point."
Walt and the Bulldogs currently sit atop the GLIAC standings with a 13-2 record this season. They will be in action against Wisconsin-Parkside on Thursday and Purdue Northwest on Saturday. To follow the games and the Bulldogs' chase for the conference championship, visit www.ferrisstatebulldogs.com.