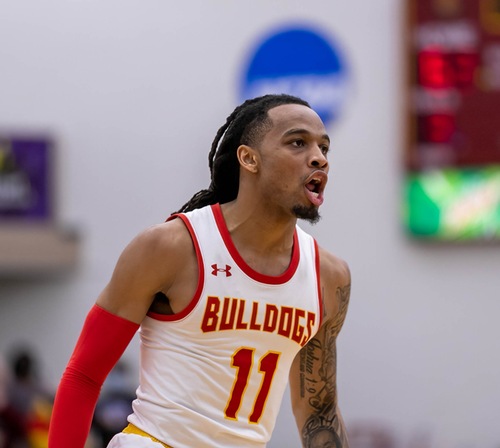 In addition to being a student-athlete, Lee Higgins is a Ferris State men's basketball player grappling with the struggles of being away from his son and family.
After playing at Concordia University, St. Paul for three years, Higgins has made his mark in his first and only year with the Bulldog squad. However, attending Ferris has taken time away from raising his son, who lives in Minnesota.
The process has been tough for Higgins, but finding a winning program that he can be a part of and help improve has been his focus for this season.
"I wanted to win. I haven't really been around a winning program. So Ferris is kind of the go-to school for that," Higgins said.
The 6'3" shooting guard has been doing what he's come to Big Rapids for. Higgins has appeared in every single game for the Bulldogs so far this season, building an average of 12.5 points per game, as well as shooting nearly 50% from beyond the arc.
Higgins' abilities on the court compliment each one of his teammates. He's shown an above average rebounding ability in his position, which helps Logan Ryan and Vejas Grazulis on the weak side. He also shows an impressive display of his court vision, which helps open the floor for the other three-point shooters on the roster.
"They got the license to shoot it when they're open. If they can get themselves open, they can shoot it," head coach Andy Bronkema said about the shooting talents of Higgins and Dorian Aluyi.
Higgins didn't begin his career at the Division II level for basketball. Instead, he made his collegiate debut at Des Moines Area Community College. He started in all but one game for the Bears, averaging 15 points, two assists and one rebound. Shortly after, he made the trip to Minnesota to play two seasons for the Golden Bears.
The decision to spend his final year of eligibility in Michigan wasn't an easy one.
"It was tough, actually," Higgins said. "I have a son back in Minnesota, so it was a tough process."
After three years of building relationships and habits, as well as spending so much time with his son, it took a long time to get used to. Although leaving behind this bond is tough, the opportunity of building new ones makes the change a little bit easier.
"Lee has been confident since he's gotten here," sophomore Ben Davidson said. "He has a swagger about him that is very helpful to the team. The only thing bad about Lee is that he's a Bears fan."
Fans can see he's fit in quite well with the other guys on the Bulldog roster in his short time here. He has left a positive mark on his teammates and coaches both on and off the court.
Compared to his last stop in the big city of St. Paul, Lee has found some of his favorite places here in Big Rapids. One of the things he enjoys most is indulging in some delicious burgers from Schuberg's.
"At Concordia, it was very small. It was a big city, but it was like a small campus," Higgins said. "There was only one place to eat, so this is definitely different for me."
As much fun as it is to have fun off campus, Higgin's focus is always on the court. Despite the 18-4 overall record that the team has reached so far this season, the last two road losses have given them much to work on.
"Every road game in the GLIAC is pretty tough. We just approach it like, alright we got to come out [and] hit them first," Higgins said. "They don't really feel like away games. We [have] some nice traveling fans.
"I like the family atmosphere [and] how the fans are all involved and stuff like that. You see the same people at the games," Higgins said. "They all feel like they are apart of the Bulldogs. That's what I like."
With Higgins and the rest of the Bulldogs working to finish with another 20+ win season, there's still work to do. Finishing out the regular season and getting redemption in the GLIAC and March tournaments are things that each of the players, managers, coaches and fans are working together to achieve.