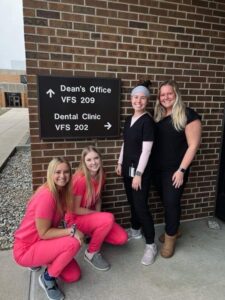 Dental hygiene students scrub in on real dental services as a part of their course curriculum. In exchange, patients get to walk out with clean teeth without breaking the bank.
The Ferris State Dental Hygiene Clinic offers various dental services at a cheaper rate than standard dentists. The services are performed by students in the dental hygiene program who are supervised by registered hygienists and dentists.
The Dental Hygiene Clinic allows students to graduate from the program with real-world experience. They learn how to provide different services for actual patients. In turn, the patients get full dental cleanings, x-rays and other services at a cheaper cost.
Last year, the clinic had to change policies and procedures to help keep both the students performing the services and the patients safe from COVID-19. According to Susan Wancour, an associate professor and chair for the Department of Dental Hygiene and Public Health, students last year had to wear respirator masks, and services were limited due to aerosol production.
"We just lightened up this semester," Wancour said. "We are allowing instructors to decide if they want to wear a respirator mask or a regular surgical mask, and we're allowing more aerosols to be produced… We still screen all patients and students for COVID every day."
Dental hygiene students sign up for clinic classes in order to graduate. At the clinic, students are expected to find their own patients. Each semester, the number of patients they are required to service for credit increases. In their first semester, students have to have eight patients. By their final semester, they are expected to have 23 patients.
Students have a variety of ways they acquire patients. They can recruit their friends, make posts on social media and ask classmates in other classes. Online groups based in Big Rapids also provide an opportunity to recruit patients. Students can also get patients from individuals who call in to make an appointment but do not request a specific student.
"We're all like super excited to finally be able to have patience, but we're also super nervous because we know it's hard to recruit people," first-year dental hygiene student Trisha Bennett said. "I have a lot of friends that live between two to five hours away and so it's harder for them to recruit patients to come in. We're doing okay, but it's kind of a struggle and nerve racking to try to get our requirements met by having to reach out and get patients to come in."
Bennett posted on a Facebook group called "Ask Big Rapids" where she asked members to come into the clinic to help their education. With this post she had a mother of five come in and gave her and four other students to work on.
One issue that dental hygiene students face with their patients is that there are times when the patients have to wait for as long as three hours. But in the trade off the paitents get good services for cheaper rates.
The clinic has a variety of services available such as teeth cleanings, fluoride treatments, X-rays and sealants. Throughout the year, veterans can receive teeth cleanings at no cost.
During their first semester they need two patients just for X-rays then in the second semester they can do X-rays and cleanings. The second year they will be able to do sealants.
The clinic is open September through April. During the open season, there are multiple specials that go on. From Feb. 7 through March 3, Ferris students can receive discounted X-rays and cleanings. There are certain days where children up to age 13 can get free teeth cleanings and half-off sealants.
Appointments can be made either directly through a student staffing the clinic or by calling the clinic at (231) 591-2260.
Marissa Russell contributed to this article.