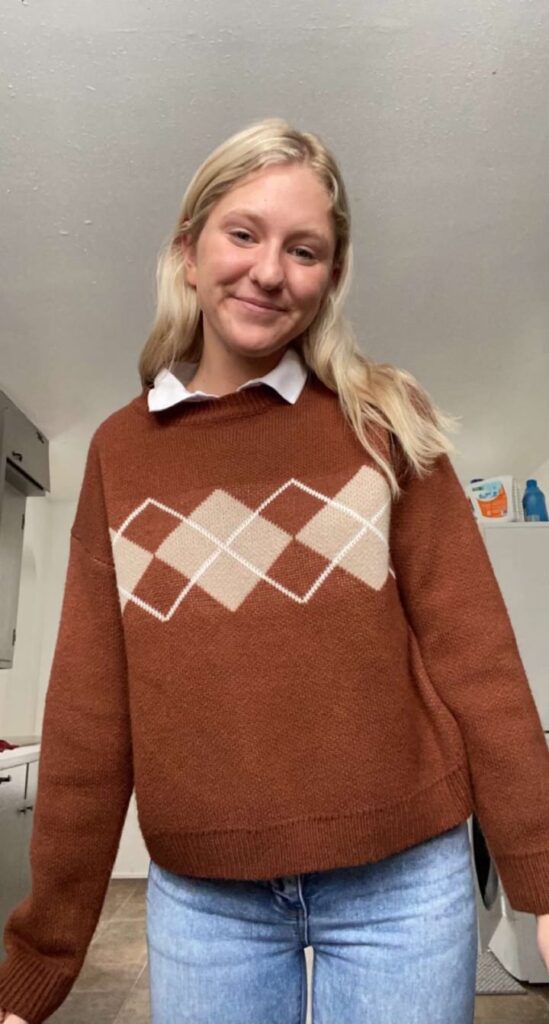 Fashion is constantly changing, but it will always be around. As one of the biggest forms of self-expression, it can build confidence like no other.
Sophomore Emma Lentz's favorite trend this season has been a collared shirt under a sweater vest with jeans and white shoes. Lentz has started wearing headbands recently, and they're becoming her most used accessory. This idea was sparked from Blair Waldorf's iconic, preppy style in the show "Gossip Girl." Her mom's style also inspires her to wear most of her outfits. According to Lentz, her mom is her fashion icon.
"I wear a lot of clothes that my mom does," Lentz said. "Half of my clothes are hers."
Though her everyday style is more relaxed, she remains mindful of what she wears.
"My style is definitely very casual and comfortable," Lentz said. "I look put-together a couple of days of the week, but a lot of the times I just like to wear sweatpants and hoodies."
She usually dresses up over the weekends, but on the weekdays she chooses to wear something less casual to stay motivated.
"I dress up during the week if I know I have a lot to do that day… When I feel good on the outside, I'm definitely more productive," Lentz said.
She spends a lot of time getting ready when she goes out over the weekend, and she believes that sometimes trying to stay warm ruins the look.
"I don't feel like I really wear a lot of warm stuff," Lentz said. "I'm going for cute instead of convenient."
Some advice that she would give to others who struggle with their sense of style is to buy timeless pieces that are versatile and can go with everything.
"Trends change all the time. Finding what works best for you is a great way to feel confident in your outfits," Lentz said.
According to Cleo Wade, an artist and activist, "[Style] is one of the few things you can control in a world you can't control. Style can make you confident; like you can crush that interview and take on the world."
Kennedy Mapes, a fashion studies student at KCAD, uses fashion as a form of self-expression.
"Fashion is just the most awesome way for me to use my creativity to show people who I am," Mapes said.
In the past, Mapes focused her style based on what was trendy. Over the years, she has decided to start wearing whatever she liked. She built her wardrobe with that mindset.
"I'm focused on collecting pieces that I know are going to transcend different eras," Mapes said. "So, I'm very into a capsule wardrobe and having pieces that I know are going to look good, no matter what I put with them."
She gathers some of her fashion inspiration from Pinterest and TikTok, but puts a modern twist on her outfits, as she looks to her timeless fashion icons, Audrey Hepburn and Grace Kelly.
In Mapes' opinion, fashion is very versatile. There is so much that can be done with it, no matter what is trending or in style.
"You can really just show how unique you are with what you're wearing on your body," Mapes said. "We [can] wear what makes us happy and what we feel good in, and I think that showcases who we are on the inside."
When Mapes started getting into fashion, she felt the need to pick one aesthetic and run with it. It was not until she tried different styles that she started to realize what her personal style was.
"Don't be afraid to use your creative side and just let that shine through, no matter what," Mapes said.
Mapes struggled in the past with self-confidence and body image, but fashion allowed her to feel more confident in herself.
"What you're putting on your body makes you feel good because it expresses who you are on the inside," Mapes said. "Fashion is the most perfect way for us to express who we are and to feel good and beautiful in our own skin."
Fashion became fun for her when she took off the weight of having to look good every day.
"Just allow [fashion] to be the creative, fun thing that it is," Mapes said. "Once I started making it fun and not really putting pressure behind it, I felt so much better."
Fashion is about experiencing different styles that make you feel good about yourself and taking that confidence and using it to physically express who you are.