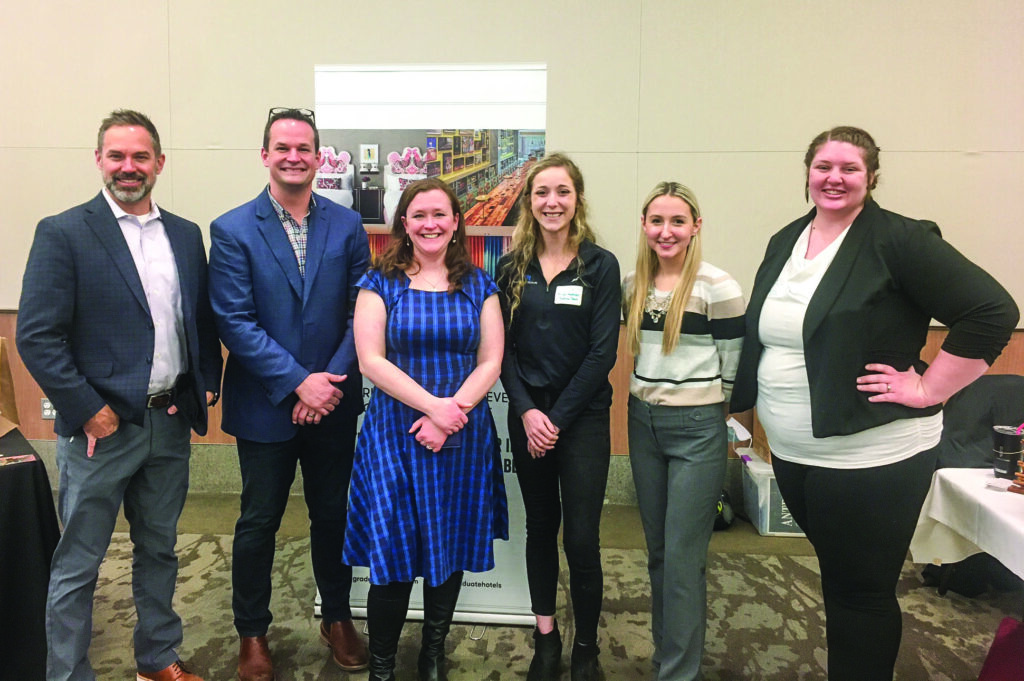 Every semester, Ferris hosts career and internship fairs that are designed to help students gain work experience before they graduate. These career and internship fairs are hosted by the Career And Professional Services office or by the different programs at Ferris.
Last week, the hospitality program held a week-long internship fair. It consisted of informational Zoom meetings, resume and networking sessions and the internship fair itself.
Kathryn Wolfer, a faculty member and internship coordinator for the hospitality program, was one of the individuals in charge of setting up this event.
"We get contacted throughout the semester [by] industry professionals [that] want to come in and speak to our class and make connections," Wolfer said. "We decided to implement what we call 'Internship Week.' It's a week-long process [where] we try to prepare our students to attend the career fairs."
At the beginning of the week, the hospitality fair began with Internship 101, an informational Zoom session where underclassmen were given the opportunity to speak with upperclassmen who already had an internship. Upperclassmen were able to talk about how they got their internship, their experience in the position and how they fulfilled their internship class requirements.
On the second day, the hospitality program held two resume-building sessions in the computer lab. Participants were able to pull up their resumes and learn what improvements could be made to them.
On the third day, there was a networking night. The networking night consisted of a meal, which students from the international cuisine class cooked, and opportunities to socialize with attending companies.
"We had about 15 industry professionals, along with 40 students," Wolfer said. "That went for about two hours. Our students were able to meet with people in the industry, and then [the night] culminated with the event in the ballroom."
The morning of the fourth day was similar to networking night. Conversations were able to continue, and business could begin taking place. By the afternoon, interviews were being conducted, so the professionals could hire within the hospitality industry.
These week-long events are opportunities for students to come and talk with different companies in the hopes of attaining full-time or part-time positions.
Hospitality sophomore Hannah Nunamaker attended the smaller internship fair with a resume and cover letter in hopes of making more connections for future positions. Nunamaker had also attended the other preparation sessions the hospitality program held leading up to the day of the fair. She noted that attending the other events, especially the networking night, made her more comfortable heading into the fair.
"I think it's made me more confident," Nunamaker said. "I think the networking session made it easier to confront people because they remembered me, and so they started asking more questions."
The larger career and internship fair, run by the CAPS office, is similar to the hospitality internship fair, but it all occurs on one day, and there isn't as much free time to build connections.
According to computer and information technology senior Wil Olson, the career and internship fair has had around 200 employers.
"Most of the businesses I saw were heavy equipment construction, insurance and business administration," Olson said. "Part of my pre-scouting was that I knew I was going to be looking for a more niche market."
Olson said there aren't many businesses at these events, and he has unfortunately not found a position through these events. However, he has attended six career and internship events, even after finding his own internship outside of the fair.
Olson finds that going to these fairs is good practice for the future when you are interviewing for a job.
"I tried to attend every single one that I [could]," Olson said. "The more times you do it, the more comfortable you are in that setting, and the more familiar you are with how it all goes down."
Olson recalled how some of his classes have taught him how to write and present an elevator pitch, which is essentially a quick speech introducing yourself.
He said taking that speech and cutting it down to three or four sentences that he can say quickly to employers is a help when at a fast-moving event.
At smaller, more program-oriented internship fairs, students are typically able to learn how to market themselves to businesses within their field. There is more time for students to feel comfortable meeting with businesses. With larger, university-held internship fairs, students must come prepared with no previous aid or tips to help them navigate landing a position.
No matter what type of internship fair it may be, students should not be afraid to go to them.
Nunamaker has been able to make connections with hotel owners and other hospitality-oriented businesses in the past all because she took the opportunity to put her name out there at these fairs.
"Take every opportunity that you can," Nunamaker said. "Even though you feel like it may not be for you or it may not be your plan; it may be what you need. So, you never know. Just take the shot and talk to people and see what happens."
The next career and internship fair is on Feb. 22, at the university recreation center from 11 a.m. to 3 p.m. For more information, students can head to the CAPS Instagram or stop by in their office.