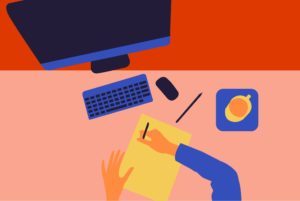 On Wednesday, Feb. 9, Ferris hosted its annual graduate degree fair via zoom as a three-hour drop-in event from 4 p.m. to 7 p.m.
Jennifer Amlotte is the director of marketing and admissions for Ferris' extended and international operations, which include graduate programs. As a host at the event, she answered student questions regarding the graduate programs at Ferris.
"I think there are a lot of students who don't realize that Ferris does have opportunities beyond the associates and bachelor's degree," Amlotte said.
Both current Ferris undergraduate students and other prospective students attended the event.
Kasey Ninke has worked in admissions for 13 years, and she recently moved to graduate studies. She explained that the process for graduate student applications is very similar to the undergraduate application process.
For undergraduate and transfer students an online application will need to be filled out, even if one was already filled out in applying for the undergraduate program.
"Every program requires a resume and a statement of purpose, but your statement of purpose will have a different intent based on your program," Ninke said.  "Every program will also require letters of recommendation. [The specific program will decide if you need] two letters or three."
Ninke also added that students at Ferris can apply anytime within their last year of undergraduate studies, but the sooner the application is submitted the better the applicant's chances. Applications for the upcoming summer semester will be open until March 1.
Financial aid advisor Ryan Buckley also attended the grad fair, and he highlighted the primary differences between financial aid for undergraduate and graduate students.
"[Graduate students] do typically have a few different types of borrowing they can look at. And those types of borrowing are similar to what an undergraduate would be looking at, with the exception of some of the loan limits [being] higher," Buckley said.
Buckley noted that graduate students' annual borrowing limit on direct loans is $20,500 a year, which is far more than undergraduate maximums, which are $5,500 for freshmen, $6,500 for sophomores and $7,500 for juniors and seniors.
Buckley also added that, in order to receive federal direct loans, you must be at least half time enrolled. Half-time enrollment looks different for graduate students; five or more credits is considered half-time, and nine or more credits is full-time.
Another big difference in graduate and undergraduate financial aid is that most scholarships are donor-based for graduate students.
JC