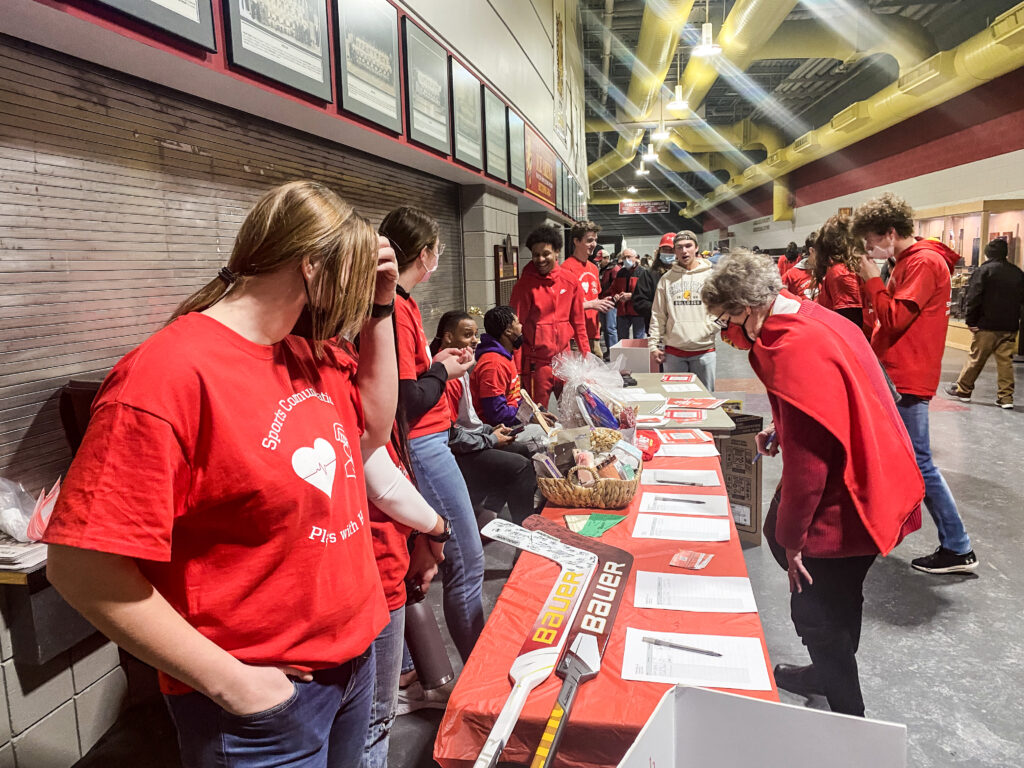 Valentine's Day kicked off the start of Red Out, an annual event hosted by Ferris' sports communication students that raises awareness about women's heart health.
Red Out was created to support women's heart health by raising money and encouraging fans to wear red to the games and events. Raising a total of $1,415 over the course of three days, students in the Comm 389 and Comm 489 classes ran multiple fundraising events throughout both the men's and women's basketball games and two men's hockey games. The students, led by communications professor Sandra Alspach, raised money for Spectrum Health's cardiopulmonary unit in Big Rapids.
According to Go Red for Women, cardiovascular disease is the number one killer of women, leading to 1 in 3 deaths each year.
"[Heart attacks for women present] differently from men's heart attacks," Alspach said. "And women don't know that men don't know that even male doctors don't often catch [them]."
Women can develop symptoms that are less noticeable or detectable, which doctors don't often catch, especially if they are looking for the "usual" symptoms, according to John Hopkins Medicine.
On Monday, Feb. 14, fans who attended both the women's and men's basketball games had the opportunity to bid on multiple silent auction items, such as two basketballs signed by the men's and women's basketball teams, a gift basket donated from Kilwins and a gift donated by Big Rapids Nutrition. The students also did an in-game activity called "Miracle Minute," where all the students dressed in red would run up into the stands to take donations.
The games on Monday alone raised a total of $376.74. This surpassed the amount raised in 2016, the event's first year, which raised $300.
In past years, this was a one-day event, with Ferris having men's and women's home basketball games, along with a home hockey game. The goal this year was to beat the $1,100 raised in 2020, since this event did not take place in 2021, due to COVID-19.
Taking advantage of the extra days and extra games, students ran a second silent auction on Friday, giving away two signed hockey sticks, another Kilwin's gift basket, a football signed by the national championship-winning football team and a gift basket from White Birch Massage.
Alongside this, students also ran an event called "Chuck-a-Puck," in which they sold hockey pucks that would then be thrown out onto the ice between the 2nd and 3rd periods of the hockey game. The individual whose puck landed closest to the cone set on center ice would win a $25 gift card to Buffalo Wild Wings.
They also did the "Miracle Minute" event on both Friday and Saturday, and fans could also donate through a QR code that was placed throughout the arena concourse.
As a result of these events, the classes raised $1038 over the course of Friday and Saturday. This brought that total to $1415, which was presented to Spectrum Health during the game on Saturday in the form of a giant check.

Sports communications junior Kai Serviss talked about how it was important for them to raise awareness for women's heart health.
"Anything related to physical health is an important topic, especially for a woman, and we're just trying to raise awareness for that." Serviss said.
The event was a graded requirement for all students in sports communication courses. In total, when you include the members of the sports career RSO who were also present, the event was run by 40 students.
"Every year we do it, it makes me more convinced that getting into the sports industry is a great, great way for students to show off their communication skills [through] so much of the work that goes on." Alspach said.
For more information on Red Out and women's heart health, go to www.goredforwomen.org.