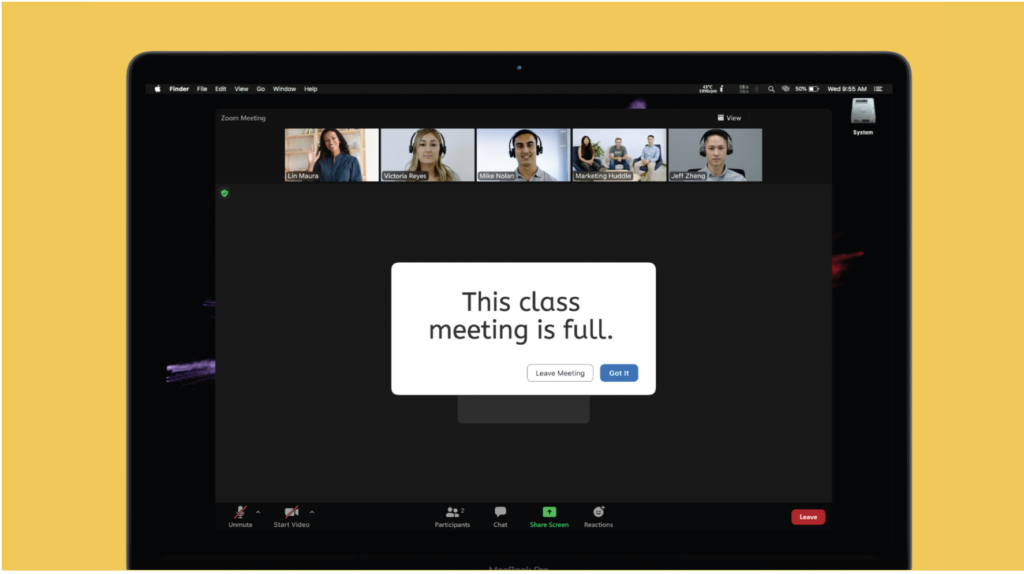 Members of the Ferris Faculty Association filed numerous individual grievances, and one association grievance, following an unexpected increase in virtual class sizes.
On Jan. 6, faculty members were notified that all course sizes would be capped at the university standard, regardless of whether they have virtual or face-to-face delivery.
The change in course capacity raised online class sizes without faculty consent only four days before the spring semester.
"Absolutely, I was stumped by this, by this change. Not just because of the way it would impact my teaching and impact students, but also because of how the university implemented it," English professor Nate Garrelts said.
The Association of Departments for Foreign Languages recommends that entry level linguistic proficiency classes be capped at 18 students. Garrelts' course capacity for his virtual writing class increased from 15 to 23.
Garrelts' grievance resolution involves resetting the course caps and receiving financial compensation for additional workload. Even if this resolution is reached, he still sees this as a reflection of the administration's hesitancy to work "in the spirit of collaboration" with faculty.
"I'm an optimistic person," Garrelts said. "I'm a hopeful person, but Ferris has a long history of these types of problems. And so, I am hopeful that we hire a new president with a clear vision for our future. Someone who wants to work collaboratively with faculty."
Garrelts estimates that this change in class size will add three hours of grading work per major paper for the spring semester. As he will instruct three writing courses and one literature course in the fall, he worries about how the workload will affect him.
"I was impacted this semester, but I'm very concerned about how I will be impacted in future semesters… I don't think we've seen all the implications of this change yet," Garrelts said.
Having 60 students was an academic "sweet spot" for Garrelts. This is expected to increase by 32 in the fall, for a total of 92 online students.
"I'll never shortchange students by saying, 'all right, well, I'm just going to do a worse job grading.' I would never do that," Garrelts said. "And so, the first place that comes from [this would be] my eyes are a little bit more strained, or my back is a little bit more sore or I have less personal time. It starts to cut into other things."
Writing and literature professor Katherine Harris submitted a similar grievance, as her four asynchronous sections of English 321 now demand more work than she initially planned for.
"In concrete terms, I will have an additional 300 pages of finished writing, not including drafts, that I will need to respond to, proofread and edit, and grade, as well as the extra email and discussion board posts, individual student conferences, etc., that require my attention," Harris said.
Harris explained that by making this decision without consulting faculty members, the administration bypassed uniform policies and procedures.
"When those policies and procedures are bypassed, it can create disorder and misunderstanding and that always risks undermining the university's leadership," Harris said.
All FFA grievances regarding course capacity run through FFA Vice President and English professor John Caserta. Despite the majority of these grievances being directed to Dean Randy Cagle of the College of Arts, Sciences and Education, Caserta sees Provost Bobby Fleischman as the main decision maker.
"This arbitrary decision was made by Fleischman," Caserta said. "The deans were told to share a communication with the faculty that it was their decision, but that's not true… I filed more grievances under Fleischman than I have in last three provosts."
Both Cagle and Fleischman declined the offer to comment on the progression of the grievances. According to Caserta, the FFA also struggles to hear from the provost.
"The provost has appointed himself 'King Bobby,' and there's no trustworthy communication between the provost and the faculty," Caserta said. "He's autocratic."
Caserta is skeptical of the administration's statement that class sizes must be increased to avoid laying off professors as enrollment declines. He believes that Fleischman's "autocracy" is not properly attracting students to Ferris, and that there is a better way to remedy the issue.
"Students come here for faculty in the classroom," Caserta said. "They don't come here for overpaid administrators. There's administrative bloat here at Ferris. Many of these administrators make more than market value, and if they are so worried about money, they should take a cut in pay."
While faculty may request course cap modifications, Caserta and FFA president Charles Bacon see this as a "bait and switch."
"First, could the submission of a course cap change request, expedited or otherwise, be interpreted as acceptance of the current imposed cap? Answer: Yes. The imposed course caps are illegitimate," Bacon wrote to fellow union members.
Caserta resents the idea of requesting course cap modifications and justifying the previously set course capacity that had extensive historical precedence.
"The course caps, for the last 20 years, have been where they are," Caserta said. "Four other provosts did not change course caps for online courses because they realized the pedagogy is very important. You can't give a student quality education if you put too many students in an online course."
Caserta and his fellow FFA members now await grievance approval from Cagle. If no resolution is reached, they will be passed along to the provost.
Dylan Rider contributed to the reporting of this story.