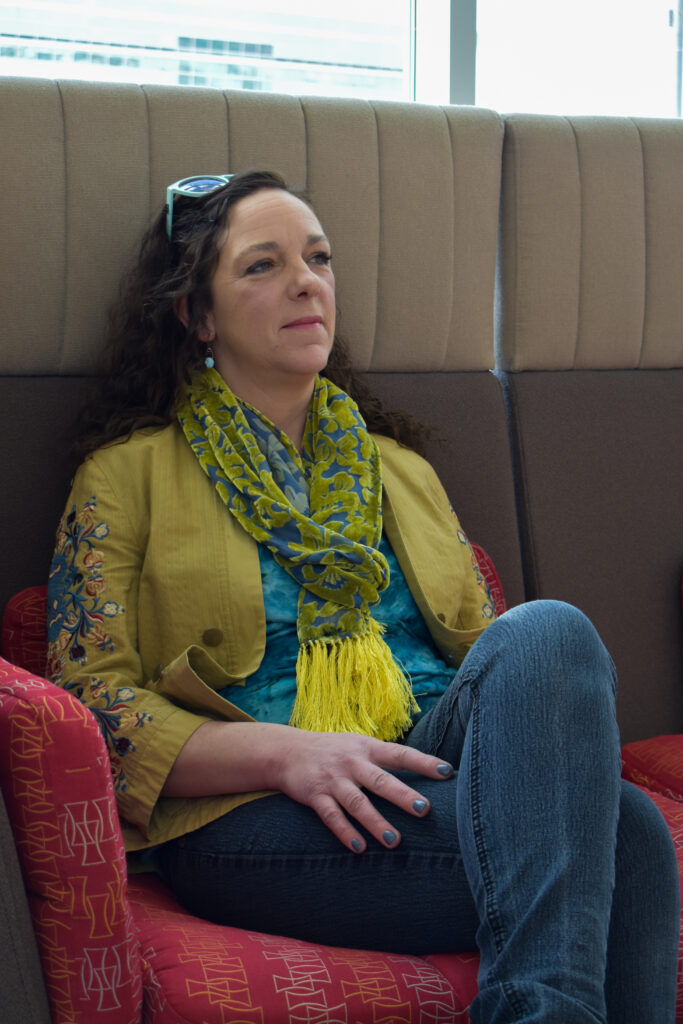 This fall, Laurel Humphreys will begin her tenth year teaching commincations and women and gender studies at Ferris.
"I was majoring in business and public relations when I was in my senior year of college, and as I got to the end of it, I realized I didn't really like it or believe in it," Humphreys said.
Towards the end of her college career, she realized she was interested in theory and wanted to pursue something in that field.
She never considered being a professor as a career option, but there were two professors that made her question if she could teach. After talking to them about it, she went to graduate school to become a professor.
"In 2011, I was kind of transitioning and living in both the Detroit area and here. This was the only university [near] where I lived, so I submitted my credentials," Humphreys said.
She started out at Ferris teaching strictly communications classes. At the time, they did not have anyone to teach women and gender studies 105. The head of the humanities department saw Humphreys' background and asked her to teach it. She accepted and has been teaching it ever since.
There is buzz on campus about Ferris potentially adding a women's studies minor, and Humphreys is hoping to teach some of those classes.
She initially said yes to teaching women and gender studies because of her strong belief in what that class is about.
"Especially because it's radical, and that makes it fun, it's controversial, and so it's a more exciting class to teach," Humphreys said. "And it's an elective, people [choose] to take it. So, your audience is more eager than in the required classes."
Humphreys is a very straightforward, bold person, and she brings that into her teaching.
"If you read enough feminist writers, you don't sugarcoat things," Humphreys said. "It's my personality, my attitude, my genetics."
The fear of offending someone sometimes comes up, but what keeps her teaching style going is the validation she gets from most of her students.
"Sometimes I might filter a little bit more if I see a [certain] facial expression in the class," Humphreys said. "I don't want to offend people, but I also don't want to censor the message."
On the first day of her class, Humphreys made sure to tell her students that this class was going to be controversial, and the point of it is to educate students, not to convert anyone's beliefs.
"My objective isn't to force anybody into feminism, but my hope is that by becoming aware of the perspectives of feminism, students will walk away with a greater understanding that is almost inevitably going to lead them to believe and act," Humphreys said.
When Humphreys was younger, she was aware that her parents, who started their careers at the same time, had the same education, degree and career; they were considered equals, but they had a drastic difference in pay.
"My whole life I've been aware of inequality between the sexes… and male chauvinism," Humphreys said.
It wasn't until a professor of hers gave a speech about sexism and language that her interest in the topic of inequality was sparked.
Humphreys was fascinated with what was being brought up, and she believes that is what really launched her into feminist theory.
In her introduction to her women's gender studies class, she told students to call her by her first name because she believes that there's a divide in student and professor relationships otherwise.
With this being mentioned, one of her students, Jeffra Dittmar, really likes Humphreys' teaching style and personality.
"I feel like she's very laid back, so it allows her to connect more with the students in that aspect," Dittmar said. "She's fine with saying a swear word here or there, and she's not afraid to talk about things that might be uncomfortable."
To Dittmar, the class is educational, and she feels like she has learned a lot.
"It's very eye-opening, I would say. It definitely makes you have an open mind and think about what your previous knowledge of something was," Dittmar said.
Humphreys' lectures on what it means to be a feminist and feminism in general were Dittmar's favorite part because of how much she learned about herself.
Like many other students before taking this class, Dittmar didn't know much about feminism or that there were different kinds.
"Having [Humphreys] as a professor [has] been nice [because I've] been able to be an advocate for that stuff now, because, like, I know a lot more.
Humphreys assigned an ISPY to her students in which they had to find an example of anything covered in the lectures in their everyday life and share it with the class.
"Everybody had a different story to tell. You don't realize how much sexism or discrimination of any kind is still out there," Dittmar said. "We [had] 40 kids in that class all give different examples."
Because of Humphreys, Dittmar has applied this class to everything in her life.
"I have a friend who says, 'Oh, I'm not a feminist. I don't want equal rights,' and I just told her a lot of things that we've talked about in the class," Dittmar said.
To Dittmar, out of all the topics covered in class, the most important thing is the worth of a woman.
"We are just as powerful. We can do anything that men can do," Dittmar said. "You're not lesser just because you're different than any male in general."