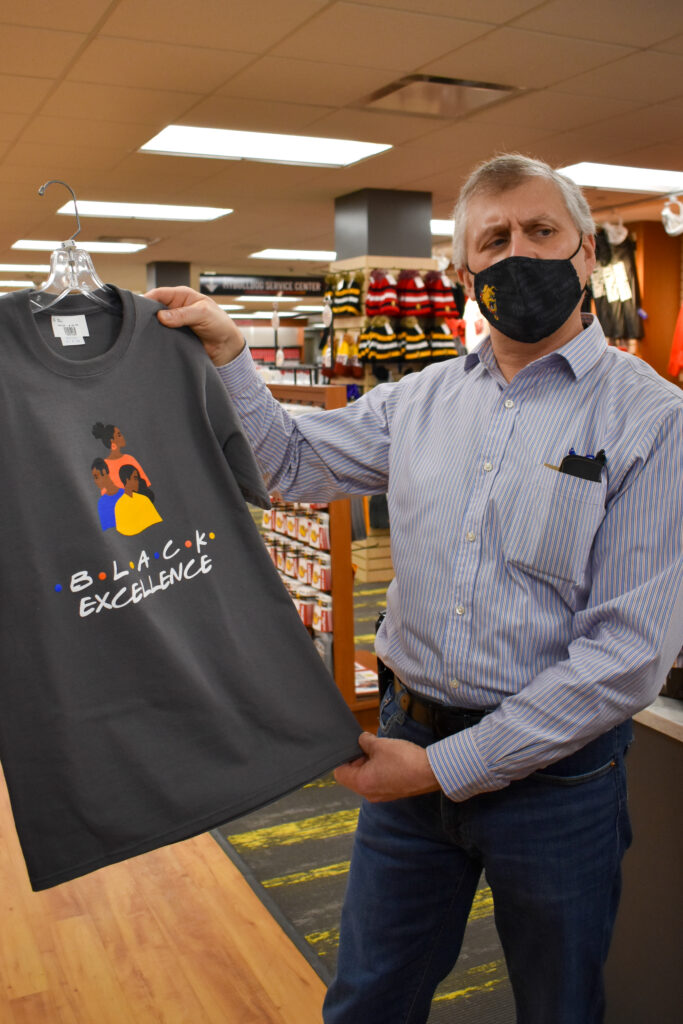 Highlighting unique RSO products is a new aspect to Ferris Outfitters that students can look forward to.
Ferris Outfitters has become interested in giving back to students and bringing some excitement into the store by showcasing handpicked items from student organizations around campus.
The store kicked off the start of Black History Month by showcasing items picked by the Office of Multicultural Student Services. The OMSS is a resource that supports, mentors and advocates for students of color and other underrepresented students. Products they chose included t-shirts, jackets, book bags, masks, water bottles and any miscellaneous beauty items to help promote diversity within the store.
According to Danyelle Gregory, the director of the OMSS, she assembled a small group of students to make a list of items they wanted to see in the store, which the store was able to make happen.
"A lot of these things are items students utilize on a day to day basis that they're not necessarily able to access in Big Rapids," Gregory said. "We have a Walmart and Meijer, but they have a very limited supply, and when they sell out sometimes it takes a while before they restock."
Gregory says having these items readily available on campus gives students the opportunity to get the necessities they need in order to take care of their hair, skin and other things of that nature.
Showcasing unique products is an initiative Ferris Outfitters is taking to create a shop-to-support opportunity for departments and RSOs on campus to make the store feel more oriented towards students.
Donald Kozakowski, the merchandiser for Ferris Outfitters, says the initiative has been great and there has been real excitement from students.
"I think as more people see it, they get really excited about seeing the products," Kozakowski said. "I think it's given us an opportunity to really get out there and look for the products [and] see what's available."
An aspect Kozakowski has been excited about has been the involvement of students when it comes to bringing new products into the store; one of the t-shirts being sold was designed by a student. Kozakowski says they encourage students to get involved and get designs going so the store can have unique products made for them.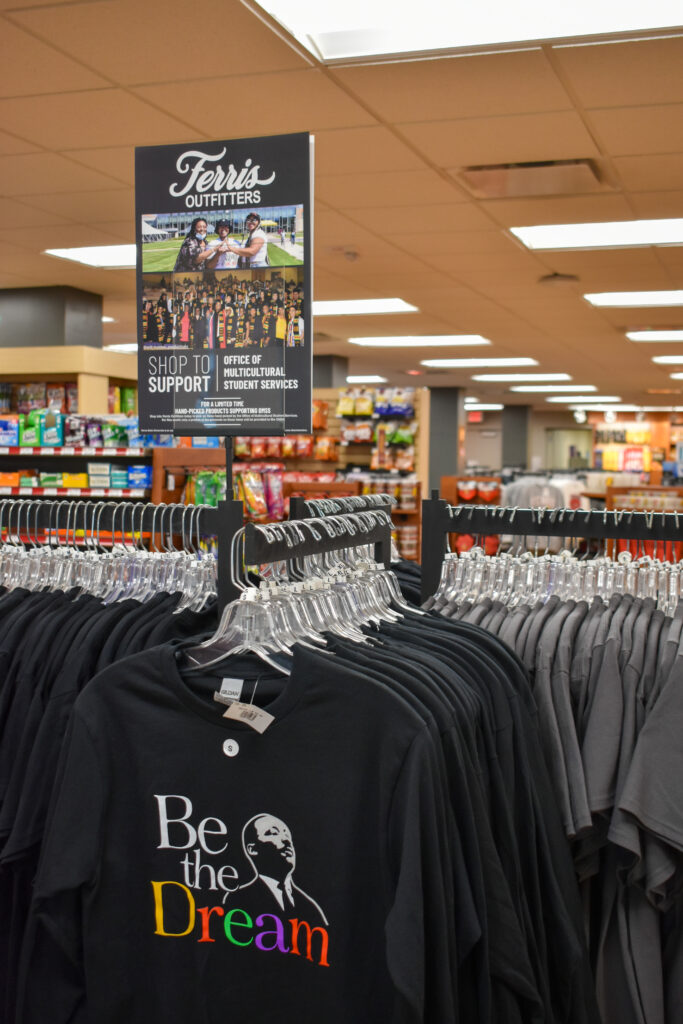 "From an inclusion perspective, it's really huge," Kozakowski said. "Also, this is the students' bookstore, and it's the sense that it's outfitted for them. We really want them to come in and really feel like this is speaking to them."
Turning Ferris Outfitters into a full merchandise store and stocking it with items students would actually like to see and purchase makes the space a store for the whole community.
According to Gheretta Harris, Associate Vice President of Auxiliary Enterprises, the whole point of the reconfiguration of the bookstore into a merchandise store is so that the university can decide what they would like to sell with input from students.
Harris' idea of bringing in university organizations to recommend products to sell in the store amplifies Ferris Outfitters' main moto, it is a store for students with products picked by students.
"It tells students that you belong," Harris said. "It was really heartfelt, and I guess I didn't expect it when we unveiled the OMSS products. When we unveiled them, the students who had appeared for the event, some tears had tears in their eyes. They had asked for products to be put in, and we want to include everyone in the store."
Harris says that while Black History Month is ending, the handpicked products from the OMSS will remain available for students to purchase in the future.
"We want to be a part of the campus community [and] sell more than just campus items," Harris said. [This is] a new program we hope will become second nature. Please stop in to support these organizations."
Ferris Outfitters is planning to highlight different campus organizations and RSOs throughout the school year. Each month will highlight a new organization with new products picked out by members of the organization.
Next month is women's history month, and new handpicked items to soon appear on shelves.