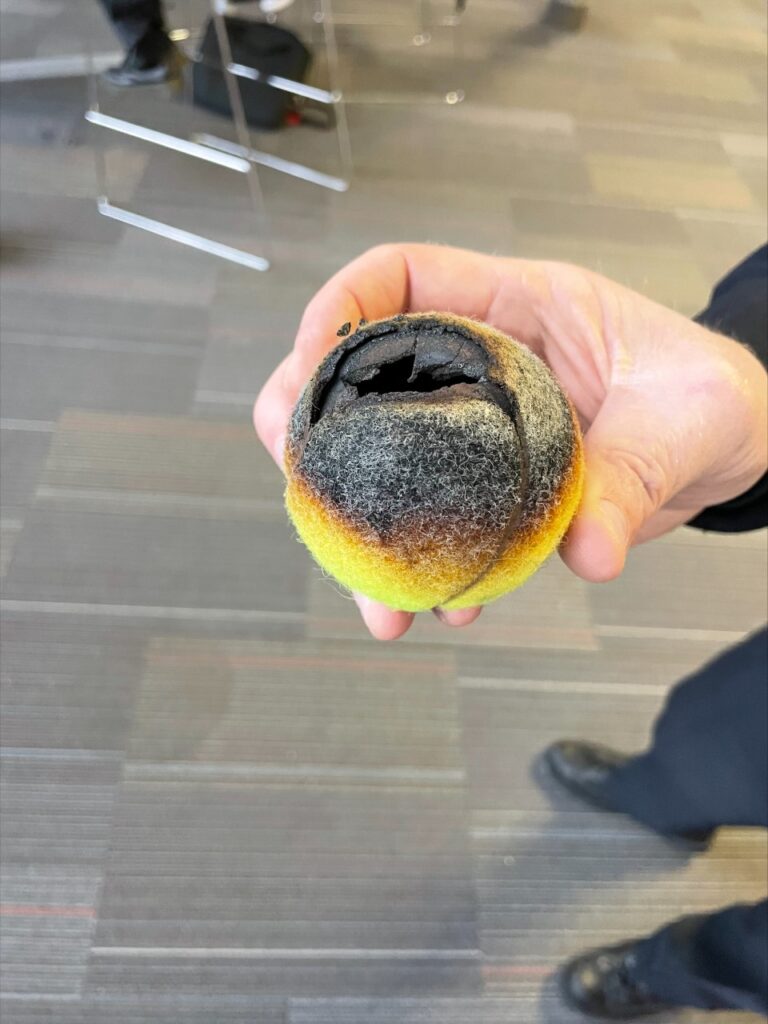 Before the Bulldogs even took the court, a tennis ball caught fire.
After being lodged in a radiant heater, a tennis ball bursted into flames. Senior Mathis Guerre used a
fire extinguisher to put out the flames and the fire department arrived. No one was injured and play began following a thirty-minute delay.
After the unorthodox start, the Bulldogs dominated Grace College with a 7-0 win on Sunday, Feb 27.
With this victory, Ferris stayed undefeated on the season. They currently sit at a perfect 6-0 record.
Going into the matchups, head coach Mark Doren spoke on playing a college like Grace and how he thought the day would go.
"Grace is an NAIA," Doren said. "Sometimes you're not really sure what you're going to get. Their recruiting and qualification standards are different from the NCAA. So often they get players that took years off after high school to try and make it on the tour. Sometimes they bring guys that have a ton of experience and so they're more difficult to play. I still think our guys are ready to take on the challenge. I think we should have a good day."
The day started out with doubles play. Guerre and Jan Koupil worked together to dominate their opponents and came out on top with a 6-2 victory in their match.
Josh McDermott and Ben Lortie followed suit. However, it wasn't easy. McDermott and Lortie battled away and squeaked out a 7-5 win in their match.
Unfortunately for the Bulldogs, they were denied a clean sweep in the doubles match. Yannic Mader and Ayush Dewal came up just short in a tiebreaker, falling 6-7. The Bulldogs ultimately won the doubles matchups and took one point going into the singles match.
With one point in hand, the Bulldogs only improved from their singles matches.
Koupil had one of the most dominant performances of the day, taking one set 6-0 then taking the next 6-2.
The same was seen by McDermott, taking his singles match 6-0 and 6-2.
Success continued for Alessandro Santangelo, who won both of his sets with a score of 6-2
Mader's first set was a close one. He battled hard and took the first set with a 7-5 win. Following the close set, Mader buckled down and put together a decisive 6-1 win in his second set.
"I think doubles and singles were both a struggle for me today, mentally and physically," Mader said. "I think there were a couple points that could've gone better. After those points, I wanted to bounce back and get a new mindset. I played better in my singles and my second set because I was just in the mindset where I felt more comfortable."
Lortie had the only loss in the set of the entire team. After a 6-7 loss in a tiebreaker, Lortie climbed back and won 6-3 and then 10-8.
Guerre fought hard in both of his sets and won both with scores of 7-5 and 6-3.
"I think today was good," Guerre said. "It was a good last match before we go down to Florida and start our conference matches. Doubles were okay. Few things we can work on but it was a good doubles match. Singles? Grace is a very good team. There was a little bit of trouble here and there. But it was a good, quality match for everyone. We had a good attitude."
The Bulldogs will head down to Orlando through early March to play a few teams. The next match they'll play will be against Dallas Baptist on March 8.
"This was a match where it could be a trap," Doren said. "Playing against a team you think you can beat, a team that's in a different division. But I think everyone really exceeded what I was looking for as far as being able to stay mentally strong during the match."
Doren was happy with the outcome as he believed Grace College's play-style is what they'll be seeing while playing outdoor tennis in Orlando.
The Bulldogs will return home on March 19 to play rival Grand Valley at 3:00 p.m.