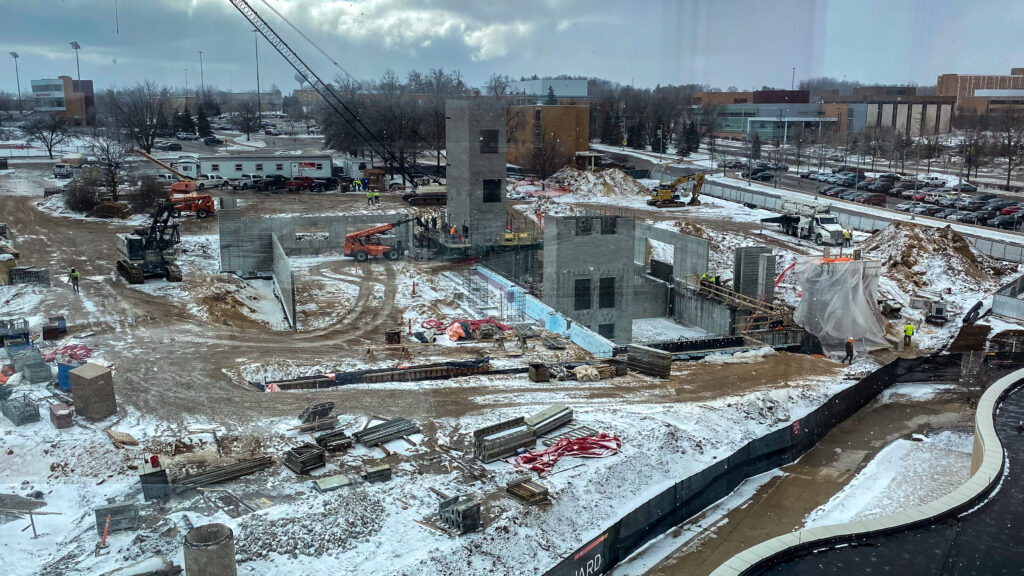 As the excavation wraps up and the foundation is laid for the new Center for Virtual Learning, the Ferris community is catching a glimpse of the future of online education.
The CVL is on schedule to complete construction in the spring of 2023. This will begin a new era for programs in education, digital media and intelligence.
Liza Ing, professor of education, sees the CVL as an exciting asset for aspiring teachers.
"I'm hoping that it will entice more people to come to Ferris specifically to become teachers and to be involved in this wonderful new way of learning and of teaching," Ing said.
Ing explained that the School of Education is moving from Bishop Hall to the CVL to prepare students for their increasingly technologically advanced careers.
"With the pandemic, the need to learn how to teach with technology has increased tenfold," Ing said. "We will actually be able to have students teaching each other using technology that [already exists in some schools.]"
The move will also benefit both professors and students by placing faculty offices in the same building as classrooms. While Ing, as well as other education instructors, currently have their offices in the Arts and Sciences Commons, she believes that this will be a "fantastic" improvement.
Ing hopes that the CVL will reflect a bright future for learning in other schools as well.
"The need for technology, and for us to be able to prepare future teachers to use technology, is really important. So, I would hope that we will see more of these kinds of buildings, or at least this type of technology, in other universities," Ing said.
Ing's voice has been heard throughout the entirety of the CVL's planning. She gave her input on classroom layouts, offices and color schemes.
"[Faculty] are [a part] of the conversation and [are providing] input into what our new classrooms are going to look like," Ing said. "It has been very fascinating to see all the processes and [to] know that we're going to be getting things that are going to benefit us. The School of Ed. is not going to just be retrofit into something that already exists."
School of Digital Media Coordinator Glen Okonoski also appreciates the open communication.
"I think there has been really good communication and conversation. I do think the faculty's desires, as it relates to what these classrooms look like and how they are equipped, are reflected in the plans for the building," Okonoski said.
Okonoski is also a professor of television and digital media production. With the CVL completing construction during the TDMP program's 50th year of existence, he is excited to see students learning with state-of-the-art technology.
"In the new building, we will have dedicated labs and spaces that are relevant to the future technology that we'll be teaching, such as an augmented reality VR lab and a motion capture space," Okonoski said.
All throughout the planning of the CVL, Okonoski tried to focus on the wants and needs of both his fellow faculty members and his students.
"Our goal is always to prepare students for careers, of course. So, the more we can provide them [with] a learning experience that reflects or resembles what their professional experiences are going to be, the better. And I think that this space will allow us to do that," Okonoski said.
Chad Stirrett, the associate vice president of facilities management, joined the CVL project eight months ago. He believes that all the included academic programs have a kind of "synergy."
"[The CVL] brings a lot of different programs together that actually have kind of a connectivity, a connection to them, and [the CVL will put] them under one roof," Stirrett said. "It really gives them a new state of environment to work in."
A "unique mix" of career-oriented educational programs is something Stirret appreciates about Ferris.
"Many of them are the only programs of their kind in the Midwest…They're also highly desirable for people looking for changes in careers, or maybe to accelerate their existing career and to make them available from a virtual learning standpoint," Stirrett said.
Stirrett believes that Ferris is offering students a valuable asset with the construction of the new building.
"The reason that universities build buildings is really to further the academic programs and the need for them," Stirrett said.
After months of excavation, Stirrett explained that the construction team will be making real visual progress on the CVL in the coming months.
"What you're going to see coming up here in the next month is us receiving steel on site. Then you'll really start to see progress because you'll see the steel start to come up out of the ground," Stirrett said.
For more information on the construction and layout of the CVL, visit Ferris' facilities webpage.