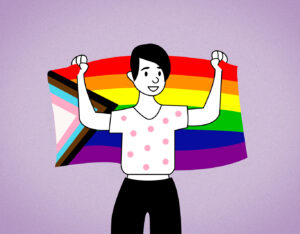 Big Rapids' first LGBTQ+ pride event is scheduled for this June, and it is set to feature activities for all ages.
The festival is being organized by a group of Big Rapids residents led by Foster Neill. It will be held at Northend Riverside Park on Sunday, June 26. The event will be free to attend, with assorted items available for purchase.
"We plan on having a stage with a lineup of local live musicians and a drag show finale," Neill said. "We also plan on having a beer tent, which we hope to use to raise money for next year's Pride."
In addition to the stage and the beer tent, organizers are planning to have food and craft vendors, a booth to make buttons and, possibly, a bounce house. There will also be booths providing educational resources and support for individuals who may need it, as well as a booth giving out "Mom Hugs," according to Neill.
Planning for the event began in June 2021, when Neill created the Facebook page that would be the basis for event planning. Neill decided to make the page after a conversation with a friend.
"One of my friends said to me, 'There should be a Pride in Big Rapids,'" Neill said. "I agreed and told him he should start a Facebook group just to get the ball rolling, but he didn't want to take it on. A few weeks went by, and I decided I'd just start the Facebook page myself."
Neill created the page and opened it to the public. He took suggestions on what sort of vendors and activities people would like to see at the festival. The group decided to name the festival "Pride Big Rapids."
So far the public's reaction to the festival has been mostly positive. According to Neill, the community has been supportive of and excited for the event. He explained that different Big Rapids entities have shown their support for the event.
"The City of Big Rapids, Big Rapids Department of Public Safety, ArtWorks and the United Church of Big Rapids have all been supportive from the beginning," Neill said.
However, after the Big Rapids Pioneer posted an article discussing the festival to Facebook, there were some negative reactions from community members. Scott Triemstra commented "Disgusting" under the post, while William Horton left a comment expressing his beliefs surrounding LGBTQ+ individuals.
"All homosexuals, lesbians and those who promote those lifestyles must be atheists," commented Horton. "They have to be. God's word is very plain…. on the rewards for such sins. I hope you like the afterlife party that will be waiting for you."
This is not Neill's first time organizing and launching something new. In 2010 he founded The Michigan Poet, a website featuring poetry written by individuals across the state. Individuals can submit their poetry for the chance to be published on the website.
Individuals looking to get involved with planning for the festival are encouraged to attend the group's weekly meetings. The meetings take place on Zoom and at P&J's Plantiques in Roger's Heights, which is about six minutes south of Big Rapids. The meetings occur at 6 p.m., and the Zoom link can be accessed from the Pride Big Rapids Facebook page.