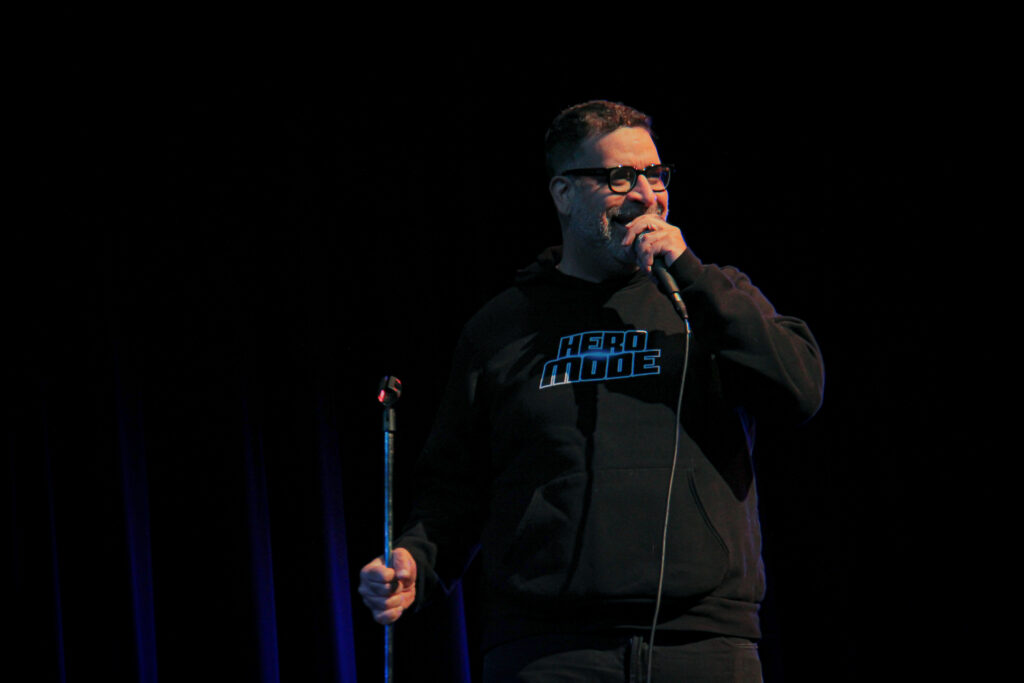 Donning a shirt that read "hero mode," actor-comedian Erik Griffin saved the partially filled Williams Auditorium from a dull Wednesday evening at last week's Comedy Night.
Known for his appearances in "Workaholics," "Mike and Dave Need Wedding Dates" and "Blunt Talk," Griffin used his decades of comedy experience to make the most of the small crowd.
Griffin was able to use the room to his advantage, poking fun at the slow Big Rapids night life.
"I almost want the lights on so I can see people, then it really feels like I'm in an empty room," Griffin said. "Where are your friends, m———–s? What's going on in this b——t town?"
The jokes were bold, considering how sensitive or "woke" Griffin believes college students to be. Fortunately for him, the audience in Williams Auditorium laughed and jeered at his vulgar comedy. The crowd even applauded as Griffin asked if people were ready for the "inappropriate" material.
The set was a mixture of sexual jokes, discourse against the body positivity movement and efforts to stay current in both pop culture and politics.
"I want Biden to pull out of COVID like he did Afghanistan," Griffin said.
To connect with the young adult demographic, Griffin shared his comical hot takes through references to popular movies and television shows. This included his thoughts on gratuitous nudity with HBO's "Euphoria" and inexplicable diversity through Marvel's "Eternals."
"I'm a nerd first, I need things to make sense. I'm not for diversity for diversity's sake." Griffin said.
The largest reactions and loudest laughs were prompted by Griffin's tendency to turn the spotlight on to the audience members. One of which was senior Madison MacDowell, the president of Entertainment Unlimited, who led the planning for Comedy Night.
"Do you guys know Madison?" Griffin said. "Madison's so cool. She's not a nerd like the people who usually run these things."
MacDowell thought the crowd work was a great addition to the show. The jokes landed so well, [and] she believed that the smaller, more intimate crowd was an asset for Griffin.
"I got called out a little bit, but I was practically in tears laughing. People were good sports about it," MacDowell said.
Born and raised in Los Angeles, Griffin had some qualms about how things work in Big Rapids. Harsh weather aside, Griffin was blown away by the existence of Ferris' plastics engineering technology program.
Two PET students who sat close to the stage were dubbed "the plastics" by Griffin. They became the punchline to many jokes.
"What, do you guys just go to a landfill and say, 'yep, this is my job,'" Griffin said.
The plastics were later asked to make an engagement ring as Griffin asked couples big questions like, "Do you think they're the one?" and, "If he proposed right now, would you say yes?"
Dental hygiene senior Michelle Meiste and film junior Tanner Menghini confessed their love for one another during Griffin's questionnaire. Both were amused by the audience participation, explaining that it made the set feel more personal.
Putting jokes aside, Griffin gave some earnest advice to an audience he grew to know quite well.
"I like that you guys have dreams. Follow them. I didn't until way later," Griffin said.
Griffin quit pursuing his career as a young comedian and did not return until his 30s. He decided to follow his dream once again to avoid wondering what might have been. He hoped to use his story as a confidence booster for his audience of "young minds in a place of learning, [who are] trying to get [their lives] together."
Before the show, MacDowell reflected on the planning of Comedy Night. COVID-19 took away EU's chance to put on the annual Music Takes Action show, prompting them to arrange a stand-up comedy show instead.
Planning a comedy show was somewhat of a relief to MacDowell and the rest of EU.
"I really like stuff with music, but sometimes planning a large-scale music event can get kind of stressful. I like comedy because it's pretty easy to set up, while still being fun," MacDowell said.
The Music Takes Action shows have previously drawn crowds of over 3,000 students, with headliners such as blackbear, Jesse McCartney and Lupe Fiasco.
Future EU events include Marvel Trivia and the Spring Fling. For more information, visit the EU page on Bulldog Connect.