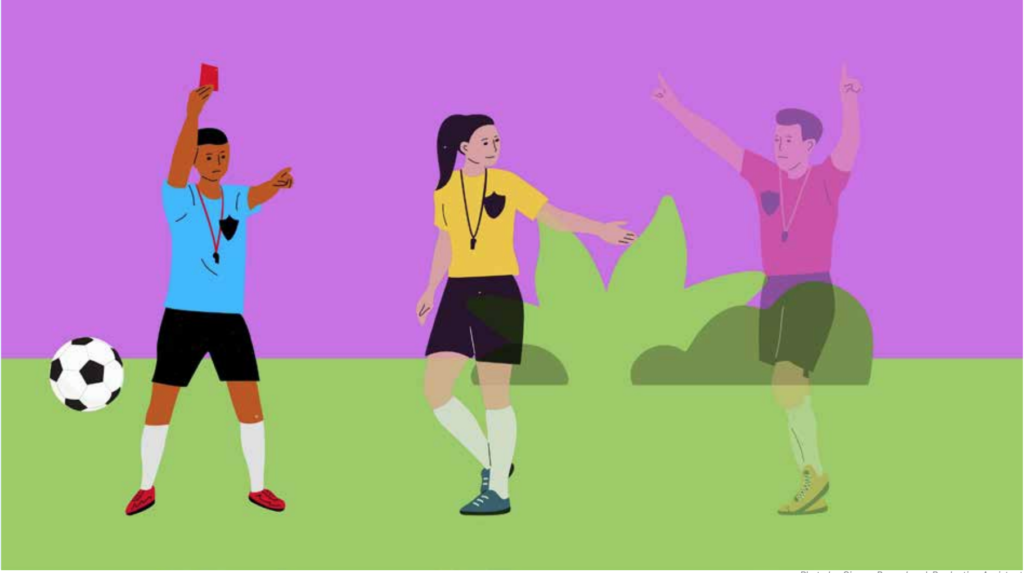 There is no question that COVID-19 has affected sports in a drastic way. Since 2020, the pandemic has caused the cancellation of many local sporting events at all levels. While COVID-19 cases have trended downward over the past two months, a new development could lead to cancellations of games in the future.
According to various local officials, the overall number of available referees has been sparse compared to the last few years. This shortage has caused many games across all sports to be moved or rescheduled. For local Michigan High School Athletic Association official Kevin Courtney, this deficiency has created some tough situations with scheduling.
"There is no room in schedules for any kind of variation," Courtney said. "There's been games that have been cancelled because there's no officials. I've even had to do a couple of games by myself."
Not only have low numbers created fewer officials for games, they have also forced available referees to travel long distances.
"Tonight I'm going to drive 70 miles to a game," Courtney said. "I'll be gone for five and a half hours for two games and make around 130 bucks. People look at that and wonder if it's worth it."
While losing referees is not uncommon in the state of Michigan, this past year has been an exception. Brent Rice, the Assistant Director of the MHSAA, told WXYZ Detroit they have lost 14% of their officials in 2021. This is almost 10% higher than the estimated annual decline, which hovers between 3%-5%.
So, what is causing this major shortage? According to seasoned intramural official Taylor Bennett, the lingering effects of COVID-19 have made an impact.
"I think COVID-19 has definitely taken some refs off the court," Bennett said. "Especially being around younger kids and being able to carry [the virus] asymptomatically."
While this was the most proximate reason at the time, Bennett believes criticism from crowd members has played a major role as well.
"The crowd does play a big role in how [referees] have been treated over the last couple of years. I believe it's gotten worse as I've gotten older," Bennet said.
Officiating abuse is as real as it gets. Passionate fans, parents and coaches often harass officials for any questionable calls that could affect their team. In response, some states have even taken steps towards fully protecting officials. Back in 2019, the state of Wisconsin proposed a bill that would charge forfeiture if an individual "harasses, intimidates or engages in a course of conduct with no legitimate purpose."
Many new officials, however, have not experienced incidents involving fan heckling. Brendan Harwood, a Ferris student who began officiating back in the spring of 2021, has only experienced semi-serious backlash from one major group: intramural sports.
"College guys are very outspoken," Harwood said. "They are rowdy and will deal with controversy."
Harwood also mentioned some early backlash that came from passionate coaches and parents, mainly within American Athletic Union games. Despite the "rowdiness," Harwood doesn't let the noise get to him. His goal is to provide a fair game for each team on the court.
"The number one thing is being confident in yourself. I'm not going to make calls because of what a player says to me. I'll keep my eye out if a player asks me to monitor something, but I will keep being fair and stern."
As an experienced official from all levels and sports, Courtney has had many moments dealing with the backlash. When asked about a common theme between the incidents, Courtney explained that it comes down to fairness.
"The famous thing you hear all the time is 'calling it both ways,'" Courtney said. "I don't keep track of how many fouls I call. I simply call the fouls I see. Sometimes one team is playing a very aggressive man-to-man [defense], and the other team is playing zone [defense], so that's going to create different situations."
The shortage of officials seems to have brought an epiphany to teams over the past year. According to Courtney, many coaches have realized that "constant abuse pushes officials away." This has created an emphasis around high school sports showing more sportsmanship in hopes of gaining officials and continuing play. In turn, many current referees are very optimistic for a bounce back in numbers in the future.
"I see it increasing dramatically," student official Gary Maudie said in regards to the future number of referees. "With the relief funds going away, people are going to have to work and find jobs. I see everything picking up in the next two years, so officiating is going to get a boost."
As a leader of officiating training with Ferris intramural sports, Maudie believes there are a lot of people who have the ability to become referees. What do potential candidates need? To Maudie, there are two simple traits.
"What I'm looking for in officials is having the willingness to learn and a sports background in what they want to officiate. If you have a good sports background in what you want to officiate, you should be pretty good."
When it comes to getting started, the process can seem hard to grasp. Many fellow officials, like Harwood, understand the perceived challenges with getting started.
"It's scary at first, but it's worth it," Harwood said. "You have to become experienced to start making more opportunities to officiate more. It's really fun, especially if you are into sports."
At the moment, the opportunities within refereeing are endless. There are a lot of organizations that are constantly looking for officials across all sports and age levels, including middle school, high school and college intramurals.
With this availability also comes flexibility, as many organizations allow referees to pick the dates and locations to work. This was one of the biggest reasons Courtney began officiating back in college.
"I would emphasize that it's a great thing for a college student," Courtney said. "You can start out on lower levels, you get to pick when and where you want to work and it's pretty good pay too."
While every official has a different reason for starting out, many share the same reason for enjoying the occupation: helping kids learn the game.
"One of my favorite parts is having a teaching moment with some of the kids at a young age," Harwood said. "They're finding a passion in a sport they're trying for the first time."
For more information on becoming an official, contact Ferris Intramural Sports at resports@nullferris.edu, or visit the MHSAA website at www.mhsaa.com/officials.
***
FG