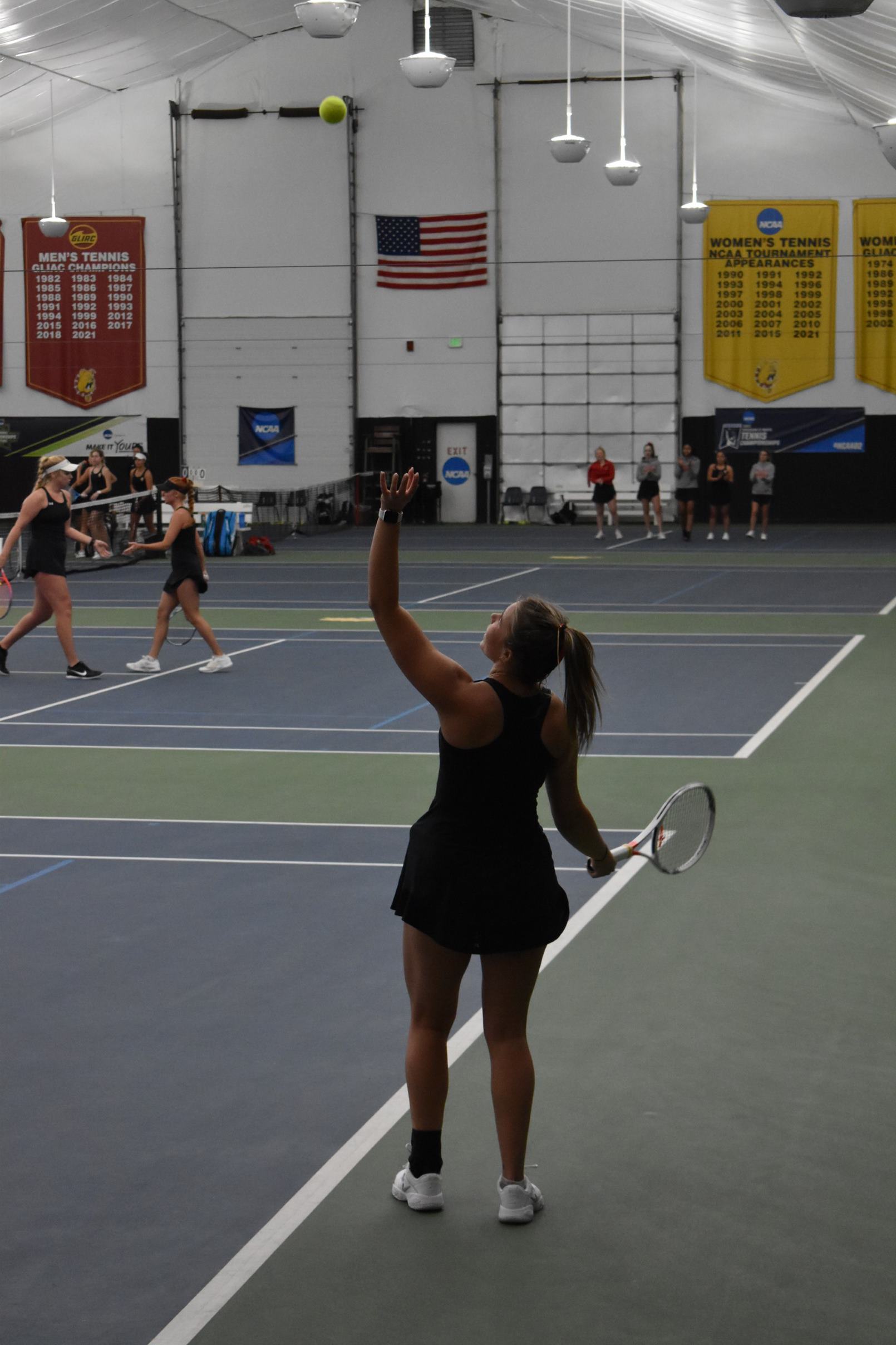 After women's tennis returned home from Orlando, Florida, they lost to Grand Valley in open GLIAC play.
With the loss on Saturday, March 19 against Grand Valley, the Bulldogs are now 5-5 on the season and 0-1 in GLIAC play.
The Bulldogs were coming off a win against Winona State during their trip to Orlando, but were unable to use that momentum to extend their win streak against Grand Valley.
"Always a tough loss when we lose to a rival," head coach Mark Doren said. "But we also know we were right there in many matches and with a little more focus, we can win these types of matches."
The Bulldogs fought hard with multiple matches coming down to the wire with chances for the Bulldogs to steal the victory.
Ferris had two wins in singles competition when Brittany Lavenant defeated her opponent Marija Leko in three sets, and Parker Nolan defeated her opponent Taylor Barret in three sets as well.
The Bulldogs had one win in doubles competition with Parker Nolan and Agata Klak in an impressive 6-0 victory over the Lakers in their match.
"We know we need to be a little more aggressive in our double matches and more consistent in our singles matches," Doren said. "We did see some players gain confidence throughout the matches, and [we] are excited to build on that."
Moving forward, the Bulldogs hope to string together some wins and gain momentum now that they are in GLIAC play, and having players gain confidence is going to be crucial.
Ferris will need to keep improving and get on a hot streak for the remainder of their schedule.
"This week our number one focus is to get healthy," Doren said. "We have quite a few players dealing with some nagging injuries."
Hopefully, the Bulldogs get healthy and start winning in GLIAC play heading into the remainder of the season. With the GLIAC tournament coming up at the end of April, the women could use the momentum.
Shifting focus will be important for Ferris as they conclude the month of March with two more matches. They will be looking to get some wins to gain momentum before the final push in the month of April leading into the GLIAC tournament.
Being at home for two games this weekend will give the Bulldogs an advantage to get two quality wins before their road trip.
"These next two weeks are extremely important to gain some momentum," Doren said. "Especially with our next two matches here at home before we go on a five-match road trip. But I think if we stay focused and get good practice, we can get hot."
The Bulldogs will be back in action this weekend against Michigan Tech on Friday at 1 p.m. and Lake Superior State and 10 a.m. on Saturday in the Ferris State Racquet & Fitness Center.