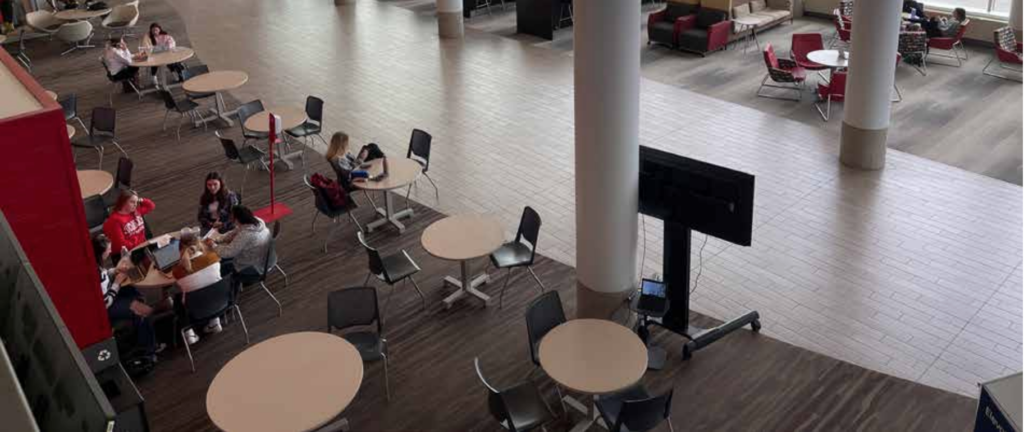 Following the trend of many other institutions, Ferris has relaxed some of its COVID-19 mask mandates as of March 16.
An email from Joy Pulsifer, Ferris' Dean of Student Life, outlined the new changes, which include optional masking in indoor spaces, except for in classrooms, laboratories and patient care areas.
According to Michelle Rasmussen of the Ferris re-entry committee, this change comes after the Michigan Department of Health and Human Services confirmed Michigan is in the post-surge recovery phase of COVID-19.
"Faculty, staff, students and visitors will also no longer need to complete the University's daily symptom checker before coming to our campuses. If you are feeling ill, you are encouraged to use the new COVID-19 symptom checker on the CDC website," Rasmussen wrote in an email to the Torch.
Dr. Zoe Wendler, the technical and professional communication and journalism and technical communication program coordinator explained that COVID-19 infection rates are the lowest of the pandemic, comparable to that of summer 2021.
Wendler added that she has been extra cautious about COVID-19, due to family members being at an increased risk of catching the virus. Even though things are improving, she will continue masking at all times while on campus.
"We probably should still be masking in hallways, [since] that's actually the main opportunity for transmission because they get more crowded than the classrooms do. If we are masking in classrooms, as remains the policy, it's not very logical to not mask in hallways and common spaces because those are the most crowded," Wendler said.
Philosophy professor John Scott Gray explained that during this month's Academic Senate meeting, every senator who spoke was in favor of keeping the classroom mask mandate, so he believes the university heeded their opinion in their decision-making process.
"I am glad that the change is a gradual one that maintains the mask requirement in classrooms. While we might pass through a hall for two or three minutes, our time in the classroom is usually an hour or more, meaning a higher viral load. This seems like a fair compromise," Gray wrote in an email to the Torch.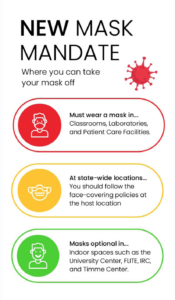 Gray also noted that he would have waited at least a full week after spring recess to implement the changes on campus.
Craig Maconochie, a junior studying secondary biology education, expressed support for the revised COVID-19 requirements on campus. He explained that because he is vaccinated, he is excited about the prospect of beginning to move toward more normalcy on campus.
While freshman Emily Gilbert is happy about the changes, she doesn't understand the logic behind the decision to mask only in classrooms, laboratories and patient care areas.
"Personally, I think that the school should have either made the mandate completely optional in all buildings and spaces, or kept it the same. People are mingling together in the UC or FLITE without masks and then going to class with the same people, so I feel like it's almost a little pointless to have everyone wear masks only in classrooms," Gilbert said.
Elayna Pagels, a freshman studying architecture, expressed similar thoughts to Gilbert, she noted that if everyone is around each other in common areas without masks on, then it seems to defeat the purpose of wearing one in the classroom.
Since the pandemic began, there have been numerous guidelines in place to keep faculty, students and staff safe. Pagels and others hope that these changes will show progress in the fight against COVID-19 and the return to normalcy.
"The University will continue to monitor local and statewide conditions, in addition to guidance from local, state and federal health authorities relative to COVID-19. If necessary, these new guidelines on mask usage and the symptom checker may be re-evaluated should conditions in our communities change," Rasmussen wrote.
For the latest information regarding COVID-19 guidelines on campus, check out the Coronavirus Updates Hub on the Ferris State website.