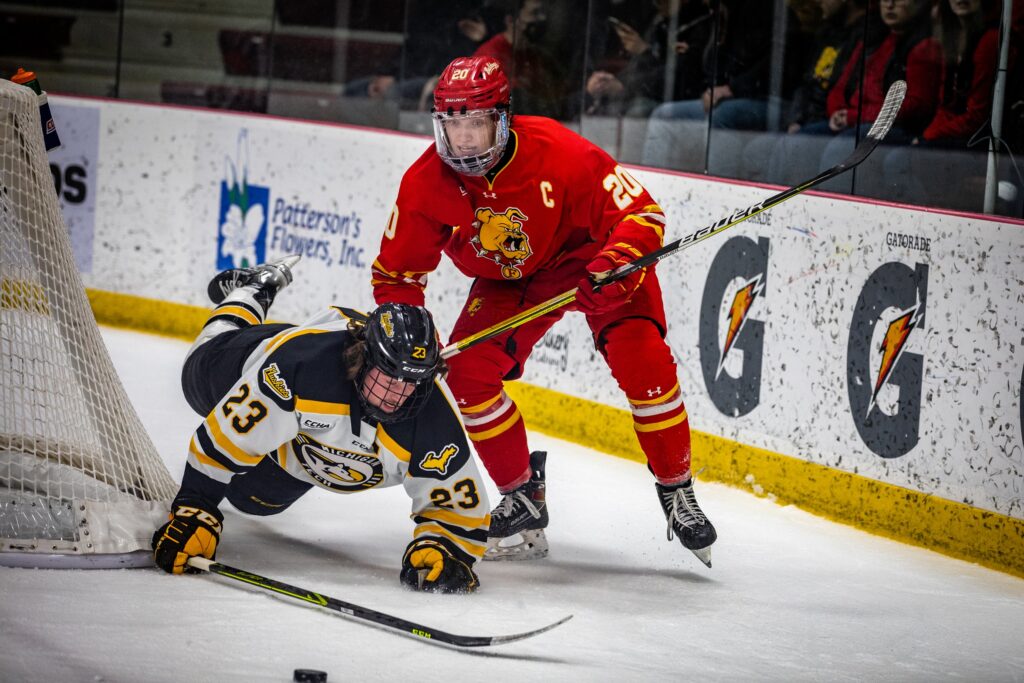 Former Bulldog captain Liam MacDougall has signed with the Cincinnati Cyclones of the ECHL.
MacDougall served as a Bulldog captain for two of the five years he was with Ferris. In those five years, MacDougall put up 14 goals, 33 assists, and 47 points in 133 games.
MacDougall finished his time at Ewigleben Ice Arena against Michigan Tech Feb. 18 and 19. The Bulldogs lost both games in overtime and went on to finish their season 11-24-1.
MacDougall skated as Bulldog for the last time March 5 in a CCHA playoff loss against Michigan Tech.
"The biggest thing for me that will keep me up [at night about] Ferris is not being able to make it out of the first round of the playoffs in any of my five years," MacDougall said. "I thought we had teams capable of doing that."
Despite this year's shortcomings, he was proud of the response that the team brought throughout the campaign and said that the team was "fun to be around".
The best record MacDougall saw was a 14-23-1 record from his freshman year. Like MacDougall said, he and the team never made it past the first round of the CCHA playoffs.
For MacDougall, his time at Ferris is officially in the past as he has already started in four ECHL games.
"I'm always excited when the guys sign and get an opportunity to play professionally," head coach Bob Daniels said. "I'm excited for him. I've actually been texting back and forth with him. I congratulated him on his first professional goal he scored last weekend."
Daniels emphasized how important MacDougall was to the team, even if the numbers didn't reflect that. Daniels also added that MacDougall's maturity, mentality, and leadership could give him a "really nice" professional career.
MacDougall joins former Bulldog Jason Tackett on the Cyclones. Tackett, who is currently inactive, played 114 games for the Bulldogs between 2016 and 2020.
In the ECHL, scouting is usually done through the head coach.
"Our job is to scour the NCAA market and see the players that are out there that fit the mold and fit what we're looking for," Cyclones head coach Jason Payne said. "Being able to follow Liam's progression in La Salle in the GOJHL and being at Ferris State for the five years he was there [and] being the captain the last two years, that speaks volumes for a player."
Payne mentioned MacDougall's improvement over his career. He had six points in his first season but he put up 17 points in his final year.
"It just shows what kind of character and what kind of person he is," Payne said. "Him being able to come in here and fit in seamlessly with our organization, with our lineup, [and] with our culture. That's a feather in his cap."
Fellow Bulldog captain Ethan Stewart also recently signed with the Tulsa Oilers.
"I reached out to Ethan to say congratulations," MacDougall said. "But, I think it's pretty cool. There will probably be times where I will give him a look on the ice, maybe slash him in the legs. Something light for a little bit of fun. He's a great player. I'm very happy and proud of his time there in Tulsa."
MacDougall's future in hockey is seemingly bright. Coaches, both current and former, have high praise for the former Bulldog.