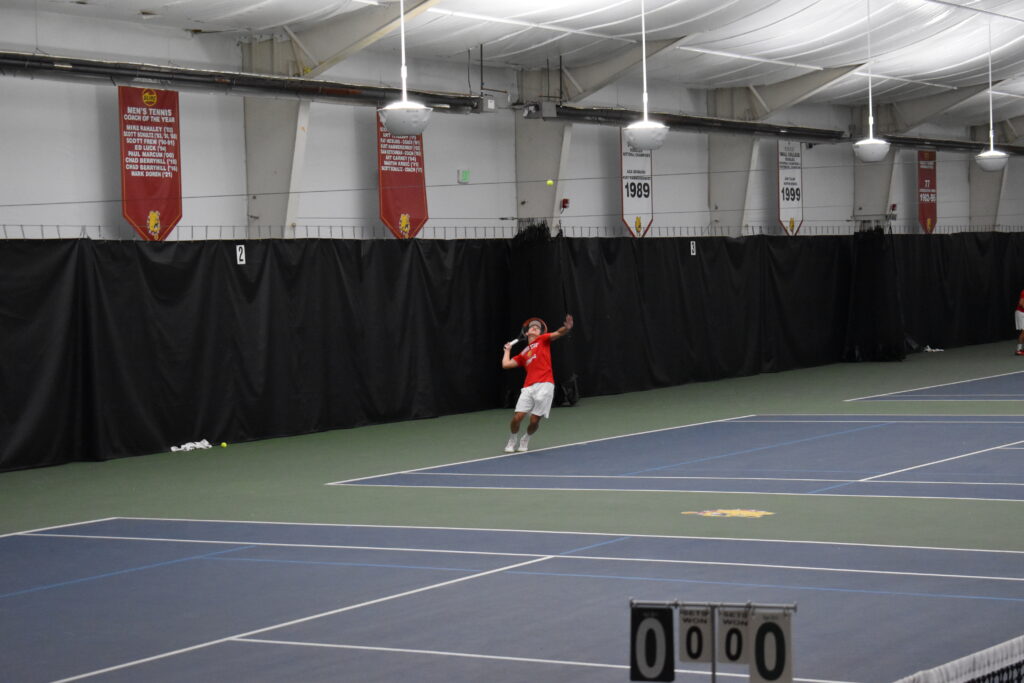 The Ferris Men's Tennis team honored their seniors with a dominating back-to-back performance in the second week of GLIAC competition.
Ferris won the weekend 12-2 over two matches, beating Michigan Tech 6-1 on Friday and Lake Superior State 6-1 the following day, moving to 11-2 (3-0 GLIAC).
Seniors Ayush Deswal, Mathis Guerre, and Josh McDermott shared a moment with head coach Mark Doren following Saturday's senior day victory over Lake Superior State.
"Senior day reminded me of many good memories that I have made in the past four years with such a great team," Deswal said. "This is going to stick with me for the rest of my future."
"It was an outstanding day," Doren said. "The men started out the day with a convincing win over a much-improved Lake Superior State team and followed the match with a great ceremony celebrating the seniors after the contest."
On Friday, Mathis Guerre and Jan Koupil made quick work of their opponents with a 6-0 finish that gave the team early momentum to carry throughout the day.
Benjamin Lortie and Alessandro Santangelo got out to a quick 5-0 lead, but some serving struggles allowed the Huskies to steal two sets. However, Lortie and Santangelo closed the set with a win.
The final doubles pairing was the senior duo of Ayush Deswal and Josh McDermott. The two went back and forth and watched the Huskies take a 5-4 lead. However, the Bulldog duo rallied back and won 6-5.
Guerre got the team started singles play with two 6-1 victories over Michigan Tech's freshman Adam Fenjiro. Koupil and Yannick Mader followed with wins for Ferris as well.
Despite picking up the first set 7-6 on court four, Deswal fell in three sets to Andrew Freel. A consistent effort pushed the final set all they way to 10-12, but a few well placed shots from Freel gave the Huskies their first and only win of the day.
Alec Olivier closed out day one with a three-set comeback. A 6-3 loss in the first set pushed him to 5-7 and 10-7 wins.
"Michigan Tech is a much improved team and we knew it would be a tough matchup," Doren said.
The team took two out of the three doubles matches with the lone loss coming from Guerre and Koupil, their first loss at home when they play together.
Guerre and Koupil both bounced back in singles play with victories. Guerre won in two sets, 7-5 and 6-4, and Koupil did the same, with 6-2 and 6-3 victories.
"For the men to go into a match where they know they're the favorite, but to still play really well was important," Doren said.
Mader won the first set 6-4 thanks to numerous strong backhand shots. He shut the door on his opponent in the second set with a clean 6-2 win to put another point on the board for the Bulldogs.
Lortie and Mcdermott made their return to singles after taking a seat in Friday's matches. Mcdermott won his match 6-2 in both sets, and Lortie beat his New Zealander counterpart with a pair of 6-1 performances.
Santangelo lost to Aaron Osmond of Lake State to give the Lakers their lone point of the day. He came back after losing 6-4 in the first to win a dominating second set 6 but ultimately lost 10-8.
Ferris will be tested when they hit the road this weekend to face Davenport on April 1.
"Friday we play Davenport. Davenport's ranked in the top 20 for the first time in school history," Doren said. "I think it's important to get a win and to be able to go positively into a week of practice."
Doren and the men's team welcomes the opportunity to play a strong Davenport team will bring. With just five matches left before the GLIAC tournament, it is a welcome test.