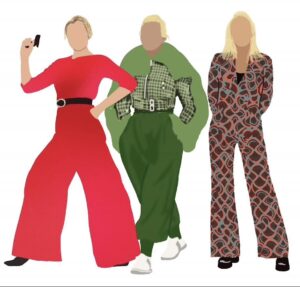 Spoiler alert: This article contains "Killing Eve" spoilers for the first five episodes of season four.
Since 2018 the BBC drama, "Killing Eve" has been a big hit. The first episode amassed an impressive 8.25 million viewers and has continued to have a large viewership over the past four seasons.
The series has turned the concept of a cat and mouse thriller on its head in the best way possible. "Killing Eve" stars Sandra Oh as Eve Polastri, the MI6 agent with a fascination for the assassin, Villanelle played by Jodie Comer. Villanelle is known not only for her creative murders as a part of the notorious criminal organization, 'The Twelve,' but also her flair for fashion.
One of the most unique facets of this show is the relationship between Eve and Villanelle. While they are rarely together in person it's clear they have feelings for one another in a strange love-hate relationship that's hard to define.
Season three ended with an intense emotional scene between the leading ladies on a bridge in London where they vow to walk away from each other. As they are physically walking away, they are figuratively separating themselves from each other emotionally. However, in the end, they glance back, seemingly unable to leave the other behind.
After an impactful final episode to season three, fans had high hopes for season four, which was announced to be the final season. Season four shocked many by doing a pretty large time jump for the premier. Eve and Villanelle were far from the bridge and not involved in each other's lives whatsoever. Eve is working for a private security company and Villanelle is trying to change her life and become part of a church.
However, chaos soon finds the duo and they are reunited once again, going back to their usual cat and mouse antics with a hint of angry romance in between. In some ways, it feels that the show is keeping their strange relationship stagnant, rarely allowing them to see one another, like in previous seasons. This is a bit frustrating to viewers as it's the final season and developments or changes within this relationship would be expected.
That all changed in episode five. Eve had been working with a member of 'The Twelve,' Helene, to try and get to higher-ups in the organization. Eve even 'kidnapped' Helene's daughter for a period of time, although, it's hard to constitute it as kidnapping. It was more like babysitting because the daughter was very happy, however, Helene was not. This finally showed a very concrete way that Eve has changed as a character through the series though.
Helene decided to get back at Eve and realized that Eve's promises that she was over Villanelle were false. So, Helene had Villanelle shot with an arrow in front of Eve. The catch? Eve was in a car, watching the scene unfold, and Helene locked her inside while she desperately tried to get out and help Villanelle. Eventually, Helene allowed Eve out and Eve immediately ran to Villanelle's unconscious body and held her in her lap. For now, everything is unknown regarding the future for the two but there is, finally, some movement in their relationship.
There are now three episodes left in the series and only time will tell what is in store for Eve and Villanelle, their relationship together and how it all ends.