After months of long study nights, members of the Michigan College of Optometry put down their books to bask in bright stage lights.
On Saturday, March 26, MCO students put on their first ever talent show to bring attention to the National Optometric Student Association.
NOSA is a newly formed association that provides support for minority students to create diversity in healthcare and the optometric profession.
The talent show highlighted how diverse and talented students from the MCO are by including all kinds of acts such as cultural dances, a violin solo, piano ballads and standup comedy.
First year optometry student Marilyn Johnson coordinated and conceptualized this event. She also performed in two acts of Indian Bollywood dancing.
"A lot of Indian dances are about storytelling and expressing. We always like to tell some sort of story," Johnson said.
Johnson performed her first dance with Susmitha Narisetty. It was about two girls dancing in the rain.
She explained that in almost all kinds of Indian dances, one's expression, enthusiasm and energy are important. Narisetty believes that their dance felt like making the best out of a bad day.
The second dance was performed with her boyfriend, Connor Monaghan, in which she took two traditional Bollywood songs and one from her native area in India and put them together.
Johnson taught Monaghan the dance and says that he has a great sense of rhythm.
"She was a competitive dancer, so she kept me on track," Monaghan said. "She was pretty stringent and meticulous about what it looks like."
Her attention to detail helps her as a dancer, leader and optometry student.
Daniel Taylor, the MCO's interim dean, describes Johnson as a "force."
"She is the type of person who could be a leader in this field for 40 years," Taylor said. "You choose to take that kind of initiative."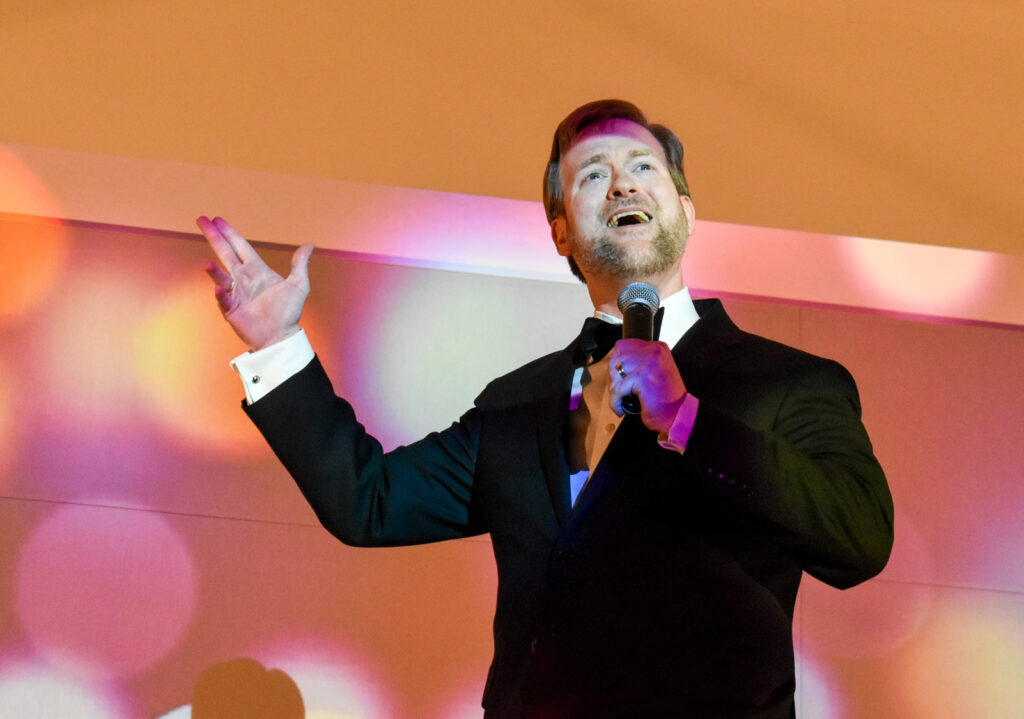 In a suit and bowtie, Taylor started off the show with his rendition of "Mack the Knife" by Bobby Darin.
He has been singing for 20 years in many different events, but he still felt butterflies before his performance.
According to Taylor, his wife, who is an opera singer, has helped him expand his talent
"You have to think about controlling your breathing and making sure that you're always in control of what you're doing, and usually it goes away when you're in the middle of it," Taylor said.
He describes the talent show as a win-win for everybody. He joined to show support for NOSA, and also because he enjoys singing and performing.
"I was so happy to see NOSA doing this because it's a new group, but its mission is so important in helping the diversity, equity and inclusion of our profession and of our college," Taylor said.
Emma Kerr performed four songs on the violin. She has been playing for 20 years, but this was the first time any of her fellow students had heard her.
"There's always a little bit of nerves that come along with being on stage, especially in front of a group of all my peers," Kerr said.
Kerr decided to play multiple songs because they were all short pieces of music, but they held a big piece of her heart.
She offered a background story for each song she played.
"The problem is once I get started, it's hard to stop," Kerr said. "I just love playing so much, and with all the studying that I have to do in optometry school, it's so nice to just have a moment to sit down and play."
Paige Webber played "Mama Don't Make Me Put on the Dress Again" by Trixie Mattel on the ukulele.
She has been learning how to play this instrument for about eight months.
"I've always grown up with music, and having a little time at night, or during the weekend, to play is just kind of a way to de-stress after everything," Webber said.
Webber enjoyed seeing the other performers who put themselves out there. She describes the MCO as a great community.
"We're all going through the same stuff. We're all going through it together, and our classes are so small that you get to know everybody so well," Webber said.
She was happy to see the diversity of the acts and was excited about the professors that also participated.
Optometry professor Joe Pole performed a mix of two White Stripe songs on his electric guitar. He has owned a guitar for 20 years, but he doesn't spend too much time playing it. He joined the talent show per his student's request.
"[Given] all of the restrictions that have taken place with the pandemic in the last two years, it's really nice to be able to interact with the students in a way that's not in the classroom," Pole said.
Pole loved the opportunity to see his students in a place that isn't stressful. He described it as a "nice release."
"The nature of the program [requires you] to do [a lot] to be successful," Pole said. "I think the students really appreciate being able to do something like this."
Johnson was relieved but also sad to reach the end of the beautifully executed talent show.
"All these practices, [performaces] and just event organizing, it's all stuff that I have done like almost all my life, and it brought me so much life doing it here," Johnson said. "It brought me so much happiness to even just walk into this room and see this whole thing come together because it was all just an idea I had."
Johnson was surprised by the outcome and overjoyed because it ended up being better than she expected.
Since this event was organized by a group mostly known for studying all the time, Johnson worried not many people would attend.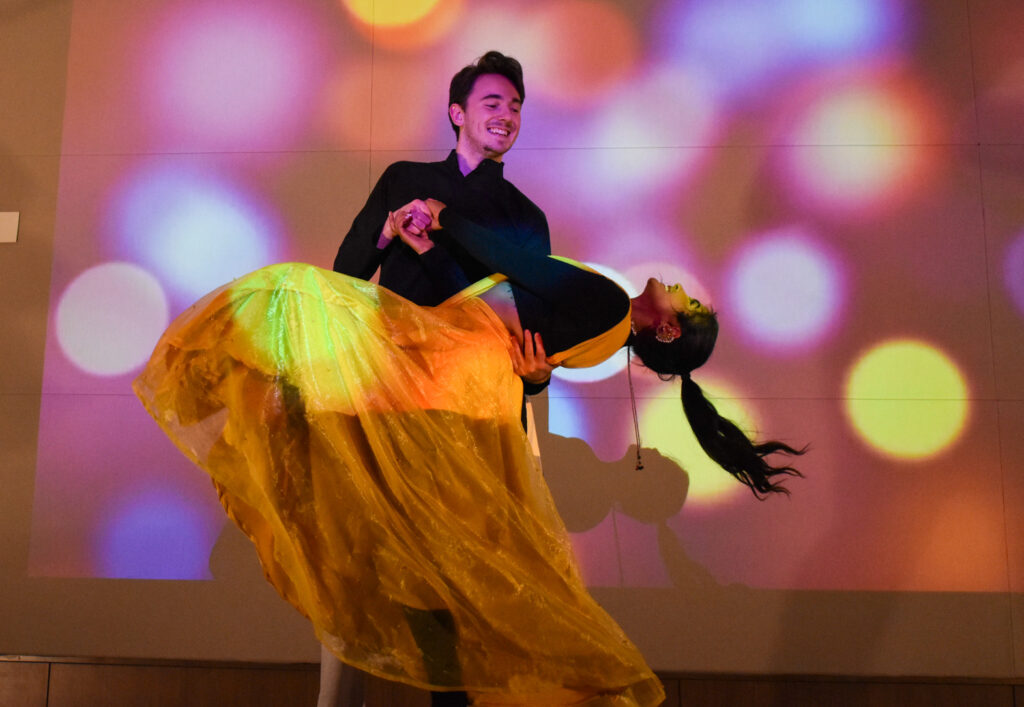 Johnson's idea of throwing an event like this sprung from her history in dancing and performing.
"I've always very much gone by the fact that if there's not an opportunity, you can make your own opportunities, and I realized that I'm not the only one who grew up [performing] or has things they want to do…".
Her classmates were all very interested in having a talent show when she proposed the idea to them. Everyone had something to do, whether it was performing, working on tech, making sure everything ran smoothly, setting up and decorating or telling people about the event.
"This wouldn't have been possible without… my execs supporting me throughout the whole event," Johnson said.
As Johnson explained, all of their hard work was worth it, and the show brought her a lot of joy.
President of NOSA, Selena Nehmeh, was as equally impressed and happy with the results. She believed that the performers did a great job, and the whole thing was creative.
She hopes that next year they will get more people to perform and be involved in all aspects of the show.
"As a new club, we get a little nervous putting on a new show, something that we've never done before, but I think it came together perfectly," Nehmeh said. "We just wanted to do something a little different that the school hasn't done before."
Chief of pediatrics Paula McDowell and optometry professor Vandana Rajaram are advisors for NOSA. Their part in the show was to organize, rent and sign. They both give full credit of the talent show to their students and believe their roles were "minor details."
McDowell also was the hostess of the talent show. She looked at her students in awe as they all performed. She thinks that seeing them smile and have a good time outside of class was a totally different experience.
"We see them in the classroom, and we know they're all smart individuals, but it's really nice to see them up there just to get to know them a little bit better, but also to appreciate them more," McDowell said.
As mask restrictions have been lifted, this event was the first time Rajarhm and McDowell have seen their students' full faces. Rajarhm said that seeing the second half of their faces was a totally different perspective for her.
"It's much more relaxed. We are more like peers in this light, rather than a professor and a student so it's wonderful," Rajarhm said.
The environment was so friendly that every time one of the performers messed up, they'd laugh it off and everyone else laughed along with them. All the audience members were happy to be there and support their friends.
Jessica Oakes and Dylan Rider contributing to the reporting of this article.