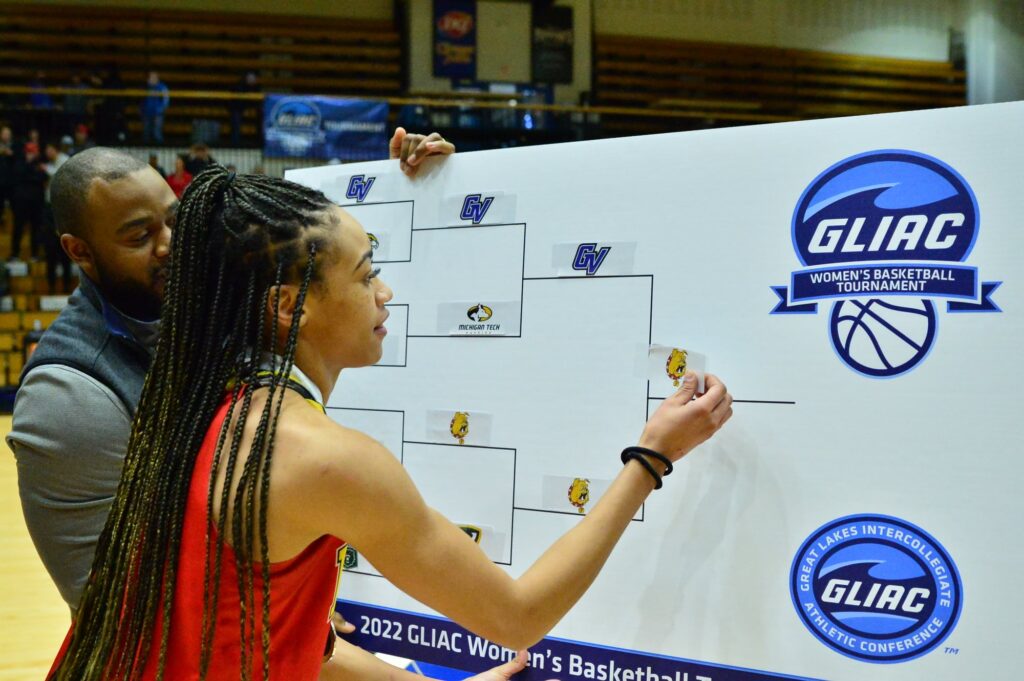 Ferris' women's basketball won six games in the 2020-21 season.
They won 22 games, a GLIAC North Division title and their first GLIAC tournament title in the 2021-22 season.
How did they put together one of the most improved seasons in Ferris' women's basketball history? They stayed healthy.
In 2020, after season-ending injuries to Adrienne Anderson and Chloe Idoni, the Bulldogs relied on a young core of underclassmen. Four of the eight primary players were freshmen in their first season of college basketball. This season, Idoni and Anderson returned, and a year of experience for other players gave the Bulldogs confidence going into the season that they could return to winning.
"Last year there were so many twists and turns, " head coach Kurt Westendorp said in the season preview. "Now, we have a lot of added depth with players off injury and the freshmen class."
Coming into the 2021- 22 season, Ferris was projected to finish second in the GLIAC north division, despite the low record from a year ago. The Bulldogs won 10 of their first 11 games, including a crucial win on the road against the team ranked above them: Michigan Tech.
The offense was much improved this year. They began this season averaging 77.0 points per game. While this number would dwindle to 71.7 by the end of the year, the Bulldogs still showed huge strides from their 62 points per game last season. When asked about the jump in offensive production, junior guard Mallory McCartney pointed to the experience from the frontcourt.
"I think that was a big key to help us score," McCartney said. "We were able to establish an inside and outside threat."
The Bulldogs went 9-7 over the latter part of the GLIAC schedule after the new year. With struggles from Michigan Tech and third place Wayne State, Ferris still clinched the North Division title thanks to a senior day win over Northern Michigan in their home regular season finale.
"It's hard to fully encompass how it feels knowing where a program has been to where it is now," Zoe Anderson said. "To have everyone buy into the mindset that Ferris basketball is capable of winning championships, that's pretty awesome."
The Bulldogs earned the number two seed for the GLIAC tournament and beat #7 Saginaw Valley State at home, #3 Wayne State on a game-clinching shot with under 30 seconds to go and #1 Grand Valley on their home floor. The five day stretch earned Ferris their first GLIAC tournament title in program history and earned Westendorp his third 20-win season as a collegiate head coach.
"He's done a great job leading us," McCartney said. "He brought in his system, and we all bought in."
This success granted the Bulldogs a berth in their sixth NCAA tournament appearance. In their initial matchup against #1-seeded Ashland, the Bulldogs came six seconds away from a victory over the top-seeded Midwest team in Division II. After the game, Westendorp gave nothing but praise to his team on their work through the whole season.
"This was definitely a special team," Westendorp said. "I couldn't be more proud of their effort."
Ferris showed its excellence on the stat sheet all season. The Bulldogs finished the season as the GLIAC's top team in assists per game (16.6), steals per game (10.1)and lowest turnovers per game (11.5).
Sophomore Kadyn Blanchard paced the Bulldogs in scoring this season at 14.6 points per game, followed by Adrienne Anderson at 13.9 and Idoni with 11.8. Idoni led the Bulldogs with 5.5 rebounds per game, and McCartney tallyied 4.8 assists per contest. Defensively, Adrienne Anderson recorded 2.4 steals per game, and Ellie Dykstra matched Idoni with 0.8 blocks.
The Bulldogs were awarded six individual honors for their performance on the season. Adrienne Anderson sported the All-GLIAC first team award, while McCartney, Blanchard and Idoni earned second team honors. Adrienne Anderson and McCartney also both received All-Defensive team.
"This year was a journey," Westendorp said on the Ferris Sports Update tv show. "This team showed when their backs were against the wall, they stepped up and showed their character. That's the legacy this program leaves behind."
The Bulldogs will look to build off their winning experience when the 2022-23 campaign begins next November.