The Ferris track and field team traveled to East Lansing to compete in the Spartan invitational that hosted 18 teams.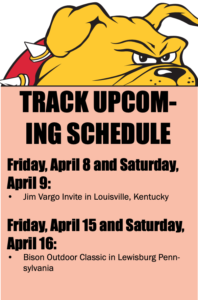 The Bulldogs competed outdoors for the first time this season and saw many athletes beat their personal records.
On the men's side, there were a few athletes who performed well in their respective events.
In the 100-meter dash, Ray Lee finished with a personal best of 11.01 and came in third place out of 29 participants. Moving on to the 800-meter dash, senior Andrew Yaworski also set a personal record of 2:07.44 and came in second place. The Bulldogs had another strong performance from freshman Noah Griffith, who set his personal best at 4:01.80 in the 1500 meter.
"It feels good to be having a strong start to my freshman season," Griffith said. "I think it's good for my confidence, which helps me keep having better races and improving my times."
Despite a successful first race, Griffith has more goals to accomplish.
"My new goal time is probably to run under 3:58 for 1500 meters," Griffith said. "I feel like I can do it after what I ran today if I keep on training hard and having good workouts. To run my goal time in the 1500 meters and try to make the 1500-meter final at the GLIAC championship meet."
On the field side, Forrest Akers had a strong performance setting PRs in both the shot put with 13.44 meters and in the discus with a 41.06 meters throw. Jason Keena also had a good showing, placing sixth in the javelin with a 44.49 meters throw.
The women also had a good day for the Bulldogs, as eight Bulldogs set personal records.
In the 800-meter, Kaylee Huey placed third and set a personal best of 2:31.80. Layla Creed placed eighth in the 1500-meter relay and set her record of 5:32.90. In the 5000 meter, the Bulldogs had three athletes in the top 10 with Sydney Kubiakin in fourth, Melanea Straussin in eighth and Callie Delaney in ninth. Each Bulldog also set personal records in the event with Delaney posting 18:51.35, Strauss posting 18:51.32 and Kubiak posting 18:07.59.
"For most of the race I had a group of three right in front of me," Kubiak said. "I knew I was coming in fast for each lap, but I didn't really process what the overall time would be. I was focusing more on how my body felt and to keep pushing, especially during the last mile, and I was super happy with the outcome of the race."
Like Griffith, the women are happy with the race results, but they strive to achieve more.
"After running a new PR, my goal for the season is to break 18," Kubiak said.
On the field side for the women, Brianna Copley was impressive in both the shot put and discus, placing in the top 10 and setting new personal records in each. In the shot put she threw a 13.55-meter throw and in the discus a 44.47-meter throw.
The Bulldogs track and field team will be back in action next weekend at the Jim Vargo Invite in Louisville, Kentucky on Friday, April 8, and Saturday, April 9.