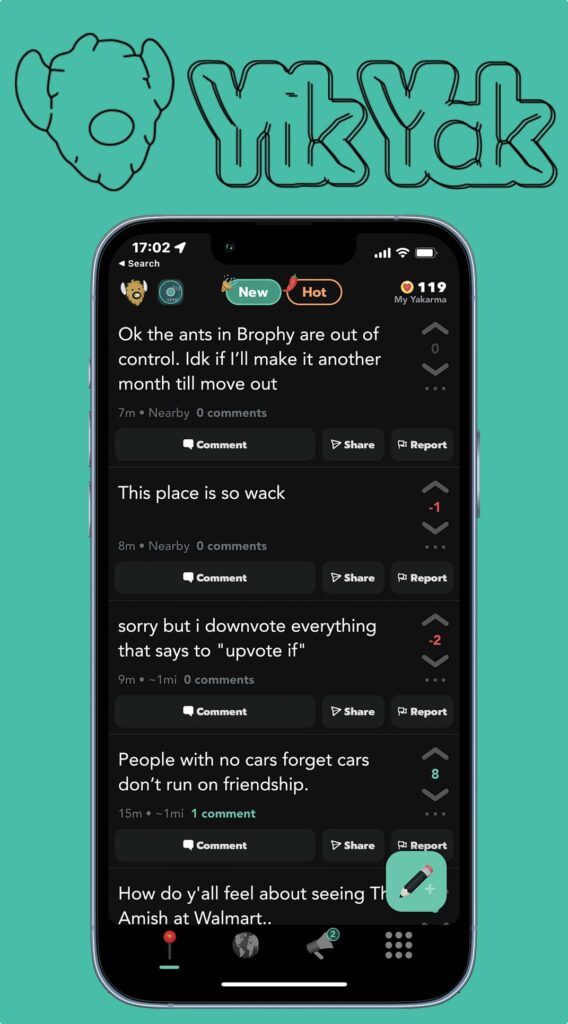 YikYak, the anonymous, proximity-based, social media app, has been causing problems at Ferris, due to an increase in cyberbullying happening within the app.
Multiple students are being investigated by the Office of Student Conduct after their targeted harassment through YikYak led a student to attempt suicide.
As reported by The Hill, at its peak, YikYak was worth $400 million, but in 2017 the app shut down due to problems with cyberbullying, harassment and racism. However, after four years of being shut down, the app came back in August of 2021.
One of the biggest changes in the app since the 2017 shut down is that it has a section outlining community guidelines, which includes mental health and other safety resources.
However, even with these safeguards in place, the app is already causing problems with cyberbullying.
An RA from Ferris, who does not feel comfortable sharing their identity for fear of losing their job, explained that they downloaded YikYak just before spring recess. This happened after several small instances of roommate and hall drama were occurring within the app.
Recently, they explained, the app has become more malicious, and numerous people were targeting certain students.
"I saw them posting about the students, telling them that they're worthless, that they should commit self-harm and commit suicide, they should kill themselves, really really serious things," the RA said.
One individual did attempt to take their life because of the harassment. Thankfully, they were unsuccessful.
After that, some of the RAs were able to put together who some of the bullies were. Since they are mandated reporters, they reported the situation to their hall director.
As of last week, the individuals being accused of cyberbullying and harassment are still being investigated by the Office of Student Conduct, and other students associated with the bullies are also being brought in for questioning.
The Office of Student Conduct was not willing to comment on the story, as it violates student privacy policies.
"The students that had been confirmed to be bullying are facing serious repercussions. I know that expulsion was mentioned," the RA said.
The RA explained that, typically, when there are cases of harassment, the students get moved, so they aren't living in the same hall, and a restraining order is often put into place.
"There's police involvement in certain circumstances where it's serious enough. I could see that happening with this situation. I'm just not entirely sure if it has yet," the RA said.
A report was filed with Ferris DPS after a post on YikYak doxxed the location of the individual. However, the case was closed and deemed a civil matter due to the anonymity of the post.
According to the Code of Student Community Standards, harassment, both on and off-campus, is not acceptable. The section titled, 'Individual misconduct on or off university property' outlines more details on harassment cases.
"Behavior that creates a hostile or intimidating environment in which verbal or physical conduct, because of its severity or persistence, is likely to unreasonably interfere with an individual's work environment, education environment or environment for participation in University activities," the handbook states.
Business administration freshmen Riley Green started using YikYak last semester. He explained that last semester he didn't notice any bullying in the app, and there seems to be an uptick in bullying in the past month.
"I just think it's kind of like the nature of YikYak itself. It is by most accounts a completely anonymous social media. And that kind of gives people the leverage and the power to say whatever they want, just because they can without repercussion of anything happening to them," Green said.
Green explained that the whole situation saddens him because, up until this point, his experience with YikYak has been positive, and he's enjoyed seeing funny posts. However, the bullying paints the app in a bad light.
Ferris is not the only university dealing with cyberbullying and harassment via YikYak. WILX reported that Michigan State University students and staff are concerned in regards to the return of the infamous app.
In 2015, a former MSU student was charged with making a false threat of terrorism against the university through YikYak. The student was sentenced to probation. Now that the app is back, the MSU community is concerned.
According to the article, while nothing of this nature has happened yet at MSU, there have already been instances of bullying and calling out professors within the app.
The University of Vermont has had similar concerns with the app. As reported by The Record, unfounded rumors circulated that freshman Cal McCandless had assaulted someone.
"I was essentially sitting in my room one day, and one of my friends up the hall sent me a post on Yik Yak that was about me. It essentially said, in a really fuzzy and benign way, that I assaulted someone," McCandless told The Record.
McCandless immediately filed a police report to have the misinformation taken down, but it took eight hours for that to happen.
Despite the new safety measures within YikYak, there are still reports of bullying within the app both here at Ferris and on a national level.
Noah Kurkjian contributed to the reporting of this article.