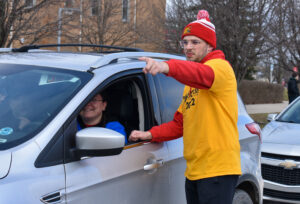 Over 400 volunteers lined up weaving throughout Lot 37 and beyond Saturday morning, eagerly awaiting their BIG Event clean-up assignments.
Hosted by Student Government, the BIG Event is the largest student-run philanthropic project in Michigan. This event sources student volunteers to help clean up the Big Rapids community. Residents were able to preregister, describe what they needed help with, and then have an appropriate volunteer crew show up to help out.
Event turnout took a hit last year as a result of the pandemic but was back in full swing this year.
"Last year, we had around 350 to 375 volunteers, and this year we had just over 400," Student event coordinator Douglas Verellen said. "It was a pretty big increase from last year which was good to see."
Student volunteers showed up to show their support for the return of the event including Chelsea Raymond and Abigail Westphal, who were both hoping to affect the community in a positive way.
"I just really wanted to be with my friends and help do things with the community, and I think that's fun," Raymond said, who was ready to brave the cold in the name of public service.
Local homeowner Virginia Birnie was also eagerly awaiting the event. She has been a longtime participant and said that she's had the volunteers come and do odd jobs around her property since the event first started.
"I've had my shed painted before and I had my walls washed before and they've helped me just with the whole yard work," Birnie said as she reflected on the event in years past.
Birnie noted how helpful the program has been to her through the years and how she missed it during 2018 and 2020 when the event was canceled due to inclement weather and the COVID-19 pandemic respectively.
A large group of volunteers from the Real Life ministry RSO also showed up to the event, bundled up to stave off the chilly conditions. They said that as Christians, serving people and the environment is a big part of what they do and that they were just looking to help people.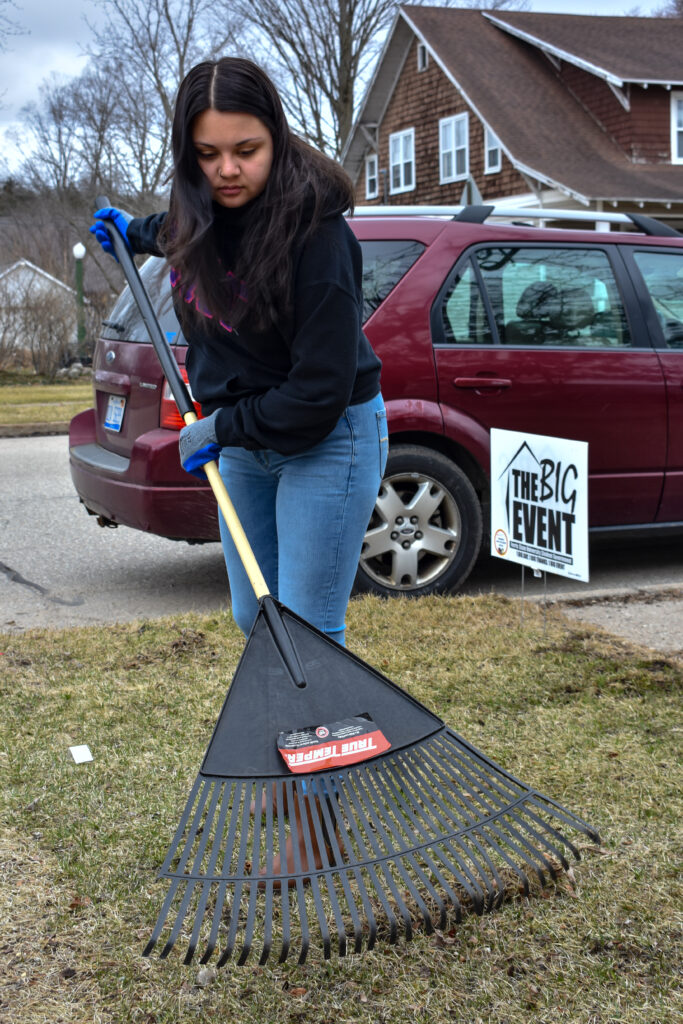 President Eisler also stopped by to support the event organizers and volunteers and to chat and grab pictures with some of the students attending the event.
"I know what all these people are here for," Eisler commented on the event, highlighting its mission. "This is great. Thanks for coming out and doing this."
Verellen shared in Eisler's sentiment. "I just want to thank all of the students who participated. I know a lot of people asked for a lot… but we love that our students care about our community and serve with their time," Verellen said.
After reflecting on this year's BIG Event, Verellen looks forward to next year's event and what they can achieve.
"We want to make sure we target those who are physically incapable of doing their own home's [work]," Verellen said. "We find that to be really important, and that's just the essence of the event."
Cassidy Jessup contributed in the reporting of this story.