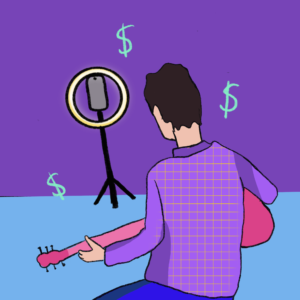 Seventy percent of the polled Ferris community said that they have found new music from TikTok, it's no secret that TikTok has become a social media giant, but many people still don't know the importance of the platform for musicians.
For bands like Vundabar, playing to a small group of avid followers may have seemed like their only option due to a lack of radio coverage and recognition until TikTok came along.
I was introduced to the band Vundabar last summer by a friend of mine who had discovered them on his own. I was blown away listening to their album Gawk, captivated by the frenzied skill of drummer Drew MacDonald and the distinctive singing style of guitarist Brandon Hagen.
Then, at the end of last year, one of their songs from Gawk, "Alien Blues", suddenly blew up on TikTok, earning them a much larger fanbase and a television spot on Late Night with Seth Meyers, in which they dazzled the audience with an electric performance of "Alien Blues".
The song now has 126.6k videos created with it on TikTok, massively trumping the limited amount of success they had experienced from playing small club shows around their native U.S. in the past years.
Another story that would prove the importance of the social media platform for musicians would be the story of Jawsh 685, a producer from New Zealand. He started his music career by creating beats and songs in his bedroom, which led to pop singer and songwriter Jason Derulo contacting him and singing over a beat from the New Zealander.
I believe that another reason that TikTok is a great resource for musicians is the connection it gives them with the fans since a good portion of young people use TikTok and can find new artists through it.
It also is important to note that the app has revitalized hits from years prior, like Matthew Wilder's bouncy 1983 pop hit "Break My Stride", which was a big hit at the time of its original release. It had not seen success until some of the video app's users began posting videos including the song, allowing for another unexpected surge in popularity.
I have found many songs by smaller artists I had not heard of before through TikTok, like "Love You So" by The King Khan & BBQ Show and "Jealous" by Eyedress that I would have never found if not for the unique opportunity that TikTok presents to its user.
As someone who generally doesn't engage with social media due to the sometimes-aggressive nature of interactions between users, I feel that TikTok has found a process unique to its platform that doesn't just highlight its users but also gives the spotlight to the musicians providing content.