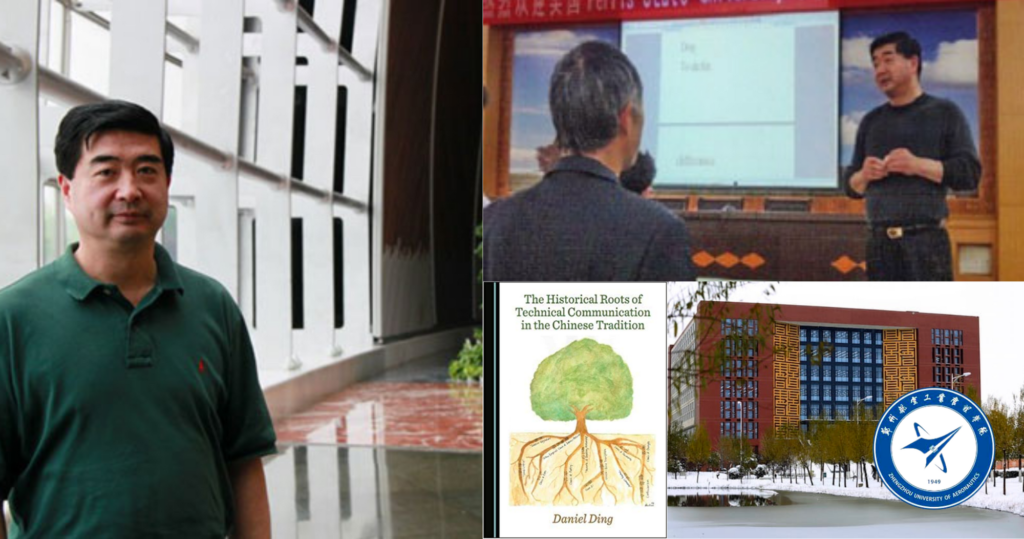 A supportive co-worker, an insightful researcher, a dedicated multiculturalist and a humble gentleman. This is how English professor Daniel Dingxiong Ding's colleagues remember him after his passing on Sunday, March 24.
Ding joined Ferris' English, Literature and World Languages department in 1998. He taught a range of technical writing classes from business communication to advanced scientific writing. As a researcher of international technical communication and multiculturalism in communication, Ding also extended his professional life abroad.
For one semester in 2008, Ding was an instructor of technical communication at Zhengzhou University of aeronautics in China. He strengthened Ferris' partnership with ZZU with several visits over the years. In 2013, he taught as a senior Fulbright lecturer at Hungary's University of Debrecen.
Fulbright campus coordinator and English professor Dr. Christine Vonder Haar remarked on Ding's ability to bring different cultures together.
"He was absolutely dedicated to all things international," Vonder Haar said. "He was very instrumental in the affiliations with China for educational exchange."
Whenever Ding returned from China, he shared stories about his travels and the culture with his colleagues. Vonder Haar and English professor David Marquard saw Ding and his family members at Chinese New Year celebrations and every ELWL department picnic.
"You could always count on an authentic Chinese meal… he was a true member of the department," Vonder Haar said.
Marquard explained that the loss of Ding was a devastating shock to all his ELWL colleagues.
"For myself and for a lot of us, this loss during this time – I think everybody's kind of still out on their islands… it's a huge blow to this department and to the university," Marquard said.
Lisa Von Reichbauer, the acting executive director of the Office of International Education saw Ding's collaborations with ZZU firsthand. This is a relationship she hopes to maintain as part of Ding's legacy.
Von Reichbauer cited Ding's "quiet persistence" and dedication to his field as his strengths in multiculturalism. He consistently engaged with colleagues and pushed for quality connections between Ferris and other world cultures.
"Because of his dedication and persistence, [our collaborations] really grew, evolved, and I would say blossomed over the years," Von Reichbauer said.
As Vonder Haar said, Ding "was his work." The dedication Ding had for both technical writing and Chinese culture culminated in his 2020 book, "The Historical Roots of Technical Communication in the Chinese Tradition." His book is an in depth analysis of Chinese technical communication, covering its origin with traditional texts, influential factors and philosophical and historical context.
Ding's legacy will be carried on by all those he supported in the Ferris community. English professor Dr. Tina Arduini noted how kind Ding was, often offering sincere teaching advice for upper level classes.
"His sincerity for my success made me feel more at home in the department," Arduini said.
This support was felt by Ding's pupils as well as his colleagues. In the office across from his, Arduini overheard the many in-depth conversations Ding had with his students.
"Every semester, for days on end, students would line our hallway to meet with him one-on-one to talk about their papers," Arduini said. "I enjoyed listening to those interactions as he offered succinct and helpful advice on everything from what kind of research to cite to font and margin size."
One student grieving Ding is mechanical engineering senior Sydney Princing. Princing was busy making meals for a local church when she heard that her advanced technical writing professor passed away. She now finds it difficult, or even inappropriate, to complete assignments for the class.
"I haven't really processed everything… I did not work on my paper for him for several days, because opening it reminded me of the fact that he was no longer teaching my class and that felt wrong to me," Princing said.
Though her class is fully virtual, Princing was still able to appreciate what a helpful instructor Ding was to all his students.
President David Eisler commented on Ding's passing to the Torch on behalf of the administration.
"It was my pleasure to know Dr. Daniel Ding, and as a university community, we are saddened by his passing. In his career, he influenced the lives of many students. He will be missed by all who had the opportunity to know him," Eisler said.
The Ferris community is planning a memorial potluck for Ding on Thursday, April 21.