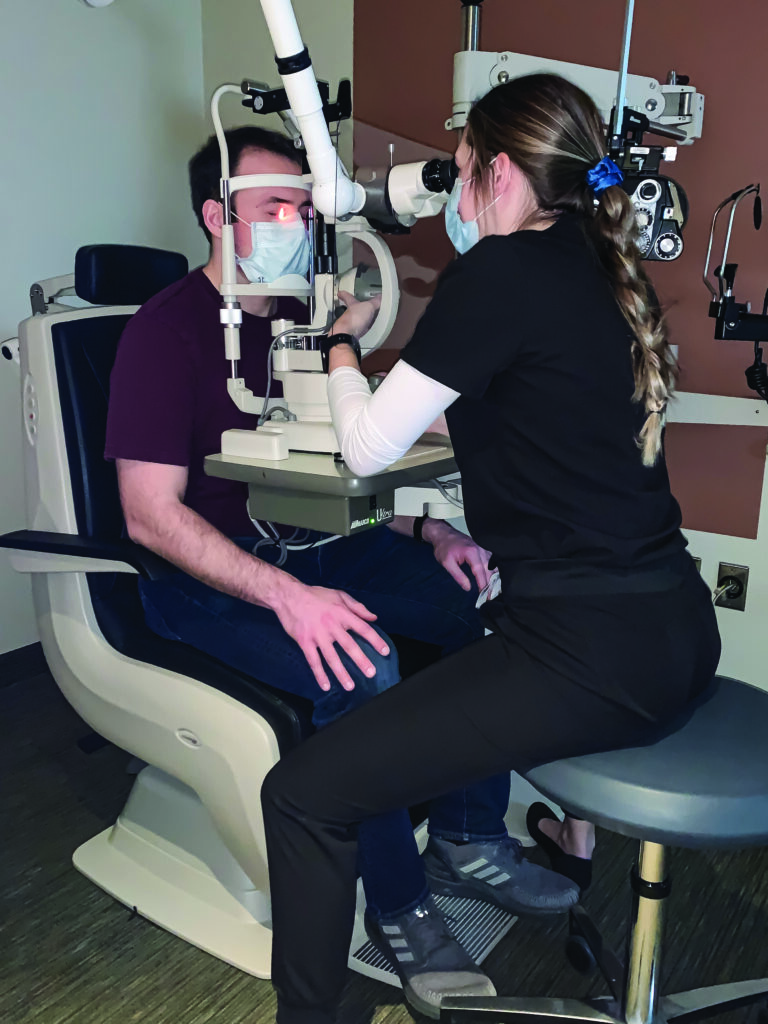 Ferris' Michigan College of Optometry at Ferris offers an extensive program that educates and prepares students for taking their careers to the next step.
This graduate program is four years long and consists of clinics, labs, lectures and more.
During the first year, students are required to take lecture and laboratory courses. The lectures usually take place in the morning for about three to four hours. Their labs take place in the afternoon and are about two to four hours, three days a week.
The second and third year of the graduate program is when students start to see patients in clinic, while still taking lecture classes in the morning. They either take labs or clinics along with the lectures. Clinics usually are four hours, three afternoons a week, and their labs are still about two to four hours for at least one afternoon.
"The time commitment, as far as the time that you're spending in the building working, definitely ramps up as the program goes up and as you're seeing patients in the clinic. And then beyond that, of course, [students] are studying in the evening hours too." Optometry professor Dr. Sara Bush said.
In the spring of their second year, students start in primary clinic. They start off taking care of 20–40-year-old healthy adults who are ideally the easiest patients for them. They stay in primary clinic throughout the rest of spring and summer, working with a partner.
The fall semester of their third year is when they start to see specialty patients, like children or patients with contact lenses. They also continue to work in primary clinic, which gets more advanced as they start to see older patients. All three of these clinics are taken for about four hours apiece. Because students get the opportunity to work with all kinds of patients, they become versatile optometry students.
"I think we do an excellent job producing clinical optometrists because our students start in specialties early on in the program," Bush said. "They leave the program very clinically savvy, well experienced in multiple areas and are very well-rounded clinicians."
The program is small so that students can get one-on-one attention from their professors, which is something that the faculty prides themselves on. They purposely keep the faculty-to-student ratio as low as possible so they are able to provide help and preparation for their students.
Because the program is so time-consuming optometry students try to make it fun by having community events and activities. The program throws an optometry school prom called "the eyeball" as well as a scramble golf outing, beach volleyball tournament, broomball tournament and a talent show. These events help the students take a break to have a good time and give them all a chance to get to know each other better.
"It's a really stressful and rigorous program and so [the events] give them a chance to kind of let off some steam and bring a lot of them together," Bush said. "Just going through the program together is a bonding experience."
Bush describes the hardest part of the program as, "taking all of the information that you learn and applying it to a patient." Learning the facts and information through a textbook, where it's explained cleanly and perfectly, versus applying it to a real-life situation is a different skill set, which is why she believes that the student's early experience in clinics is so important in their education and future careers.
The best thing for her is the small community of the program, which creates a positive learning environment. Bush believes that working in a non-competitive atmosphere helps the students lift each other up and work together, which are crucial aspects of the program. She and other professors work hard to keep the program as friendly as possible.
"They all have to work together. They're each other's patients when they're practicing different techniques in lab, so they need to be able to have a good working relationship with each other. Creating a competitive environment would be contradicting that," Bush said.
Third-year optometry student Sarah DeVries won student of the year, voted by underclassmen. The award is given to the third-year student who they felt positively impacted their time at MCO and has gone above and beyond as a leader and student.
As a third-year student, DeVries had all the responsibilities previously mentioned, including being a full-time student and having to study and prepare for the first part of the board exams in March. To become a certified optometrist, students are required to take three different board exams, the first one being the largest, longest and most intense.
DeVries' last three semesters will consist of rotations in which she will be around other optometrist students from different programs. She is interested in comparing the differences between how MCO prepared her and how the other programs prepared the other students.
"I feel like I have definitely been prepared for the future," DeVries said. "All of the faculty at MCO really treat us as colleagues instead of being superior to us because we really will work alongside them one day, so they have that mentality going into it and they give their all, they truly do."
A huge part of being in this program is the relationships that are formed between the students and the faculty. DeVries said it was a good thing that she was able to connect with her professors in the way that she did because she was able to feel comfortable when having to ask questions. The learning opportunity only grew because there was no wall between anyone in the program.
There are only 37 students in DeVries' class, which is why she feels they have become so close and have helped each other with their education. They are comfortable enough to ask each other questions and study together. DeVries believes that undergraduate courses lack the personal connection that you form with your peers and professors in graduate school.
"My class has gotten extremely close. We have definitely become a family," DeVries said. "There's no one else on the entire planet that knows what you're going through, except for those 37 people."
The best and easiest part of the program for DeVries was the bonds she made. She formed these strong friendships quickly because of how much they all have in common. She struggled the most with time management, especially in her third year. She's learned that there has to be a balance.
"For every single exam in optometry school, you could study a lifetime. Forcing yourself to split up the time because it's so easy to get stuck in the books and stuck studying. Fortunately, you're holding your friends accountable as well. That's been what my colleagues have helped me with," DeVries said.
According to DeVries, her professors have gone above and beyond to make their students feel comfortable. Students spend a lot of time with their professors because one professor will teach multiple classes and clinics. Therefore, they spend a lot of one-on-one time with each other.
"The professors are truly amazing," DeVries said. "I think that what they've done that has helped us the most is truly just making us feel comfortable to come to them. You do form a pretty close relationship with them which opens the door to asking questions and to continuing your education with them."