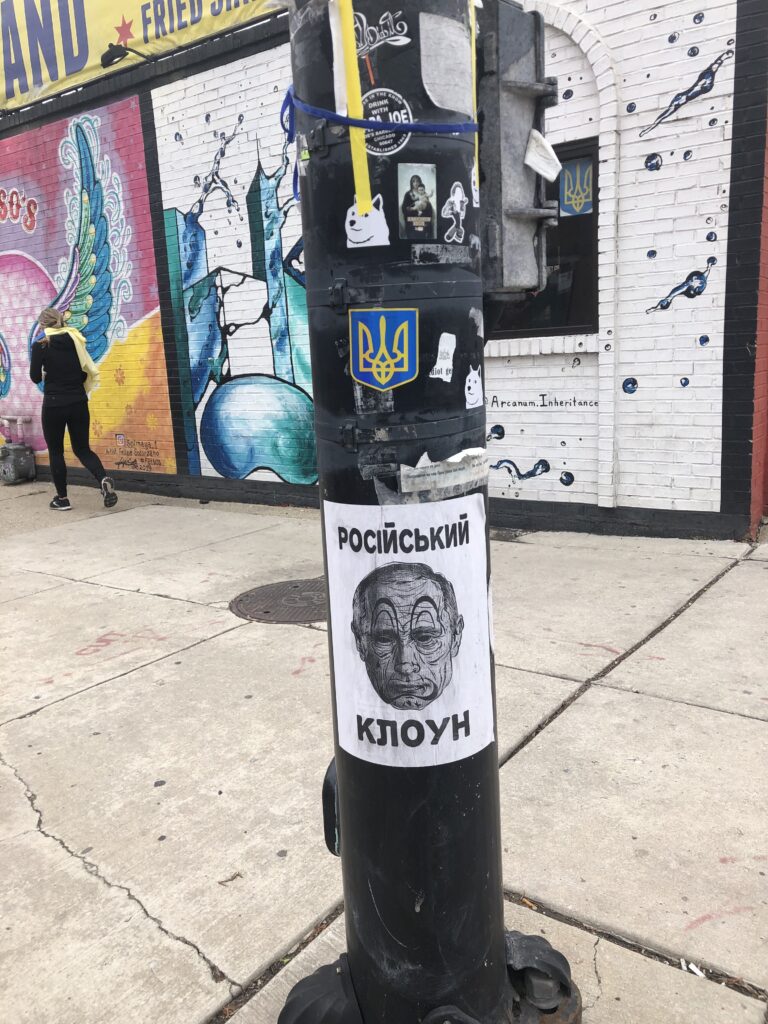 Of one mind
The Busch family household became its own hub of democracy in late February, as a mother, father and their two daughters voted to "send in the Marine."
History professor Tracy Busch, with a doctoral degree in Russian and European history, is married to US Marine Corps Reserve officer Benjamin Busch. Benjamin was deployed to Iraq to serve two tours of duty in 2003 and served as a team leader in 2005.
After Vladimir Putin's invasion of Ukraine, Tracy and Ben stayed up to date with current events by watching the news or checking social media. They would compare notes and observations on the developing conflict, feeling "tortured."
One day, Ben's friend and former Army captain Adrian Bonenberger invited him on a volunteer mission. Bonenberger planned to evacuate his wife's family from Ukraine and hoped to organize a civilian defense force based in the city of Lviv.
"We are both of one mind," Tracy said. "We were both tortured by what we were watching and seeing. So, when the opportunity presented itself for Ben to actually do something, I was 100% supportive."
Tracy and Ben offered their daughters "veto power" before making their final decision. Twelve-year-old Kyrah Busch said the agreement was unanimous.
"At first, we all kind of gathered in a family meeting," Kyrah said. "It was pretty fast and sudden. We all agreed to let him go, but we were all very worried. [We said], 'You make sure you're safe, right? You're going to be safe?'"
Three days after receiving support and permission from his wife and daughters, Ben boarded a plane and landed in Krakow, Poland.
City of Lions
When Ben and his fellow American volunteers crossed the Polish-Ukrainian border, it was as if the women and children had left and taken the light with them.
On Feb. 24, the day of Putin's invasion, Ukraine closed off civilian flights from their airspace and entered martial law. With 18–60-year-old able-bodied men expected to stay in Ukraine to defend their land, the Polish border was full of women, children and elders.
"The border was just clogged with people carrying nothing but a suitcase," Ben said. "I'm talking [about] entire lives consolidated to a single suitcase or two, and children,"
All the lights in Ukraine were blacked out due to air raids. Ben remembers the drive into Ukraine as a quiet one. Suddenly, he was surrounded by a "wilderness" of empty roads and darkness.
"Lviv was kind of like a regular city. It wasn't under bombardment at that point, it has been since then. But it was a place that felt like a real, living city with a war funneling through it," Ben said.
Traveling through the night, Ben arrived at his new training facility. An abandoned Soviet-era factory zone and store-bought weapons were all the volunteers needed to teach conventional forces to some irregular soldiers.
The irregular soldiers trained in Lviv represented what Ben referred to as a cross section of the lower to upper middle-class. His group of roughly 60 people included an IT worker nicknamed "Danger Rabbit" and a lawyer dubbed "Law Dog."
Together, they were the Last Lions of Lviv. "Lviv was named after King Daniel's son, Lev, which [means] lion. So, it became 'The City of Lions'… They were there my squad of lions," Ben said.
Ben was sure to include female fighters, as he wanted to do while training Marines in Iraq. The three Ukrainian squads each included one woman. Ben reminded his men that the lioness does all hunting in the wild.
To start training, Ben always learns as much about his men and women as possible. This begins with learning each person's strengths and personalities and pressing them to see who the natural leaders were.
"I wanted to make sure I formed a kind of cadre of people who could reproduce what I'd given in training to the rest of the city," Ben said.
In guerilla warfare, soldiers can only use the materials readily available to them. Ben saw the city itself as a tremendous weapon. He taught his squads that everything can become fair ground. Every house becomes a "fortress to sacrifice."
"My notes to them after every single training period [were to] imagine fighting your way out of your house," Ben said. "Imagine organizing your building as a castle. Make sure you have a way to get away. Make sure you understand everything about your community and how to organize it as a fortress."
Ben always hopes that his trainees will never end up using the skills he teaches. Still, he knew that the land they stood on was more than familiar with conflict. Lviv is a "city built upon cities," he explained. Many European cities stand on the ruins of former international conflicts.
What set the Ukrainian squads apart from other people Ben trained is a specific mindset. He previously trained men who did not know if they would ever be deployed, and he trained others that were already in combat. He had never before led a force that felt war was imminent.
"There's a certain amount of disassociation from war [that forms] when you train for it. The Ukrainians did not display any of it. They were convinced that they were going to have to fight, and they knew they didn't know how. That gave them absolute focus on everything that I was working with them on," Ben said.
The Ukrainians depended on Ben and the other volunteers for their expertise. Ben depended on his trainees for information. They were personified "primary source documents." Ben learned about activity near the frontlines when trainees showed what their friends had sent to them on their cell phones.
Ben never needed to watch the news because he was ahead of the news. The same can not be said for his wife and daughters.
Fragments
One Sunday morning in late March, 4,700 miles away from Lviv, Tracy was angrily woken up by Kyrah.
"[Kyrah] went, 'Mom, you told me he wouldn't be in danger. You told me they wouldn't bomb that far west.' She was really mad at me because I was wrong," Tracy said.
Russian airstrikes hit the outskirts of Lviv on March 18. The Busch family's communication with Ben was limited, in case their calls or messages were watched. They relied on news updates to know what was happening around their husband and father. They relied on each other to stay calm.
"I did bond a lot with my mom," Kyrah said. "She would have a lot of trouble sleeping [because she] worried about him. So, I would always try to make her go to sleep and stuff… We were both fretting a little bit together, both encouraging one another and trying to keep each other happy."
Fortunately, Ben and his squads stayed safe during their two-week training period. Before the volunteers made their way back to the US, Ben extended his perpetual support to his squads. He wanted them to know that he was no passing guest and did not plan to abandon them once he left.
[The Ukrainians] really valued the fact that we'd come, and even more so that we weren't doing it for salary, or anything else… I think that it meant even more to them, that we were an entirely volunteer force. We were peers with the same goal… I think of them every day," Benjamin said.
March 20 was supposed to be the Busch's day of reunion. The world had other plans. After two years of staying healthy and cautious, Ben caught COVID-19. Instead of flying home to his family, he would spend the next ten days quarantining in Poland.
Tracy was left to pick up the pieces. After breaking the news of Ben's illness to her daughters, destruction made its way to the Busch's home front. A windstorm barreled through west Michigan, taking down their family barn.
When Tracy heard that Ben was stuck quarantining in Poland, her solutions-oriented attitude was still intact. She saw it as one more problem to solve as a family. When the barn collapsed, part of her did as well.
Tracy cried as she mourned the loss of their family's barn and everything in it. As she walked through the remains, she tried not to feel sorry for herself. She remembered what people were experiencing on the other side of the world.
"I was thinking about this when I was picking up pieces of the tile off the lawn, you know, the roofing… Why are some wars justified and some wars aren't?" Tracy said.
Kyrah experienced the blows of her dad's sickness and the barn's collapse simultaneously. With an old soul, she articulated exactly how she was feeling.
"Two things that were on top of each other, it was a little bit overwhelming," Kyrah said. "My dad always stays away from COVID, then suddenly he has it and he's not here. And then, the one thing that was there my whole life is gone. There's still a little bit of [the barn's] structure and rubble but there's not that much left… But the truth is, I don't think it affected me that much because I'm already kind of used to like different surprises here and there."
Safe in Poland, Ben had plenty of time to feel the weight of his situation on a world scale. With stonemasonry as his first trade, Ben noticed an abnormality in the stone wall around him. It was Hebrew text.
Embedded in the structure of the wall was a World War II era Jewish tombstone. Decades of military history hit Ben all at once.
"I think that's a great example of why certain things need to be stopped as soon as possible… Walking on the actual ground where there were close to 50,000 graves just turned into streets, just pieces of buildings. All of that was one man with a vision who wasn't stopped," Ben said.
A house united
Ben landed in Chicago on March 25, his wife excitedly awaiting the reunion. Before heading back to their happy home, Tracy took Ben to the Ukrainian Village of Chicago to "catch the mood and show their support."
"Danger Rabbit," "Law Dog" and the rest of Ben's squads still feel his constant support. Ben thinks about them daily and emails them every few weeks. Though he does not feel like he can provide substantive support from across the globe, he enjoys seeing their responses.
Kyrah feels proud of her dad for helping people and coming home safe. At the same time, this trip fit into the "air" Ben has around him. It's just what he does.