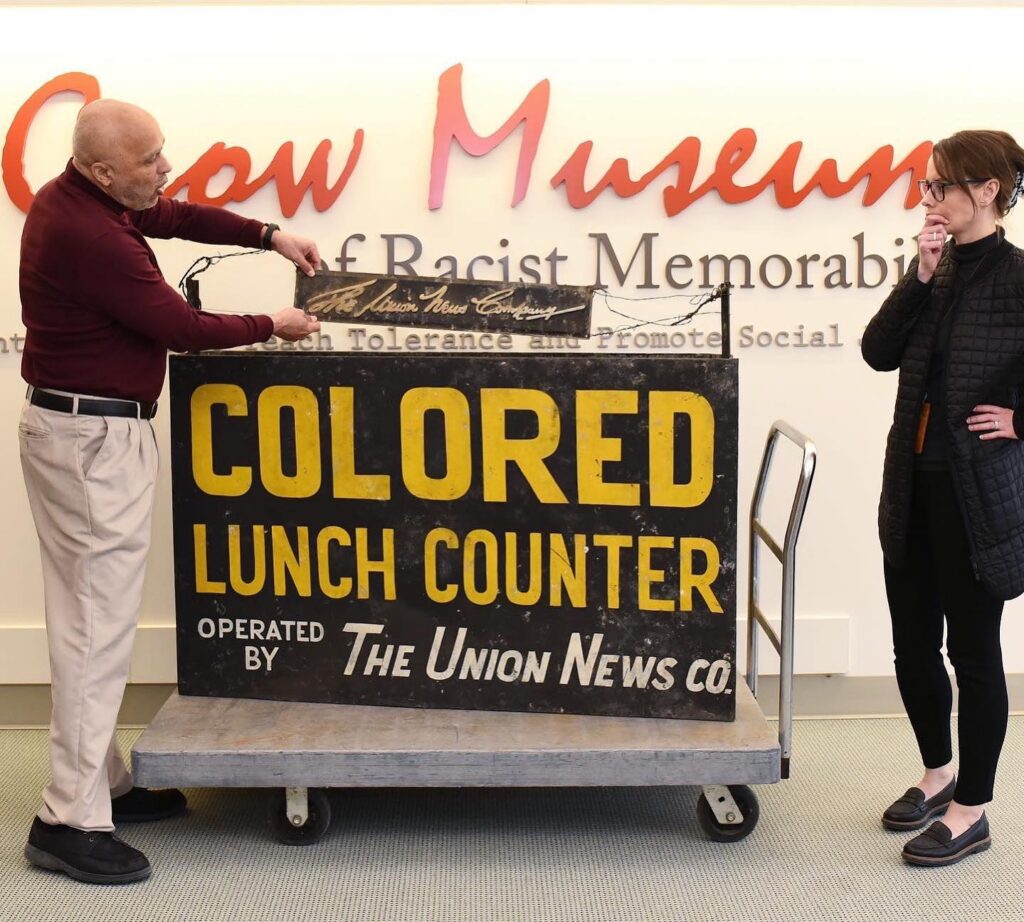 The Jim Crow Museum's latest addition to its collection of thousands of racist artifacts was brought in by Mike Wolfe of "American Pickers."
The Jim Crow Museum is a space where individuals come to learn about racism that has occurred and continues to occur in our country.
Because the museum hosts thousands of artifacts and pieces that share the stories of what life was like for African Americans under Jim Crow, they are unable to showcase everything they have at the moment, including a new piece brought in by Wolfe.
Wolfe, who travels across the U.S. in search of antiques and artifacts, found a black, yellow and white sign saying, "colored lunch counter."
Wolfe contacted David Pilgrim, vice president for diversity, inclusion and strategic initiatives, about the piece he had found.
"I told him, 'you know we are probably not in a position to pay you'," Pilgrim said. "He sent me an image of the picture and when I saw it, I knew it was worth 1,000 dollars… He said 'don't worry about it, I want to donate this to the museum'."
Wolfe agreed to donate the sign at no cost, including transportation fees. In a statement made to the university, Wolfe said, "I've always believed that it's our duty to preserve history so that we can learn from it. I knew this piece needed to be donated to the Jim Crow Museum in Michigan, who uses objects of intolerance to teach tolerance. This sign will now take on a new life to educate us, to remind us and to inspire everyone toward greater understanding, acceptance and unity."
Pilgrim said the sign is a very rare piece and that it will become one of the museum's featured pieces when the new building is in place.
The Jim Crow Museum is expected to have a new home in the coming years, as the university has approved ideas to create a building so the museum can stand alone, share and expand stories, display all of the items they have and allow individuals to educate themselves.
Ann Breitenwischer, a research and instruction librarian, says this museum is important for students to understand, no matter their major.
"Particularly, it doesn't matter exactly what program they're in because everybody's affected one way or another," Breitenwischer said. "You can be studying pharmacy and there's some impact but obviously if you're in a program like social work, social justice or education, I think it's going to be a bigger impact. There's always the impact from the business side of a coin."
As new pieces are brought into the museum, they contribute to the stories that are a big part of history that allow individuals to learn and, as Pilgrim says, "to be a part of a better America."
"I believe a better America is possible, and I believe all of us can be a part of that," Pilgrim said. "This museum, my life's work, is my attempt to be a part of that."
The museum, which is currently on the ground floor of FLITE Library, was placed there in 2012 to not only accommodate the growing number of artifacts being collected, but also so the public could more easily access the museum.
The inspiration to create a museum showcasing objects, signs, pictures and more, discriminating African Americans began with Vice President for Diversity, Inclusion and Strategic Initiatives, David Pilgrim.
Pilgrim came to Ferris as a sociology professor in 1990, bringing with him around 3,000 artifacts he collected over the years, using them as teaching tools in his courses.
"Jim Crow was a name for the racial hierarchy in America that had whites on top and people of color beneath them," Pilgrim said. "A lot of people, when they think of Jim Crow, they think of the laws, the signs 'whites only', that kind of thing, but really, Jim Crow was a way of life. It was a racial caste system."
In the mid-1990s, the museum was originally set up in a 500-square-foot room on the third floor of the Starr Building, which now hosts the museum of sexist objects.
The decision to move the museum from the Starr Building to FLITE Library was to expand the stories visitors came to see.
"The room we had was visual storage," Pilgrim said. "But you couldn't tell the stories that you needed to tell, you couldn't expand the stories. Right now we have more than 20,000 pieces, so obviously we couldn't still be in a small room. It's actually one of the reasons why we need to move to a new facility."