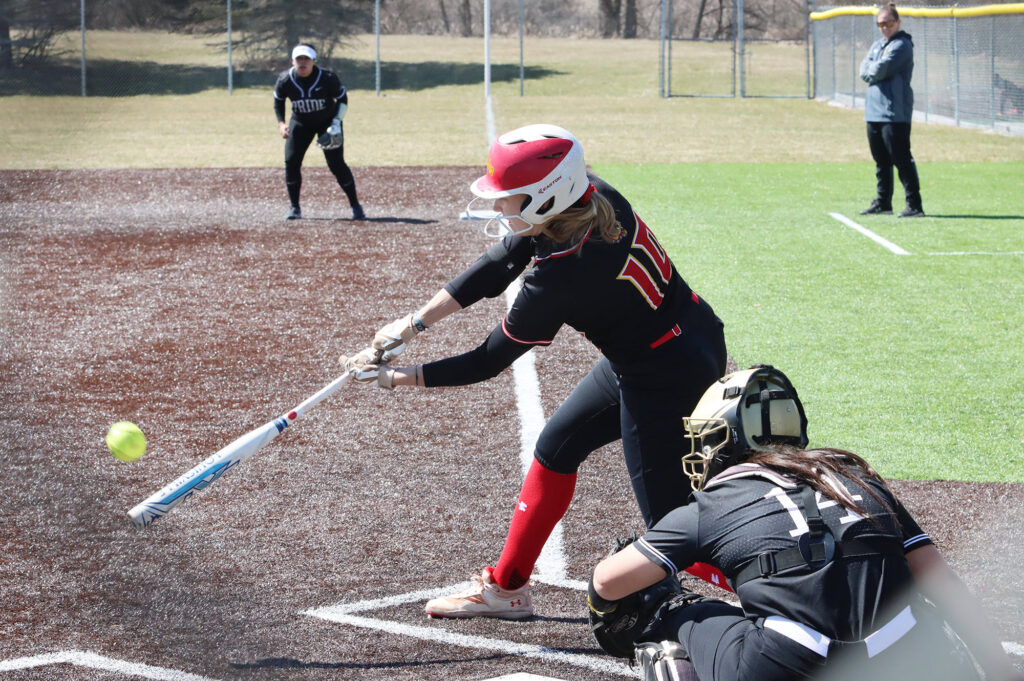 Kaitlyn Orme has a knack for breaking things. First, she broke both her arms. Then she broke her jaw. Then she broke Ferris's single season triple record.
When Orme was ten years old, she broke both of her arms at once. Years down the line, her jaw was broken due to a line drive in a practice. Neither setback would keep her from eventually breaking the next thing on her journey.
The junior first baseman broke the Bulldog single-season triples record as a freshman in 2019 with eight. In just one season, that placed her tied for ninth on Ferris's career triples list. Then as a sophomore, she led the Bulldogs in home runs (3) and slugging percentage (.566).
Orme hails from Grandville, where her success began. In her time there, she assisted the team to two conference championships, one district championship and one regional championship. Unfortunately for her and her team, they fell in the state championship.
"It was the craziest game," Orme said. "We went into extra innings. It was 3-3 going into the eighth inning. Our pitcher threw a wild pitch and there was a runner on third and she scored the winning run to lose the state championship my junior year."
Orme stayed a Bulldog and decided to come to Ferris in 2018. Since joining, Orme has taken on new roles for the softball team. She is a co-captain alongside senior outfielder Paige Kortz and is known as "Mama Orme" by her teammates.
"Orme is a very empathetic person," Kortz said. "So if anyone ever is struggling or like that, it could be in softball or in school or just life, she's always the first one to reach out and ask if you're okay and ask if you need any help."
Kortz also attested to Orme's captain role as she mentioned that they work closely with the coaches to relay information and solve any issues that come up.
Orme's journey to where she is today wasn't that easy. Like many athletes, she has had her fair share of injuries, including the broken arms and jaw.
Orme's father, Chris Orme, told the story of how she had chipped her tooth the day of prom and had to be rushed to a dentist to have her teeth fixed before she went to the dance.
Neither Kaitlyn nor Chris Orme could put an exact finger on when her love for the game began. However, her father does remember a moment where he believed she might have a future in the sport.
"Kaitlyn was at third base and a ground ball came to her," Chris Orme said. "At third base, at the T-Ball level, there's no way anybody's gonna get that out. She fielded that ball and threw it perfectly to first base."
Chris coached her as a child and made the decision to put Kaitlyn Orme, a lefty, at third base. According to Kaitlyn Orme, lefties can't play third base because "they have such a bad angle."
On top of her resilience and incredible love for the game, Orme also carries a heavy amount of competitiveness.
Kortz told the story of how the softball team holds a timed mile every year. The team's best runner was speeding through. However, that didn't stop Orme from "killing herself" trying to keep pace with the leader.
This year, Orme believes she has struggled at times throughout the season. Her numbers reflect this, as they are slightly lower than other years. She believes this has to do with the in-depth scouting reports opposing teams have.
Despite all the injuries throughout her career, Orme doesn't label them the biggest conflict she's had to face. Instead, it's the slumps she has faced.
"This year, I had a slump that I really struggled with because I was just like, 'I hate softball, but I don't hate softball'," Orme said. "So we always say that it's a love-hate relationship. You can like softball one day and you can dislike it another day, but you'll always love it."
Through her ups and downs, Orme has stayed resilient and has had her love of the game remain steadfast.
Outside of her family and teammates, the coaching staff even raves about Orme's character.
"She is that type of person that if she doesn't feel that she is either performing to the best of her abilities or that she's being the best leader that she can, she is going to go and do something," head coach Kristin Janes said. "She's going to be proactive and take the initiative to make sure that what she's doing is the best that she can when nobody is watching."
Orme plans on returning to Ferris next year and playing for the Bulldogs for her senior season. Her performance will remain to be seen. However, the resilience and her character that she's accrued throughout her entire career is nearly certainly set in stone.