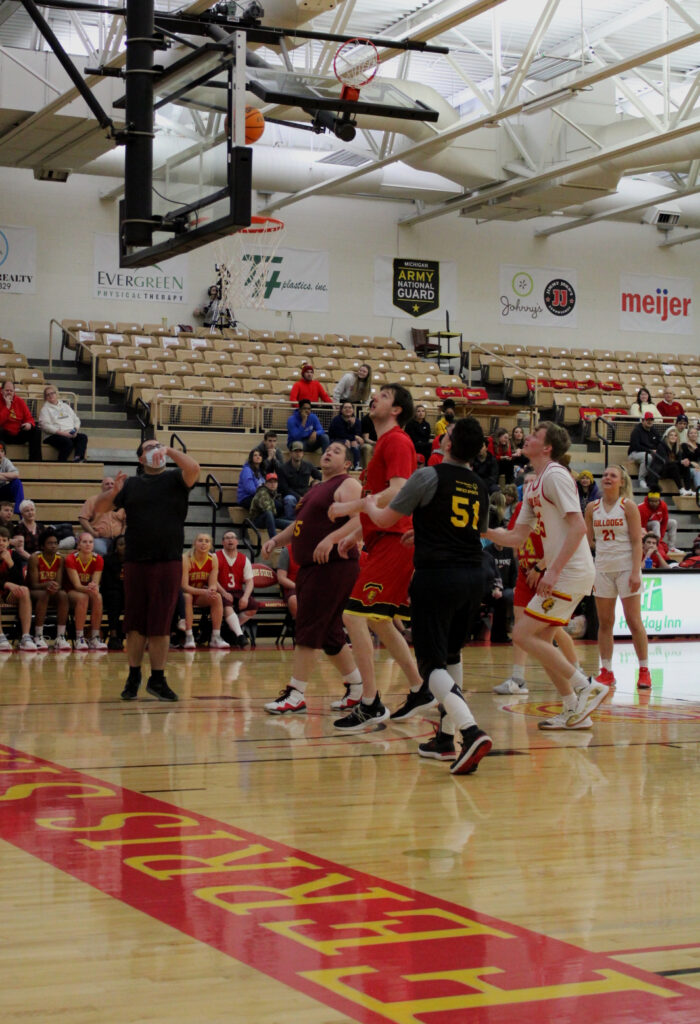 On April 19, the Sports Career RSO and Area 5 held their annual Heart to Heart, Hand in Hand basketball fundraiser.
The Heart to Heart, Hand in Hand fundraiser is an event in which the Ferris State basketball teams get to play in a tournament with athletes from the Special Olympics Michigan Area 5 organization.
At the end of the night, $1,726.53 was raised to help Area 5 buy equipment, travel and support their athletes.
For the past 15 years, the Sports Career RSO has taken it upon themselves to create this collaborated event to help raise funds for Area 5, which oversees the special athletes in the Mecosta, Osceola, Oceana and Newaygo Counties.
Sports communication junior Kai Serviss says the event takes around two months to plan, with different teams within the RSO taking the lead in getting sponsors, advertising and involving each basketball team.
"We have certain groups in our class like a sales team, a media team, a management team and an operations team," Serviss said. "We work together as a real athletic department.
Serviss says planning the event is different every year.
"It means a lot," Serviss said. "I think Big Rapids is a great community. We're very tight-knit, especially relating to Ferris State University. As an athlete here, you just know that the community is always willing to support."
According to Area 5 co-Director Terry Ann Lawton, the support they are given from Ferris has been amazing and she loves Ferris for all they have done.
Lawton also says Ferris has become a big part of their organization, as some of their athletes work on campus and because she believes the university understands them.
"Some of these athletes, you can't tell that there's something wrong with them," Lawton said. "They want to be a part of sports so bad. They just love being a part of it."
Once the tournament finishes, Lawton says athletes always ask when their next opportunity to play with the Bulldogs is.
Rob Young, a Law Enforcement Torch Run Member for the Special Olympics and coach for the special athletes, says the event is always wonderful and the athletes in particular love it.
"It's like a culmination of the year," Young said. "Athletes love it, but I think the Ferris athletes really love it. You get to play with folks that are there to support them all year."
For 10 years, Young and his family have participated in the events Area 5 and the Sports Career RSO have hosted.
Young says the Ferris State Bulldogs have become real role models, people the special Olympic athletes can look up to.
"The idea that they can see value in themselves," Young said. "The athletes really support them, it's not just a show. The Ferris athletes just love our athletes. They feel like they're on the same team and playing together."