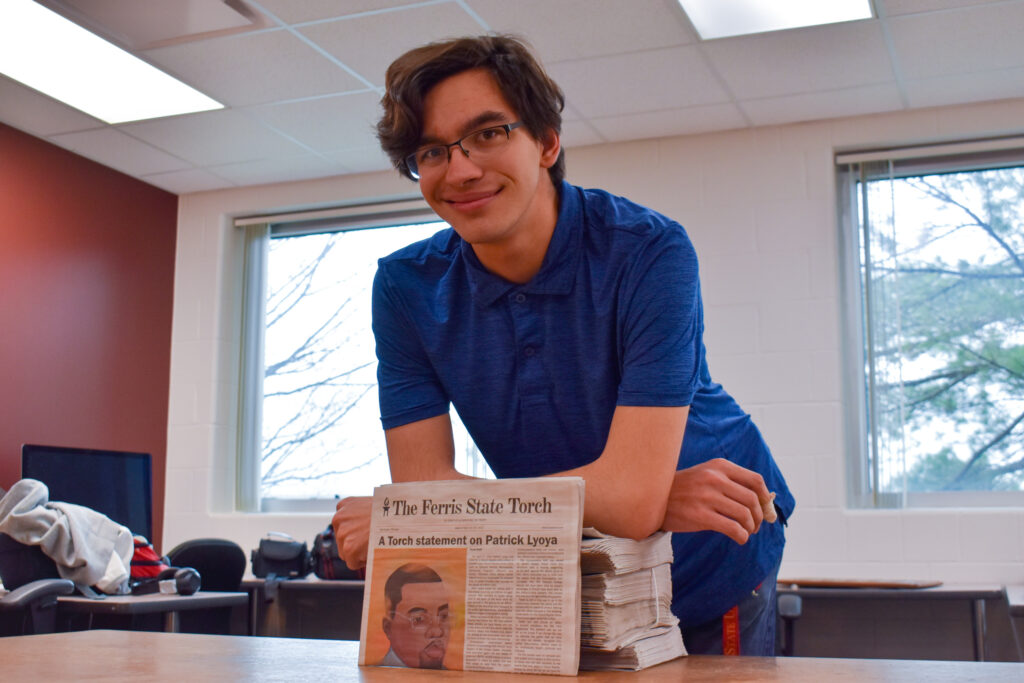 Wow, my time as the Torch's editor-in-chief has come to a close, and I can't believe it.
As I reflect on the year, many things stick out to me.
In the first weeks of September, when I was starting as the editor-in-chief, there was a two-week period where everything felt like the world was crashing down on me.
I got COVID-19, our office lost power for over a week and we struggled to find a work space and my grandma became very ill, amongst other things. It was the most brutal stretch of my entire college career.
I felt like the entire staff hated what I was doing—they were losing faith in me. So, when I came back healthy, I changed my philosophy. I needed to remind myself that I was not Cora Hall, my predecessor. I realized I could not carry the world's weight on my shoulders alone.
So, I completely took my hands off. I trusted Noah, Brody, Marissa, Rebecca, Jess, Alyssa and Cassie to manage their teams. I trusted them to make this paper as great as I thought it could be.
By October, I believe we consistently put out some of the best content the Torch has ever produced. We were on a winning streak, and we created engaging and interesting content.
We went to Texas for a National Championship win, getting some of the best photos and producing some of the most amazing sports content we have ever created in my time with this paper.
When we covered the Barry Mehler story, we did our research and covered both sides, which is something other news organizations weren't doing.
On social media, for the first time in our Facebook account's history, we saw one of our posts reach over 10,000 people. Then we ended up doing it a second time! We also accumulated 100 new followers this year.
We got direct quotes from President David Eisler, something that hadn't been done in years. It culminated in our first sit-down interview with him in about six years. This was a goal that I had from the moment I took over as editor-in-chief.
Many of you may have seen my face around the campus while I delivered our paper with Ready for Life. I helped start and develop a relationship with Ready for Life, having their students earn paid work experience by delivering our papers throughout campus. It is the legacy project that I want to exist after I'm gone. They are good people, and they deserve a chance to be successful in this community.
We produced a product that I am genuinely proud of. I couldn't have done it without the team around me. No matter what my position is, I am not special. What I had around me this year was what was special.
What I learned in September saved me from collapsing in March after I lost my grandpa. That was one of the toughest things I've personally had to experience. He was not only my family, but I also truly saw him as my friend. We talked weekly, and our relationship was still growing.
He didn't get to see me graduate college, and that still hurts. I was his only grandson, and I could not provide him with that last thing. I know I shouldn't dwell on it, and I've tried not to for the last month, but I miss him. I hope he was proud of everything I've done.
I loved it from the very beginning, even when I needed a few extra pushes from those around me to become a staff member. This was the mountain top for me
And to Noah, our next editor-in-chief, I can't wait to see what you do next.
I wasn't perfect, and I knew I wouldn't be when I took this position. There are a million things that I would go back and change. While I so badly wanted to be Cora Hall, I knew I couldn't be her, both as a leader and a writer. However, I became a better Brendan Sanders by being myself.
It's been an honor and a privilege,
Brendan Sanders