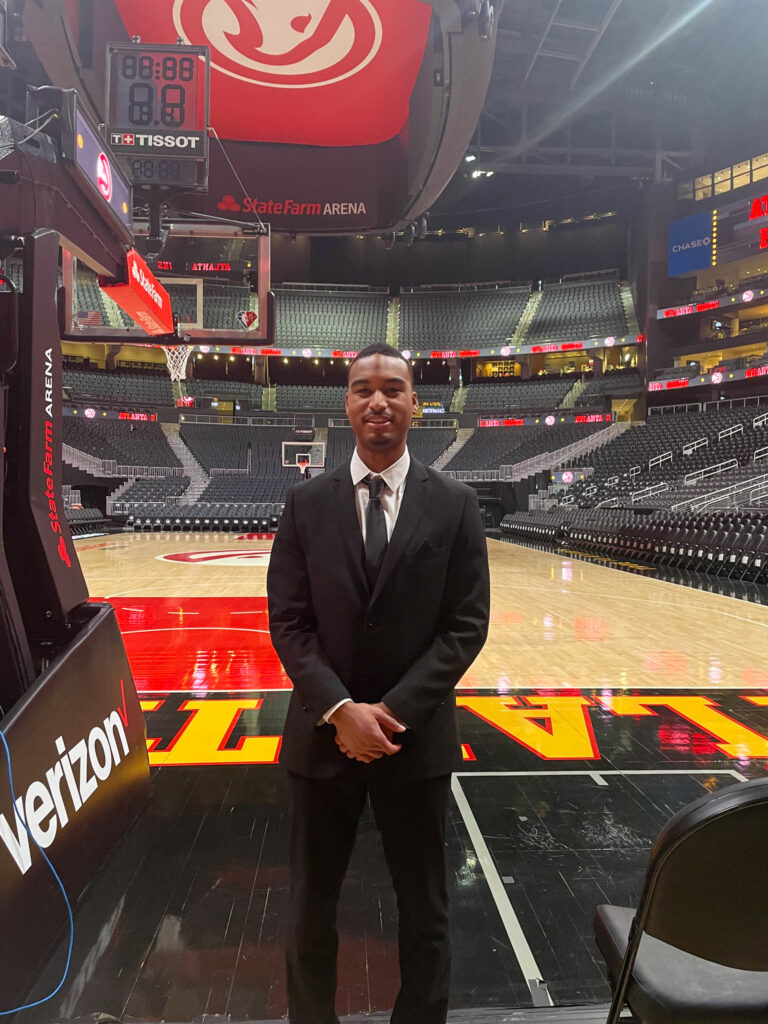 As graduation is only days away Amarr Blake prepares to return to his first love: basketball.
Senior Amarr Blake is a Ferris business administration senior who has spent his college years playing defensive back on the football team, but he has always wanted to be remembered as more than a football player for the Bulldogs. With his proven skills in marketing, he has found a new team to represent: the Atlanta Hawks.
Blake first came to Big Rapids in 2017, when he chose Ferris over Davenport, Saginaw Valley State, Morgan State, Northwood and Fordham. While one of the reasons Blake chose Ferris was because of the scholarship, he was offered to play football. Another reason was that it would be a good family environment. As a bonus, the school had the program he wanted and good class sizes. Blake came to Ferris with his twin brother, Amere, who also played defensive back for the Bulldogs.
As football took hold of the majority of his time here at Ferris, Blake lost out on many opportunities afforded to students who had more time to work with.
"I always felt discouraged in my classes," Blake said. "I would talk to other people in my class, and they were like- I did this internship, I did that internship. I had this opportunity to have that opportunity. Because I knew football was gonna stop one day, and I was like, I've never had these opportunities to explore like what I wanted to do other than football."
Everything changed when Professor Jina Jackson Rockwell picked him to compete in a marketing competition called the National Collegiate Sports Selling Competition (NCSSC) in Atlanta, Georgia, in February. After competing in a preliminary round in November, he was invited to attend the main competition in Atlanta alongside two other students.
After Blake finished in the top 16 in the competition out of 64 students, coming one point away from the top 8, Blake's phone began blowing up from teams interested in having his services. This competition brought in different companies looking to fill positions for their June sales jobs. The companies that reached out to Blake included teams such as the Detroit Pistons, Washington Commanders, New York Mets, NASCAR, Pittsburgh Penguins and Atlanta Hawks.
In the time after the marketing competition, Blake accepted a job offer with the Atlanta Hawks as their inside sales representative which allowed him to go back to being around basketball.
"My first love is basketball, especially coming from Flint," Blake said. "We have a lot of basketball legends that come out of there. I grew up down the street from Berston Field House, and anyone who knows knows they have the blacktop court."
Blake explained that living in Michigan made basketball a year-round thing even after the season was done, whereas football was played just in the fall. Allowing Blake to spend more time on the hard court than on the football field.
In high school, though, Blake's focus would turn to football, where he earned more interest from colleges. Blake would play defensive back for Ferris football time since 2017. In that time, he was able to go to the NCAA Division II championship in 2019 and 2021.
While Blake had an opportunity for another year of eligibility to play football, due to the Covid-19 year, he decided not to return. If Blake came back, that would mean he would have to go to graduate school, and there are no programs Ferris offers that he is interested in.
"We won a national championship, and this past football season, I'm not gonna say I lost the love for football, but I know it was coming to an end." Blake said. "I was more than a football player the whole time I was playing."
Blake was supposed to graduate last semester but because two classes he needed were only offered in the spring he had to wait until May to graduate. This combined with the struggle he faced of becoming more than "Amarr the football player" solidified his decision to start a life outside of football. With this decision he will also move away from "Amarr the twin" and move away from his brother for the first time in their life.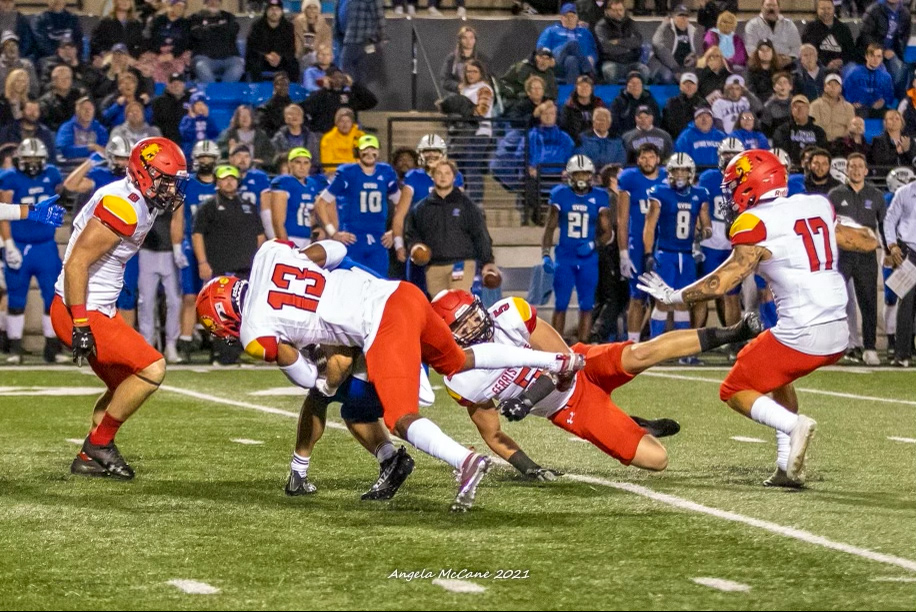 As a twin, Blake explained, people liked to group the two together, even as kids they hated being dressed the same. At Ferris even though they were roommates the entire time they started branching off into their own groups. One of Blake's best memories at Ferris was seeing his brother crossed into his fraternity, Alpha Phi Alpha. Crossing into a fraternity is when an associate member becomes an active member. Blake said it was good seeing his brother doing something he is passionate about and starting to differentiate themselves.
"Don't get me wrong, but football to me is a lot of camaraderie. There is no game like it," Blake said. "There's no game where you can physically go through things with your teammates and then come out of that with a great expectation, with great heights and with great goals. I met so many new people from all over the country. I don't think I would have got that melting pot I got playing basketball. I made the connections I made through football, the places we traveled in football. I really wouldn't trade it honestly, I wouldn't. If I had to go back, I would still play football."
Brendan Sanders contributed to the writing of this article.