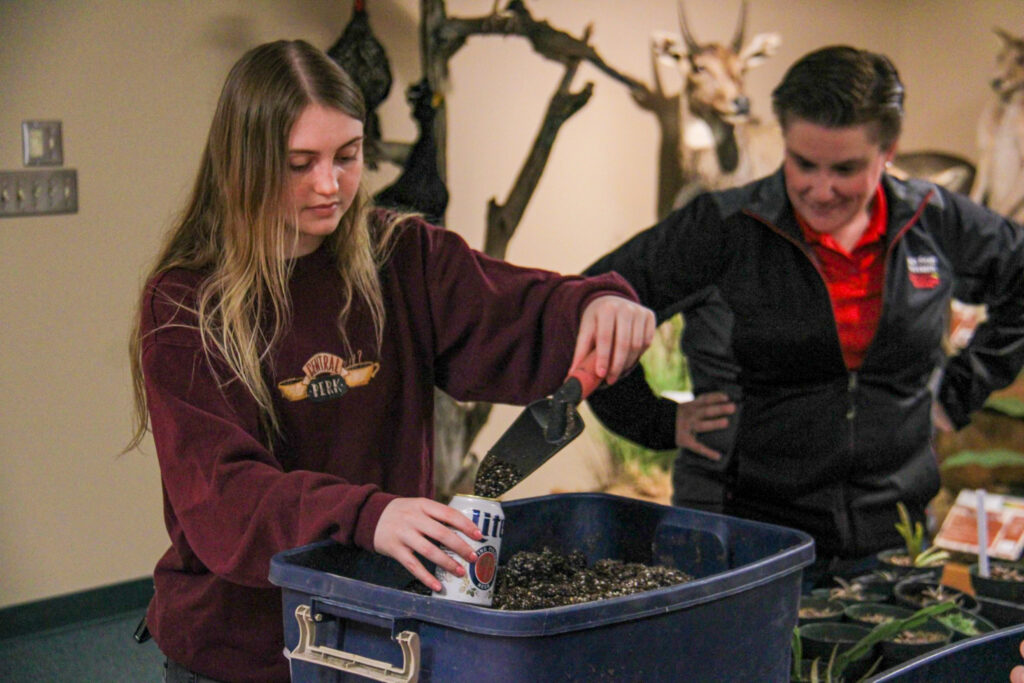 Unbeknownst to almost all students, two world records sit nestled in the front right corner of level zero of the Arts and Science Commons.
The Card/Rylie Conservation and Wildlife Education Center, originally the Card Wildlife Education Center, was born in 2000 after a generous donation from engineering technologies alumnus Roger Card.
When he wasn't running his Mount Pleasant-based construction business, Card, a hunting and fishing enthusiast, decided to donate his personal collection once it outgrew his office.
"He decided that it would make a really good museum and educational tool, and he, of course, approached Ferris," director of the Card/Rylie Center, Carrie Weis, said. "And Ferris really saw the value in it."
With contributions from a variety of donors, Card's initial donation has grown into a museum that includes over 300 specimens from 52 countries and five continents.
"The center allows people to observe these animals they may not otherwise have the opportunity to see realistically displayed, not just as a picture in a book," Card said in an interview with the university. "Ferris students are able to see the animals up-close, and we've supported opening the center to students from local elementary and high schools."
The center currently hosts two world record animals. A record-breaking male lion bagged by Roger Card himself, which he details in his book, 'A Hunter's Journey' and a record-breaking moose, which was hunted by Card's late wife, Debra. The moose in question is an Alaskan moose, the largest moose species native to North America, which clocks in at 39 points, has an outside angular spread of six feet and measured in at 731 1/8-inches. She gained this record in 1999 near Cordova, Alaska.
In late 2019, the center recently received a substantial donation from the estate and personal collection of George F. Rylie. This estate brought animal mounts, trophies, artifacts and artwork to the center.
Community Education
Additionally, in late 2019, Ferris also received a large endowment to broaden the educational aspects of the center and do some remodeling to its plant collection. The endowment and later educational expansion allowed the Card/Rylie Center to expand their educational outreach beyond the Ferris community.
"It's one of our missions to provide educational outreach to our community. We have a bussing program that allows K-12 students from the Mecosta Osceola Intermediate School District to come in, and we give them guided tours," Weis said. "We also try and meet some Michigan Science Standards so that [the tours are] enhancing what they're learning in the classroom."
The environmental education doesn't stop within the center's four walls, either. Weis shared a number of projects she has championed as the director of the center that get kindergarten through fourth-grade students out, active and learning about the environment.
"Our final big project [before COVID-19 hit] was to plant over 2,000 pollinator plants on Clay Cliffs, a natural area of Big Rapids. We bussed in all the fourth graders to Clay Cliffs and just spent the day planting pollinators." Weis said.
The center's projects vary in scale. Weis recounted an initiative to bring monarch butterflies back to the city.
"We convinced the city of Big Rapids to become monarch mayors, which means that the city will, in perpetuity, consider keeping some native natural areas in the city for pollinators." Weis said.
She went on to add that the Card/Rylie Center then partnered with Save Our Monarchs, an international organization, to provide educational programs for local elementary school science classes to supplement the city initiative.
Campus Education
While the Card/Rylie Center offers a variety of daily educational experiences, the center also hosts events to get the campus community involved and educated.
In partnership with the John and Rhea Smith Greenhouse, the Card/Rylie Center hosted an event called "Soda Can Succulents for Earth Day." This event intended to not only recycle some cans and give out propagated plants to attendees, but also to educate them on the benefits of simple house plants, such as improvements in their home's air quality.
Jay Kennedy, a student facilitator at the event and Card/Rylie Center employee, spoke on his contributions to the event and what made him want to get involved.
"I work at the greenhouse as well, which is what made the connection," Kennedy said. "I was able to facilitate and help plan. I got the plants ready and mixed up different soil types depending on what kind of plant a student [wanted]."
What's next?
A goal of the Card/Rylie Center is to provide a digital, interactive experience.
"The next phase is to get some technology in the center. We would really like to have an interactive format where you can be on your phone and use either QR codes or downloads," Weis said.
This modernization goes hand in hand with their goal to improve the signs in the museum. Weis noted they had completed phase one, identifying all the specimens in their collection, and they are just embarking on phase two.
"The next phase is going to be talking about the environments. I really want to focus on the concept of balance in nature, how precarious that is, and how critical it is," Weis said.
Weis closed with an invitation to students to visit the center.
"It's the most unique experience you're going to have on campus, I think. You can stand inches away from an African lion, or, you know, [a] leopard or a hammerhead shark," Weis said.
Weis suggested that those interested in visiting the Card/Rylie Conservation and Wildlife Education Center should seek out their hours of operation on their Ferris web page. Since the center employs students, their hours vary depending on the day and semester.