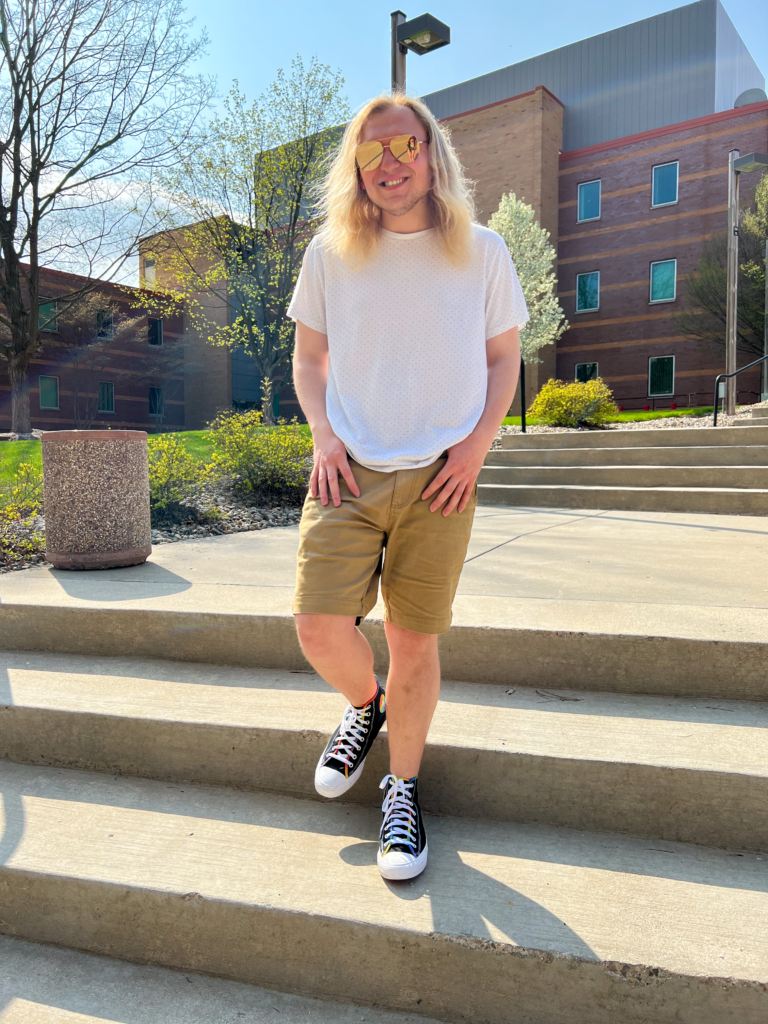 Whether you're a returning student, faculty or staff member picking this paper up as part of your weekly routine, or a fresh face joining the campus community, this welcome is for you. Thank you for taking the time to get reacquainted with us or choosing to get introduced for the first time.
My name is Noah Kurkjian, and I will be taking over as Editor in Chief for the Torch through the 2022-23 school year, and I am elated. I am embarking on my senior year in the journalism and technical communication program and my third year with the Torch.
I got my start in journalism by accident. I was building my schedule for my junior year of high school and ran into hard times when it came to filling my third-hour slot for the final trimester. All that was left was mythology and writing for print media. I took a gamble on writing for print media, and the rest is just about history.
Stepping into that class, I quickly learned that not only did I love digging up the dirt for a story, but I loved the craft behind telling it to an audience. I was also blessed with a fantastic educator who realized my potential and pushed me to do well. Ms. Szpieg, since you're likely reading this, thank you.
As for my time at the Torch, I feel as though it has been incredibly unique, as I have had the opportunity to take on so many diverse roles. I have seen this publication from many angles and learned a lot along the way.
So much in my life and the world has changed in the last two years, and it's time we change with it. Coming this fall, you will see the Torch get its "glow up."
Starting with the most significant change, the discontinuation of the Lifestyles section. While this quirky gem has served us wonderfully for years, it felt like it was time for an update. Taking its place will be the Culture section. Ferris has nearly 10,000 students and over 750 faculty members, who all have unique stories and backgrounds. I think we should be working harder to elevate them.
A Culture section will allow our reporters to feature a wider variety of the voices at Ferris. I also see it as a means to help bridge cultural divides on campus. Rebranding would allow us to dive deeper into topics like race, gender, sexuality, social equity and politics on a more frequent, fitting basis. These are topics that college students care about, so why aren't we talking about them more? The world is ever-changing, and I believe we need a more robust way to embrace it.
Along with the new content, we'll also be making some design changes to our physical newspaper and online content. Things will be getting a fresh coat of paint, so to speak. The new design elements we'll implement will amplify our content all around.
Our online changes will begin with an update to our website. Our current site displays content well on computers, but as technology progresses and we gather more and more screens, it must look like it was made for all of them specifically. Of course, the modifications will adopt similar colors and design elements to our print edition, but it will also take the viewing experience to the next level.
Rounding out our online updates, we'll be making a more significant push on social media. College students are more active on social media than ever before, and if you can't catch us in print, hopefully, you'll scroll to us soon!
Even though the world has changed so immensely, I hope the Torch can at least be one constant for the campus community. I hope you're looking forward to the year ahead just as much as I am.
You can pick us up in print with a fresh edition releasing most Wednesdays of the fall and spring semesters, online at fsutorch.com or on all social media @fsutorch.