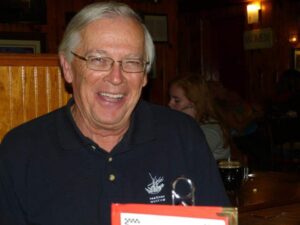 On May 1, advertising and marketing professor, Ferris graduate and Big Rapids native Thomas Mehl passed away at 80 years old.  
Mehl retired in 2020 after 40 years of work in the College of Business. He enjoyed seeing his students' efforts at the National Student Advertising Competition and was closely tied to the Public Relations Student Society of America.  
As a student and professor, he deeply appreciated the relationships fostered by Ferris' campus environment. He is remembered as a genuine friend by his colleagues and students. Marketing professor Patrick Bishop met Mehl, his first mentor on campus, at his job interview. For 16 years he admired Mehl's workplace camaraderie.
"Anybody who knew Tom knows just how open, friendly, kind and really brilliant he is," Bishop said. "He always showed a deep sense of caring about whatever it is that you cared about." 
Bishop recalls the happiness that Mehl carried through the halls of the College of Business. With his infamous storytelling, impersonations and karaoke night appearances, Mehl brought entertainment to education.  
Ferris alumni Andy Maier and Jennifer Berglas maintained a 40-year long friendship with Mehl after taking his advertising courses in the mid 1980s. His non-traditional teaching style and curiosity for students' lives set him apart from other professors.  
"In his teaching style he shared a lot about himself and experiences and examples from the real world in a sometimes abstract way of thinking," Berglas said. "It would lead to a different story, which would lead to a different story, but it always came back to what he was trying to present to us during the course." 
Completing one class with Mehl was enough for Maier to change his course of study to advertising. The instructor's joyous demeanor never limited his ability to push students. Maier felt that Mehl wanted to see his students succeed as much as he wanted to be their friend. 
"[Mehl] was just that type of person that was very observant about students and behaviors and, you know, working with people and helping them succeed. That is what I really appreciated about him," Maier said.  
Mehl's support for his students came in the form of classroom encouragement, memorable public relations barbecues known as "PR-becues," Muskegon River outings and the creation of the Thomas G. Mehl Scholarship fund, which was created to assist students from small towns in achieving their academic goals at Ferris. 
David Eisler served as Ferris' president for the final 17 years of Mehl's career. On behalf of the president's office, Eisler submitted a comment on Mehl's passing to the Torch. 
"We were saddened to learn of the sudden passing of Business Professor Emeritus Tom Mehl," Eisler said. "Over the years it was my good fortune to get to know Tom well. He had an infectious enthusiasm for his teaching and loved his students, inspiring and changing their lives through his sincere and profound interest in them. He is deeply missed by all who had the opportunity to know him." 
A celebration of Mehl's life will be held at Mohnke Funeral Home from 2 p.m. to 4 p.m. on Sunday, June 12. Mehl's obituary encourages any grieving parties to donate to the Thomas G. Mehl Scholarship fund at ferris.edu/giving rather than purchasing flowers.