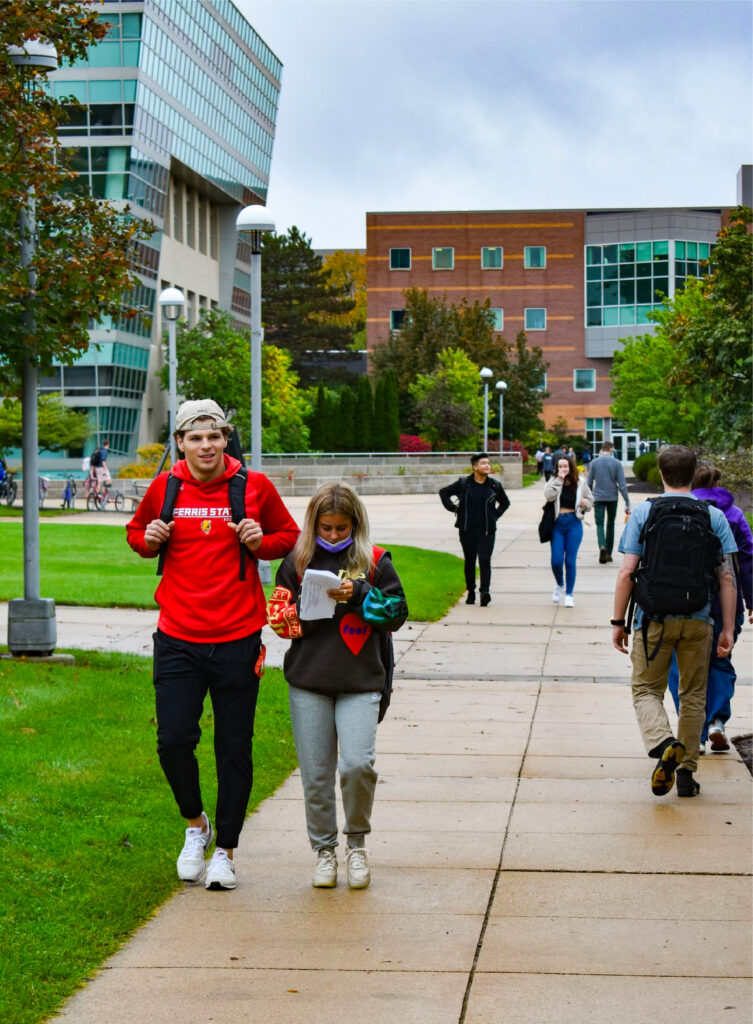 After two years of enforced campus safety protocols aimed at minimizing the spread of COVID-19, campus authorities have rescinded restrictions and moved the university to its lowest alert level.
Ferris announced in April that at the end of the spring semester masks would not be required in certain spaces on campus for the foreseeable future, though patient care facilities were exempt from this change in policy.
Ferris' Re-entry Committee addressed many concerns in a letter they released to the public.
"At the end of the spring semester, masks will no longer be required in instructional spaces, such as classrooms and laboratories. It is anticipated that masks will still be required in patient care areas such as the Pharmacy Care Clinic, the University Eye Center and Birkam Health Center. The University will continue to support all campus community members and visitors who choose to wear a mask while indoors on campus."
On the Big Rapids campus, COVID-19 testing remains available for faculty, staff and students at the College of Pharmacy's Care Clinic on Tuesdays and Thursdays from 3 p.m. to 4:45 p.m. and on Wednesdays from noon to 1:45 p.m. This testing is for those who are asymptomatic, meaning they are not presenting any symptoms.
Housing will assist students who may find themselves needing to isolate after testing positive for COVID-19.
Communications Officer Michelle Rasmussen offered insight into some of the changes that are going into effect this year.
"The University continues to encourage everyone to practice daily health habits, such as washing your hands often, keeping hand sanitizer nearby and staying home if you are not feeling well," Rasmussen said. "While the Re-entry Committee has been placed on reserve, the Coronavirus Updates Hub website is still available, and any new information concerning COVID-19 and the University community will be shared there and via e-mail from the Re-entry Committee as needed. As it has done throughout the pandemic, the University will take into consideration the recommendation(s) of the [Centers for Disease Control] and/or local health department."
Other Michigan universities, such as Saginaw Valley State University and Grand Valley University, are also rolling back pandemic safety protocols for the new academic year. Since May 9, wearing a mask was not required or enforced in any SVSU campus setting, though this practice is still recommended. SVSU also encourages members of the university community to get the COVID-19 vaccine booster shot. Additionally, for the members of the community that wish to remain unvaccinated, SVSU recommends regular testing, but, like the masks, neither of these suggestions will be enforced.
As the pandemic continues, the Torch will remain connected with the Re-entry Committee to keep our campus both safe and informed. Stay tuned for any future updates or changes in COVID-19 policies.