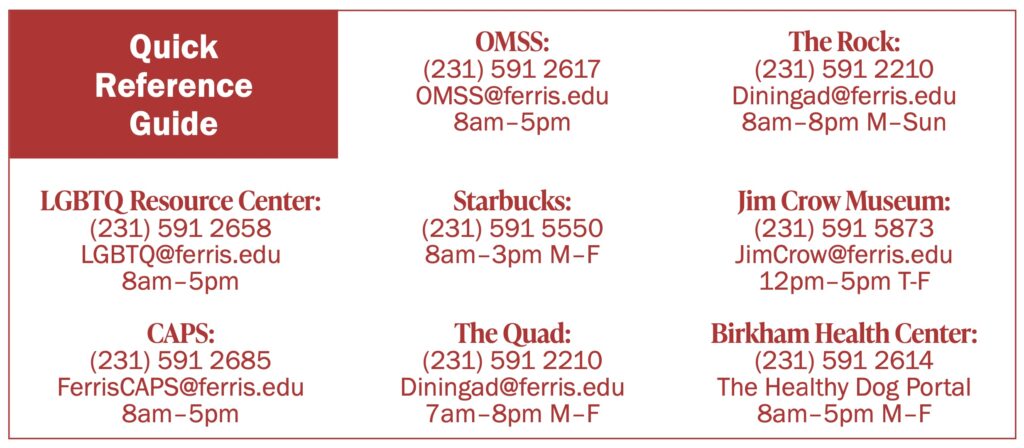 Over the summer Ferris renamed the University Center. It is now the David L. Eisler Center, named after Ferris' previous president. This building is a place for students to socialize, hold meetings, study and get food. It is open from 8 a.m. to 10 p.m. from Monday to Friday, and hours vary on the weekend. There are three levels that house a variety of different resources including the LGBTQ+ Resource Center, the Career and Professional Success office, Starbucks, the Quad Cafe and Ferris Outfitters.
On the southeast side of campus is The Rock, one of Ferris' other main dining halls, and the Market, a mini grocery market for students who can't get off campus.
The Ferris Library for Information, Technology and Education is a building that is mainly the library but also has the Office of Multicultural Student Services and the Jim Crow Museum of Racist Memorabilia, the nation's largest public collection of artifacts of intolerance. FLITE also has study rooms for students, recording studios, equipment to rent out, as well as the writing center.
Students pay a fee each semester to Birkam Health Center to give them health services while at Ferris. The top floor is the personal counseling center that provides one-on-one sessions with a licensed counselor. There is potential for group sessions later on in the year. The first floor is for clinical health that can take walk-ins, but students are urged to use the Healthy Dog Student Portal to schedule an appointment through their MyFSU account.