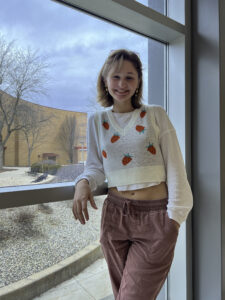 Hello! I am Jessica Oakes, the Torch's news editor. Now in my junior year, I study technical communication with a minor in history. My advisor first recommended that I apply to the Torch early in my freshman year, and I am so grateful for all it has brought me. Finding news stories, interviewing interesting people, and making a name for myself as a writer in college is such a privilege. I hope to tell stories that are important to this school and the people in it.
My hometown is Roscommon, a northern Michigan village that is small enough to make Big Rapids look bustling. My time away from Ferris is spent with my mom in Dunedin, Florida. When I am not writing or editing, I love to go thrifting, read Kurt Vonnegut books, and hang out with my Torch family.
Jessica's works can be found here!