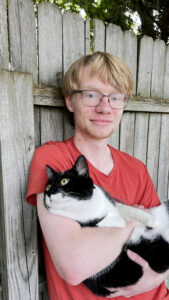 Hi, my name is Evan Hibbard and I am a junior in the TDMP program. I am a freelance writer at the Torch whose articles mainly focus on new and exciting music on and off-campus. I joined the Torch to gain a creative outlet to publish some pieces and gain some friends and both of my goals have been achieved in a very satisfying way.
Before I worked here, I didn't really know anyone on campus and struggled to reach out and make friends and the Torch helped me do that. I also love that it has given me an outlet in which to publish my thoughts on the current music scene, and get some practice doing a different kind of writing since I had mainly just written scripts and stories previously. Overall, I'd say that I've had a pretty good time at the Torch.
Evan's works can be found here!