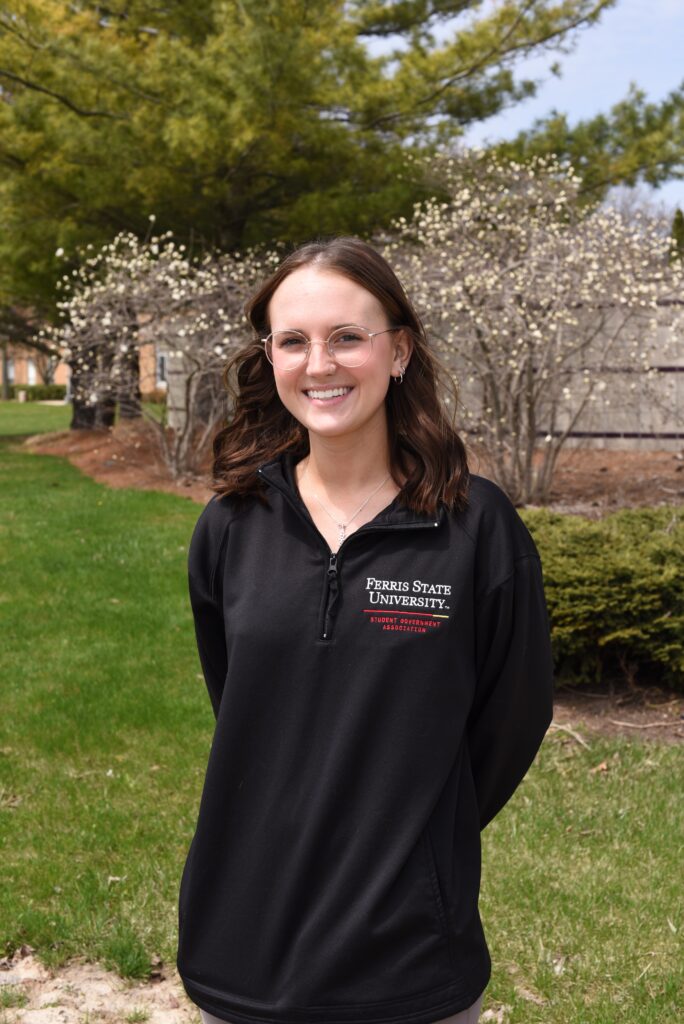 "A lot of people [say], 'I need to make this amount of money to be happy.' I just want to live life and be happy."
This is the attitude MaeLynn Huhn is bringing as president of the Student Government Association in her last semester at Ferris.
Huhn, a psychology senior, joined SGA to represent her sorority, Alpha Xi Delta. The glorified party planner, according to the Ferris AXD website, was taught how to be more organized and confident in herself through student involvement.
"I found it as a great way to grow myself professionally," Huhn said. "I already within my sorority grew a lot professionally, but then [I] wanted to take it to the next level and go to the student government. And plus, I just thought it was a great way to learn more about campus. I was always looking for more ways to get involved."
Being a part of SGA made Huhn get out of her dorm room and interact with other students. In Huhn's opinion, a lot of people come into college and expect it to be easy to make friends, but that's not the case for many students.
It was hard for Huhn at first, joining SGA early in the pandemic, but knowing that there were other people also going through this struggle helped. While it was harder for Huhn to talk to people, it helped her learn new strategies to get in contact with people virtually, which, in her opinion, will be a good skill to have in the future.
SGA also gave her connections and taught her about different things on campus, such as student affairs, where she works as the vice president. At Student Affairs, Huhn's work duties include working at the front desk and conducting a lot of outreach to different schools
"I have assembled gift baskets to send to all the superintendents across Michigan," Huhn said. "It helped me learn outreach tactics for student government…and [how to promote] Ferris as a whole."
The mission statement for SGA is "to represent Ferris State University student interests in all aspects of campus life and to maintain open channels of communication between students, faculty, staff, administration and the Big Rapids community."
Huhn interprets this as a channel of information. They have members that bring different things to the table, and information about campus trickles down through different representatives. This also provides the opportunity for different people to speak at meetings. After that, they use various outlets to spread the information around campus.
Huhn feels like she will be able to fulfill this by bringing more people to the table. Due to graduation, SGA has lost a lot of members this past semester, and they are currently struggling to recruit. Huhn's main goal this semester is to find people that care and want to be an active part of the association.
"I believe [Huhn's] welcoming demeanor will be especially key to SGA's success this semester," SGA's Vice President Cassidy Engels said. When Huhn was nominated for president she took Engles "under her wing as Vice President" for SGA. Engles met Huhn when she joined SGA three years ago.
One reason why Engels believes Huhn will be a good president is because she has a lot of leadership experiences. In Engels opinion Huhn is down to earth which makes her very easy to talk to and levelheaded. She is always sure to offer help even before someone asks.
"Since I've known MaeLynn, I've seen her grow into her current role as president," Engels said. "She has gained a lot of confidence in decision making and delegating tasks. I hope the Ferris community sees her as someone who is truly devoted to our university. She has spent so much of her time here giving back to Big Rapids and working to enrich the student experience for her peers."
Kassidy Leininger knows Huhn outside of her work at SGA. Leininger met Huhn during her freshman year at their sorority, Alpha Xi Delta. Since freshman year Huhn has grown into a leader Leininger can look up to. From being Vice President for their sorority and all her hard work with SGA, Leininger wants students to look up to her and appreciate everything she is trying to do for Ferris.
SGA meets on Tuesdays from 6:30- 9 p.m. in the Founders Room in the David L. Eisler Center.
News Editor Jessica Oakes contributed to the reporting of this story.